Germany moves first with beta-phase cloud-based gaming.
Nemat ambitiously positions service as Netflix of video games.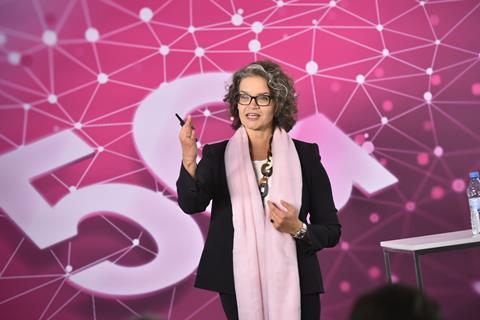 Telekom Deutschland (TDE) launched MagentaGaming to select users as part of a free beta-phase trial. A cloud-based gaming service, MagentaGaming allows beta testers to stream more than one hundred titles. A full commercial service is not expected until 2020.
Claudia Nemat (above), Head of Technology & Innovation at Deutsche Telekom (DT), argued in a blog that network infrastructure players could make inroads into the highly competitive gaming market, taking on the likes of Google, Microsoft, and Sony.
Her optimism was based on an anticipated shift towards the cloud in the gaming space. Data centres and network performance will largely determine gaming experience, she said. If all goes to plan – and the content portfolio is sufficiently attractive – a cloud gaming environment should give DT an opportunity to generate new revenue streams and better leverage 5G, presumably across different Group markets rather than simply Germany. Nemat ruefully noted that DT "invests billions of euros" in network infrastructure every year.
"For cloud gaming, users need to have the lowest possible latency. In contrast to streaming movies, TV shows, and music, buffering is not possible here. My controller actions have to be reflected in the game without any major delays, or gamers will not have the best possible experience. We benefit from our pioneering role in edge services here, in which data processing is shifted to the edge of the network. We can already keep latency under 50 milliseconds, but we're not stopping there. MagentaGaming will also play a major role on mobile – with LTE, but in particular with 5G."

– Nemat
Edging forwards
One avenue through which DT is exploring edge services and online gaming is MobiledgeX (Deutsche Telekomwatch, #70 and passim). A DT-backed edge computing platform spinout, MobiledgeX partnered with Niantic, the US-based creator of augmented reality (AR) games Ingress Prime and Pokémon Go, in October 2018 (Deutsche Telekomwatch, #77). The idea is to develop AR gaming services that will exploit DT's 5G network, MobiledgeX edge servers, and Niantic's proprietary Real World Platform for AR gaming. At the 2019 edition of Mobile World Congress, Nemat declared that gaming might be a 5G 'killer app'' (Deutsche Telekomwatch, #81). Another gaming initiative flagged in Nemat's blog was a partnership between TDE and professional eSports organisation SK Gaming in June 2018 (Deutsche Telekomwatch, #77). As part of the deal, TDE will upgrade SK Gaming's communications infrastructure and IT, and is sponsoring a new team founded by SK Gaming to support its return to the high-profile League of Legends eSports competition. Hiro Kishi, Head of Sports Sponsoring at TDE, added that the operator plans to use eSports as a "vehicle for highlighting our network quality, and the added value it offers for demanding applications such as gaming".
The Netflix of video games?
Nemat envisaged users will be able to access a wide range of video games seamlessly, through an app, and because the content is streamed even the most technically demanding games should be able to run on older PCs, smartphones, tablets, and smart TVs. "Think of it as the Netflix of video games", asserted Nemat. "In the future, we plan to integrate MagentaGaming with MagentaTV", she added.
Game on
DT faces formidable competition in the online gaming space. Bloomberg reports that Microsoft and Google plan to start their comparable xCloud and Stadia Services in October and November 2019, respectively. Google has lined up blockbuster titles for Stadia including basketball game NBA 2K20 and Cyberpunk 2077, a role-playing game starring actor Keanu Reeves. Microsoft already owns many studios and popular franchises such as Gears of War. US gaming giant Electronic Arts has more than 1,000 people working on Project Atlas, a cloud gaming service announced in October 2018.
StreamOn Gaming for free
TDE announced in July 2019 that its zero-rated StreamOn Gaming is now free, from a previous fee of €2.95-per-month, for both new and existing customers. The streaming offering offers zero-rated access to gaming services from more than 30 participating partners. The NatCo recently added the Harry Potter: Wizards Unite AR game to the streaming offering, which also comes in variants providing zero-rated access to music and video services.
Nemat described MagentaGaming as a "step up" from StreamOn Gaming. She will also hope that MagentaGaming gets a smoother regulatory ride than TDE's controversial, T-Mobile US-inspired zero-rated offerings (see separate report).