Major football tournament could be tech showcase for Deutsche Telekom.
At least, there will be 5G coverage for fans and international visitors.
In the stadium and at home AR/MR/XR apps will be on display.
But low take-up of smart glasses could limit AR's appeal.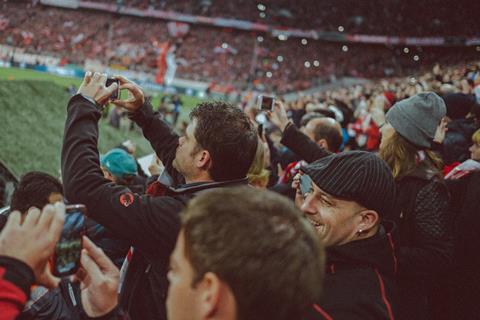 Of the ten stadiums in Germany that will host Euro 2024 matches, only the Allianz Arena in Munich has 5G installed, while Westfalenstadion in Dortmund has plans for 1&1 Drillisch to install 5G.
In May 2020, Telekom Deutschland completed the installation of eleven 5G base stations in the Allianz Arena, home of FC Bayern München. But fans have not experienced the new network yet because people are not allowed to attend football matches, owing to COVID-19 precautions. Given the current situation, the operator has had to test new use-cases on a "small scale, internally" for now, said Trumpa.
Vodafone lines up versus Telekom
Vodafone was first to equip a football stadium with 5G in Germany in 2019. In cooperation with Deutsche Fußball Liga (DFL), the operator installed three 5G antennas in Volkwagen Arena, home of FC Wolfsburg, which offered fans 60% more capacity. With a MEC data centre installed and immersiv.io's ARISE platform, the operator developed a real-time app that provides information about the players during the match, based on DFL's game-data collection system, which collects roughly 3.6 million position data points and 1,600 game events (such as goals, passes, and fouls) from each match.
Vodafone planned to launch the commercial app live this year, but since fans are not allowed in stadiums due to COVID-19, the plan is on hold, according to a Vodafone Germany spokesman. Vodafone will license the app to football clubs on a type of software-as-a-service basis, and the clubs will then determine how to offer it to their fans. As part of its partnership with DFL, Vodafone will install 5G in several other stadiums and offer the real-time app to the clubs in the coming months.
Augmenting the fan experience in the stadium
Various forms of AR and MR will undoubtedly be on display at Euro 2024, whether they are simple commercial offerings or more advanced proof-of-concepts, thanks to 5G, MEC, and the availability of AR-compatible smartphones and smart-glasses. According to ARtillery Intelligence, there will be more than three billion mobile AR devices by 2022.
In terms of maturity of technology and accessibility of devices, the 2022 FIFA World Cup might be a more pivotal moment for AR than the Euro 2024, according to Emmanuelle Roger, co-founder and CEO of immersiv.io, a French AR startup focused on developing immersive fan experiences for the sports industry.
Postponement of 2020 Olympics leaves a tech void
Major sports events have long been milestones for technology evolution in broadcasting and, more recently, consumer technology. During the Berlin Marathon in 2019, for example, Deutsche Telekom demonstrated using the 5G uplink to send user-generated video content to a live broadcast, as well as for remote production.
The 2020 Olympic Games in Tokyo were meant to be a showcase for 5G, featuring new types of content like 3D athlete-tracking and 8K video. The country's mobile operators even scheduled commercial 5G service launches to coincide with the event. Since the Olympics were postponed to 2021, due to COVID-19, the 5G service launches went ahead but the new tech demos and proof-of- concepts did not, which makes it more difficult to gauge what 5G-enabled apps might be possible in time for Euro 2024 or even the World Cup in 2022.
To a certain extent, the potential for new AR, MR or XR apps have less to do with 5G technology — because it simply provides the connectivity — and more to do with advances in capturing volumetric content, latency reduction via MEC, data processing, and device capabilities — that is, all the other technologies involved in creating new content to be delivered over 5G. The 2022 World Cup is likely to see early adopters using new AR apps in stadiums and more proof-of-concepts. Depending on AR smartphone and smart-glasses take-up, those apps could be more mainstream by Euro 2024.
Immersiv.io's ARISE AR platform — which is currently deployed by Vodafone Germany at the Volkswagen Arena in Wolfsburg — uses machine learning and a computer vision algorithm and integrates live data sets, such as tracking the position of players, match statistics, or player information. When devices are pointed at the football pitch, this data is overlaid onto the image on users' screens.
"We cannot afford any delay between what the user sees on the pitch and the live data displayed. We need very low latency to retrieve the data in real time, so that's where 5G and edge computing are of great help to achieve a seamless experience for the fans on their smartphones."

Roger.
The main challenges to making AR mainstream are the availability and affordability of devices, and especially smart-glasses — because those are the "ultimate experience", said Roger.
In addition, capturing and producing volumetric video for 3D content is still expensive today and it is "heavy content" that needs a lot of bandwidth, she said. But the capacity of 5G will address the bandwidth challenge and 3D technology is expected to be cheaper by 2022 and 2024, she said.
Dan Warren, Director of Advanced Network Research, Samsung Research UK, is not convinced that there will be radically different kinds of new content around for the 2024 tournament, noting that content evolution is somewhat independent from network technology evolution. There will likely be 8K video generated from broadcast media cameras by then, for example.
For Euro 2020 (now rescheduled to 2021), there was talk about having holographic versions of games taking place in other stadiums. "That's so far from reality", he said. "The content that will be required to do that as well as what would be required in another stadium to generate that kind of holographic image in real time is some distance away from being any kind of technical reality at the moment".
Warren said that at Euro 2024, there will likely be more "augmentation of reality" than AR in the purest sense. "By 2024, we're not quite going to be at the point where you can point your phone at a player's face or their number like a QR code from which you can gather information about that player. But I do think that that kind of content could be generated by another route".
He pointed to content made available in the US at NFL stadiums, where fans can call up additional player information from their devices — some of which is generated by body sensors worn by the players, such as how fast they're running or how hot they are. Some teams take player information that is typically generated for informing team decisions during a match and expose it to third-party apps to make it available to fans in the stadium. Similar data has been exposed in NASCAR, where teams gathered telemetry data from the cars, such as tyre heat and fuel consumption, and exposed it to fans.
"The level of information greatly depends on how much teams are happy to expose and how it's generated and packaged up in a way that consumers are interested in receiving it."

Warren.
Augmenting the view at home
The COVID-19 pandemic has shifted the focus of AR and MR to the home.
"People are looking for new ways to engage fans at home", said Roger, adding that immersiv.io has intensified its efforts on the home experience. "People we were talking with before who did not really take AR or VR into consideration, are now re-evaluating this and thinking it's real", she said.
Deutsche Telekom is looking into the potential of avatars for co-watching experiences. Trumpa said it is imaginable that five years from now, with MR and smart-glasses, viewers at home might be able to have a friend's avatar join them on the sofa to watch the match or hear the reactions of other fans who are also watching at home.
If avatars get into the realm of photorealistic, rather than just comic avatars that don't resemble people, then there would be privacy and security issues in providing such apps. Deutsche Telekom envisions an opportunity to provide secure storage of customers' avatars.
XR in focus at DT
DT is busy testing XR technologies in the "Experience" group at its Innovation Lab as well as at hub:raum, DT's startup incubator (Deutsche Telekomwatch, #94).
hub:raum recently welcomed the first six startups to its Mixed Reality Programme with consumer-ready apps anticipated by January 2021. The programme comes via a partnership with Qualcomm and AR headset manufacturer Nreal and aims to accelerate the commercialisation of mixed reality solutions (Deutsche Telekomwatch, #97).
AR also features in hub:raum's 5G Consumer Entertainment Programme, which is run in partnership with DT-backed edge computing platform spinout MobiledgeX, venture capital player Quake Capital, and broadcaster Mediengruppe RTL Deutschland.
hub:raum has been no stranger to MR and AR/VR over the past several years, and a heavy focus on 5G testing in previous programmes has often utilised AR/VR startups (Deutsche Telekomwatch, #85 and #92).
DT dedicates research and investment to new realities
AR/MR/XR Activity
Description
Sources: Deutsche Telekom and Deutsche Telekomwatch.

5G Consumer Entertainment Programme

hub:raum accelerator initiative focused on 5G immersive entertainment, led by partnership with Mediengruppe RTL Deutschland, MobiledgeX, and Quake Capital.

AR FieldAdvisor

AR headset prototype designed for field service engineers, developed with Qualcomm Technologies, 6D.ai, and Nreal.

Low Latency Prototyping Programme

hub:raum accelerator initiative developed an AR viewing and gaming app for stadium of Telekom Baskets Bonn basketball team, led by partners DT, ForwardGame, and SmartMobileLabs.

Mixed Reality Programme

hub:raum accelerator initiative to commercialise MR solutions, led by partnership with Qualcomm and Nreal

MobiledgeX

Telekom Innovation Pool investment. DT owns 100% of edge computing platform company, involved in numerous 5G network initiatives, including online gaming.

T-Labs Experience group

Research dedicated to immersive MR entertainment features, human-machine interfaces, XR technologies, and XR-based applications for collaboration, entertainment, education, and training.

tooz technologies

Telekom Innovation Pool investment. Smart-glasses technology company is a 50-50 joint venture between Deutsche Telekom and Zeiss.

Michelle Donegan is an experienced telecoms writer and has been contributing as a reporter and news analyst for TelcoTitans since July 2020.