DT is signalling plans to license the Magenta brand to create new strategic alliances that could compete with Vodafone's Partner Markets arrangements.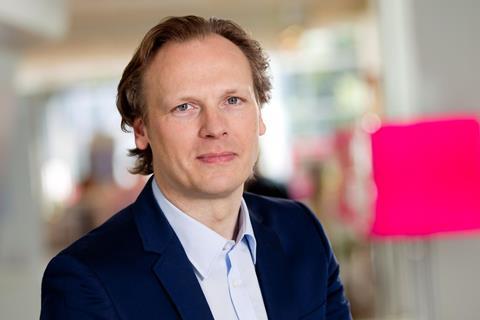 Deutsche Telekom (DT) indicated it is planning to license the Magenta brand to both NatCos and third-party operators, to generate more revenue and build on existing procurement and roaming collaborations.
Hans‑Christian Schwingen, DT's outgoing Chief Brand Officer, dropped fairly hefty hints about DT's future plans for the Magenta brand in an article on the operator's website.
He seemed encouraged by the response to 2019's rebrand of DT's T‑Mobile Austria business unit to Magenta Telekom, and said DT could use the more colourful marque not only for its own NatCos but also external partners (Deutsche Telekomwatch, #74 and #75). "I am convinced that our Austrian success can be an example for our other national companies, wherever they can also present convincing and substantial narratives", Schwingen said. He added that "'Magenta', unlike 'Deutsche Telekom', is something we can license, and earn money with, even outside of our original footprint".
In the pink
Schwingen indicated that efforts to license the Magenta marque would not be straightforward, despite its broader appeal. For example, Magenta is increasingly the subject of trademark disputes, as seen in a recent case involving US‑based Lemonade Insurance Company (Deutsche Telekomwatch, #89). DT has demanded that Lemonade desist from using the colour in Germany, but the insurance provider appears determined to fight its corner, creating the hashtag #FreeThePink on Twitter.
Nevertheless, for Schwingen, the Magenta marque offers the advantages of wider applicability. "[The] Deutsche Telekom brand and the 'T' are difficult to protect outside of our own footprint. All of this has negative consequences for other acquisitions, for harmonisations such as that achieved with [Greece's] Cosmote and for possible consolidation scenarios in Europe. We also see that T‑Mobile, a one‑dimensional brand, is no longer appropriate whenever an integrating fixed‑network component is added — as in the case of Austria. A combined word‑image Magenta brand, however, is useful in such situations, in several regards", said Schwingen.
Magenta is also widely used throughout the DT service portfolio, with a particular focus on MagentaEINS or Magenta One bundles of fixed‑line and mobile services as well as the MeinMagenta customer service application. It is even possible to buy Magenta‑themed clothing and other products from Love Magenta shops, both online and at the operator's Bonn headquarters. Products include the recently-launched Love Magenta Connected Underwear or 'smart pants' for Valentine's Day, a "deliberately ridiculous product" with LoveChips that "temporarily silences the user's smartphone and focuses their attention on what's important".
DT eyeing Vodafone's soft power network
Schwingen's comments add to various signals that DT could be upping plans to emulate arch‑rival Vodafone's Partner Markets arrangements, which earn the operator extra revenue through cross‑operator collaboration. DT already operates BuyIn, a procurement joint venture with Orange, and recently tied with Bell Canada and Portuguese operator NOS as part of long‑running attempts to build the alliance's scale (Deutsche Telekomwatch, #91). Bell Canada competitor Rogers Communications is a member of the Partner Markets federation. FreeMove, the DT‑backed roaming and enterprise services alliance, also recently added Swiss incumbent Swisscom to its membership, after the latter's decision to leave Partner Markets (Vodafonewatch, #182).
Vodafone's Partner Markets federation was originally set up in 2002. While it has been decreasing in reach over the past decade or more, it still boasts around 29 partners in 42 countries. The Vodafone brand is also used by joint ventures such as Vodafone Hutchison Australia, Vodafone Idea in India, and VodafoneZiggo in the Netherlands — and the Group generates a not‑insignificant revenue stream from these tie‑ups.
Telefónica is another international operator that has been making Partner Markets-type plays. The Spanish group operates a number of businesses in Europe and Latin America, using the: O2 brand in Germany, Spain, and the UK; Movistar in Argentina, Chile, Colombia, Costa Rica, Ecuador, El Salvador, Guatemala, Mexico, Nicaragua, Panama, Peru, Spain, Uruguay, and Venezuela; and Vivo in Brazil.
Telefónica launched its Partners Program in 2011, although this is regarded as more focused on procurement and research than branding. In March 2019, Telefónica said the Partners Program covered 65 nations and 1.8 billion users. Recently, the Spain‑based operator indicated that it is working to place its Hispanoamérica operating businesses on the same footing as Partners Program operators (Telefónicawatch, #140). Furthermore, Telefónica has started to use the Terra Fibra brand in Brazil for fibre broadband franchises, taking coverage to areas outside its footprint with small communication providers. Also worth noting is its Telco4Telco Group wholesale initiative, which aims to offer Telefónica products and platforms to other smaller operators (Telefónicawatch, passim).