Höttges calls for hardware and software disaggregation across all radio bearers, not just 5G.
DT working toward a "Chinese-free" core network but awaits recommendations from Berlin on Huawei's RAN gear.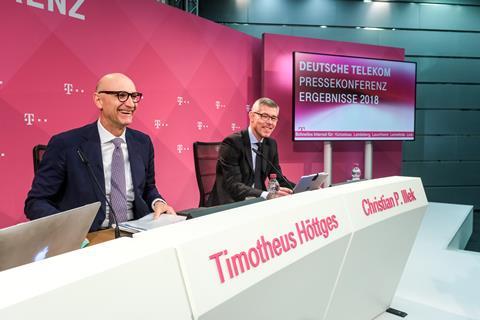 Deutsche Telekom (DT) seems to have taken a leaf out of the Vodafone open RAN playbook. Speaking on DT's earnings conference call last week, Timotheus Höttges, the company's Chief Executive (CEO), articulated an expansive vision of "full disaggregation" similar to the one voiced by Vodafone.
Vodafone seems to have done most of the open RAN running for operators so far, perhaps no more so than in October 2019 when it issued vendors an audacious RFQ to supply more than 100,000 sites across Europe with OpenRAN‑compliant kit, covering 2G–5G.
Höttges argued that opening up 5G RAN networks should be the first step, followed by disaggregation of the "entire RAN infrastructure".
Open RAN drivers, said Höttges, include the opportunity to carve out greater commercial and security independence, rather than relying on one or two suppliers. "[Open RAN] is something which we are highly lobbying and which we are committing to", said Höttges. The CEO said DT will "heavily support" any legal enforcement of open RAN, although he did not spell out specific obstacles he had in mind.
DT, arguably, has not been as vocal about open RAN as Vodafone and Telefónica. While its two European arch-rivals were busy working on deployment models within the Telecom Infra Project's (TIP) OpenRAN project group, DT seemed happy to be a spectator on the TIP sidelines.
Höttges now seems to be on the same page on Vodafone, although timelines and the geographical extent of DT's intended deployment are fuzzy.
Tipping point
Höttges' greater enthusiasm for open RAN deployment seems to stem from a recent tie-up between the O‑RAN Alliance, with which DT has had a lengthy association, and TIP's OpenRAN initiative. While TIP has mainly focused on developing next-generation infrastructure use‑cases, O‑RAN Alliance work revolves around the development of open and standardised interfaces. Höttges appeared to welcome the coming together of the two open RAN industry efforts as some sort of breakthrough. Because of this "alignment", he indicated, "all the big telcos are working on these initiatives going forward".
The O‑RAN Alliance's partnership with TIP appears to have spurred greater DT activity. As part of closer collaborative work, DT is to expand its current TIP Community Lab and launch a European Open Test and Integration Centre. The Group will apparently "transform" its current Berlin lab to focus on interoperability validation of O‑RAN‑compliant radio unit–distributed unit solutions, which will then feed into an upcoming Open Fronthaul plug‑fest.
Huawei factor
Höttges said a decision by Berlin on Huawei Technologies' role (or non-role) in the RAN had been delayed because of COVID‑19, although he expected guidance in a matter of days.
For the CEO, it seems it will be a case of following orders. "We always follow recommendations", insisted Höttges — although he seemed keen on a more relaxed German regulatory approach in the RAN than the core, where DT has flagged it is "working towards a Chinese free core network infrastructure".
DT's CEO favours what he called a "very balanced multi-vendor strategy" in the RAN, suggesting that Huawei could very well be part of the mix, without — in his view — jeopardising security. "Banning a specific company, I think, doesn't make sense", he said.
One point perhaps overlooked is that Huawei, at least so far, has expressed little interest in open RAN principles.