Greek operator enables first 5G campus network, focused on smart‑manufacturing.
Project sees Ericsson further expand 5G reach within DT.
PTC and Gizelis Robotics among solution partners.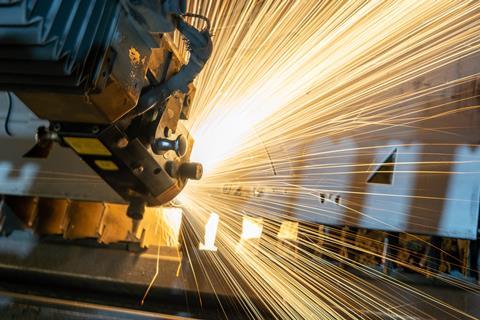 Cosmote Greece highlighted a collaboration with infrastructure vendor Ericsson on the delivery of private network technology at a factory complex owned by solar energy specialist Calpak in Loutraki, near Cornith. The deployment is pitched as the first of its kind in Greece.
Calpak's factory — a 4000 square metre site manufacturing solar water heating equipment — is being powered by Cosmote's "licensed spectrum". The promise is that "near-zero latency", "high-capacity" 5G will improve productivity in the factory; so much so that Calpak hopes it can leverage operational efficiencies to expand internationally.
On top of the network, the project aims to harness Industrial Internet of Things (IIoT) and augmented reality technology from US‑based industrial software provider PTC (an existing T‑Systems industrial tech partner — Deutsche Telekomwatch, #79), as well as connected-robotic arms from Gizelis Robotics. Data will be collected from these appliances, and analysed, to enable a "series of innovative applications" such as remote production monitoring, predictive maintenance, and expert guidance.
Gunning for more
The deployment builds on Cosmote's existing relationship with Ericsson, the operator's exclusive 5G radio network partner and DT's strategic ally on private enterprise networks. It follows closely after the NatCo's 5G launch, which took place in December 2020 after completion of Greece's 5G spectrum auction and brought coverage — albeit limited — to the cities of Athens and Thessaloniki (Deutsche Telekomwatch, #90 and #101).
Cosmote appeared to talk up the prospect of further campus network deployments in Greece, in keeping with the Group's gradual, ongoing private wireless expansion in Europe. Deployments — whether pilots or full launches — have now been flagged in Austria, Croatia, Czech Republic, Germany, Hungary, and Slovakia (Deutsche Telekomwatch, #101 and passim).
A growing list
The announcement did not disclose which of DT's campus network products are being utilised by Calpak — or whether Cosmote Greece has developed its own custom products and services line. Nor were details provided on what band of spectrum the campus network was running on.
DT campus network activity overview, to January 2021

Source: DT; Cosmote, Deutsche Telekomwatch.
Products
Campus Network L
Large customer-focused. Uses dedicated antennae and servers for "exclusive" local core network.

Campus Network M

Focused on small‑ and medium‑sized enterprises. Public network‑/VPN‑based.

Campus Network S

Smaller customer‑focused. Geared towards "improved public mobile communications coverage".

Named deployments

Accenture

Professional service provider using network to trial industrial connectivity technologies in Essen's Zollverein colliery complex. Launched in late-October 2020.

Budapest University of Technology and Economics

Magyar Telekom‑ and Ericsson‑supported 5G test network using 2.6GHz and 3.6GHz bands. Agriculture and manufacturing research focus.

BMW Group

DT‑ and Ericsson‑supported network at Leipzig plant. "Initially" LTE‑based. In operation as of February 2020.

BorgWarner Oroszlány

Magyar Telekom‑ and Ericsson‑supported network 4G network at automotive component plant. Being tested as of December 2019. "Could be upgraded to 5G".

Calpak

Cosmote Greece- and Ericsson-supported deployment, announced in January 2021, focused on manufacturing.

CEIT

Slovak Telekom‑ and Ericsson‑supported 5G campus network at CEIT, Slovakia, in partnership with University of Žilina. Industrial and manufacturing use‑cases targeted initially.

Graz University of Technology

Magenta Telekom‑supported 5G campus network, scheduled to go live by end‑June 2020. Nineteen partners involved.

KODRONA

BMVI‑supported drone research project, in partnership with University of Siegen. Using Campus Network M product.

OSRAM

DT‑ and Ericsson-supported dual‑sliced campus network at Schwabmünchen, announced in February 2019. Initially LTE‑based. Combined with DT edge cloud (EdgAIR).

RWTH Aachen University

Connected Industry Center, ostensibly DT's main testbed.

Technical University of Ostrava

Campus network supported by T‑Mobile Czech Republic that went live in July 2020, initially based on 4G.

Universitätsklinikum Bonn

DT's first 5G 3.6GHz campus network in Germany. Live as of December 2020, using public network and indoor antennas.

University of Zagreb

4G/5G testbed for Faculty of Electrical Engineering and Computing, supported by Hrvatski Telekom. Public update expected in 2021.

ZF Friedrichshafen

DT‑ and Ericsson‑supported network. Described as in testing stage in early‑2019.

Sam Patterson is a Staff Reporter for TelcoTitans, contributing telecoms news analysis since September 2020 as part of the TelcoTitans Editorial team.