Amazon-owned Kuiper Systems and Elon Musk's SpaceX file FCC complaints against Viasat's Inmarsat acquisition.
Buyer navigated UK politicisation earlier this year, but faces further regulatory challenges in the US.
Viasat remains confident deal is "on track" for end-of-year completion.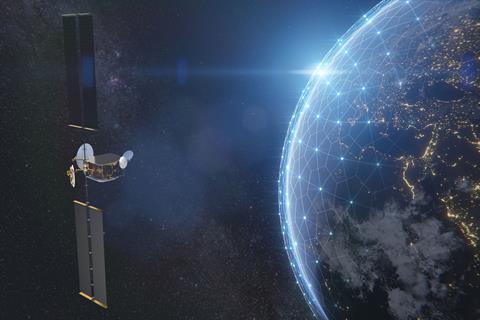 Viasat's highly-politicised pending takeover of UK rival Inmarsat attracted further complaints from industry peers.
Jeff Bezos' Kuiper Systems and Elon Musk's SpaceX have both submitted formal objections to the Federal Communications Commission, claiming that Viasat's "blatant violation" of FCC rules makes the Inmarsat deal untenable.
Viasat is in the process of acquiring Inmarsat in a deal valued at $7.3bn (£6bn/€7bn). It has already faced political opposition in Westminster, where foreign investment in UK businesses is a hot-topic, but the US challenge is a regulatory one.
In its results for the quarter to 31 March 2022, Inmarsat Chief Executive Rajeev Suri said the acquisition "remains on track" and was expected to close by the end of the year. Viasat gave the same timeline in its latest results. The deal was announced in late-2021.
Stage set for FCC
SpaceX has alleged that historical violations of FCC rules mean that allowing Viasat to control Inmarsat satellites does not "serve the public interest". It has claimed that Viasat continues to operate a "potentially very large number" of earth stations in the Ka-band (28GHz) without FCC authorisation. SpaceX relies on this same frequency for its Starlink constellation as a 'primary' system. 'Secondary' systems, like Viasat's, must not cause any interference — SpaceX claims its rival is "in clear violation" of this.
SpaceX first levelled this allegation in 2020 and has periodically called on the FCC to investigate Viasat in the years since.
Meanwhile, Kuiper Systems has alleged that the Viasat–Inmarsat transaction contravenes an FCC preclusion of operators holding multiple dormant satellite authorisations in the same frequency band. If the acquisition were approved, it would result in Viasat holding both an unbuilt V-band (37GHz–51GHz) system and an application for an additional licence in the same band.
Kuiper Systems is calling on the FCC to force Viasat to "surrender or withdraw" one of its licences.
David Goldman, Senior Director for Satellite Policy at SpaceX, said "the stage is set" for FCC intervention, given Viasat's "ongoing and intentional violation of the terms of its licences".
A Viasat spokesperson told Reuters that "there is nothing new here". "We continue to believe that the transaction will serve the public interest and remain confident that the FCC will reach that same conclusion".
Political pushback
The Viasat deal has faced political opposition, but in March it and Inmarsat agreed on a package of "legally binding economic undertakings" with the UK government's Department for Business, Energy and Industrial Strategy. For example, the combined entity would seek to increase skilled jobs, increase research and development spending, ensure continued ownership of Inmarsat's current satellite fleet by a UK company, preserve the use of the Inmarsat brand with a focus on the maritime segment, and establish the international business headquarters of the combined company in London.

Joseph Purnell is a Staff Reporter for TelcoTitans, contributing telecoms news analysis since 2019 as part of the TelcoTitans Editorial team.