A score for Telefónica in global Partners Program vs Partner Markets match-up.
Axiata to integrate and resell ElevenPaths cybersecurity.
Deal expands Telefónica presence in ASEAN region as it strives to deliver growth through an overdue expansion in the MNC space.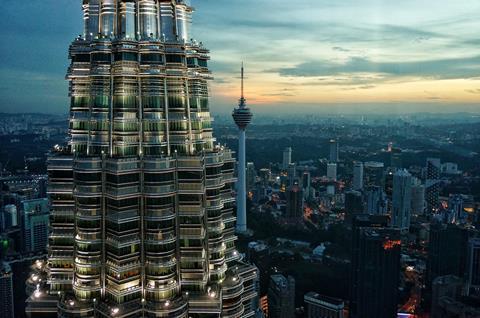 Telefónica Group declared the business-to-business division of Asian operator Axiata Group as its newest Partners Program ally, with Telefónica Tech's ElevenPaths leading early collaborative activity.
The partners are aiming to develop integrated offerings for a range of industry verticals highlighting agriculture, energy, mining, and transport. There is set to be a sharing of expertise in B2B markets and a commitment to cooperation on strategic projects.
The agreement focuses on the provision of Telefónica's three core digital services for major corporates — cloud services, cybersecurity, and IoT/big data — with cybersecurity the initial focus. Here, ElevenPaths is coming to the fore, with Axiata to use the Telefónica unit's services to both bolster its internal network security, and sign new deals with corporate customers.
Beyond targeting the enterprise space, the partners are also considering collaboration in the international wholesale communications market.
Telefónica's Partners Program has been up and running since 2011, with the operator entering agreements with operators largely outside its own footprint. The programme is something of a moveable feast, with different elements of procurement partnership, research, and development work, and MNC service provision highlighted at different times and depending on the partner involved. The agreement with Axiata Enterprise appears to fit within the now-prevailing category of joint MNC-service provision.
Silent partners
Little news tends to emerge on the success, or otherwise, or the Telefónica partnership initiative, with grand alliances heralded before fading discreetly into the background.
The nature of the programme appears to be evolving alongside Telefónica's transformation strategy, however, and may increasingly come to the fore as the Group works to leverage Telefónica Tech assets and build a more competitive presence in the MNC market. Group performance in the corporate segment is an emerging key performance indicator at Telefónica with the market portrayed as an important growth generator combatting continued diminishing revenue from Telefónica's traditional core business (Telefónicawatch, #141 and passim).
In total, 65 markets are said to be covered by members of the Telefónica Partners Program, with eleven other telco groups now involved.
Telefónica Partners Program members
Operator
Country markets
Partnership signed
Sources: Operators; Telefónica; Telefónicawatch.

Etisalat

Afghanistan, Benin, Burkina Faso, Central African Republic, Côte d'Ivoire, Egypt, Gabon, Mauritania, Mali, Morocco, Niger, Pakistan, Saudi Arabia, Togo, United Arab Emirates

July 2011

Bouygues Telecom

France

July 2011 (expanded in March 2014)

China Unicom

China, Taiwan

July 2011

Telecom Italia

Italy

July 2011

Sunrise

Switzerland

September 2011 (extended in January 2016)

MegaFon

Russia, Tajikistan

May 2013

Ooredoo

Algeria, Indonesia, Iraq, Kuwait, the Maldives, Myanmar, Oman, Palestine, Qatar, Tunisia

March 2015

MTN

Afghanistan, Benin, Botswana, Cameroon, Cote d'Ivoire, Cyprus, Ghana, Guinea Bissau, Guinea Republic, Iran, Liberia, Nigeria, Republic of Congo, Rwanda, South Africa, Sudan, South Sudan, Swaziland, Syria, Uganda, Yemen, Zambia

December 2015

Síminn

Iceland

February 2017

CK Hutchison

Austria, Denmark, Ireland, Italy, Sweden

March 2019

Axiata

Bangladesh, Cambodia, Indonesia, Malaysia, Myanmar, Nepal, Pakistan, Sri Lanka, Thailand

July 2020
Expanding Telefónica's Asia reach…
While Axiata was highlighted as the Partners Program's first Asian member, and the agreement certainly increases Telefónica's reach in Association of South East Asian Nations (ASEAN) countries, Telefónica does have partners present in the region already.
These include Ooredoo in Indonesia, and Etisalat in Pakistan. Beyond the ASEAN region, Telefónica's relationship with China Unicom has embraced IoT commercial opportunities and the Group earlier entered an MNC alliance agreement with Japan's SoftBank, which apparently just fell short of Partners Program designation (Telefónicawatch, #94 and #125).
… and hooking up with Vodafone's ex
The hook-up between Telefónica and Axiata follows an earlier strategic alliance between the Asian operator and Telefónica rival Vodafone.
Axiata's Celcom operations in Malaysia were formerly part of the Vodafone Partner Markets federation, alongside sibling operating businesses in Indonesia, Singapore, and Sri Lanka. The relationship faded as Vodafone developed links with the Conexus Mobile Alliance in the region, although these have also since been wound back, leaving Partner Markets with a smattering of individual ASEAN tie-ups covering Hong Kong, Japan, Singapore, South Korea, and Taiwan (Vodafonewatch, #148 and passim). Axiata also remains an (unenthusiastic) co-shareholder of Vodafone in struggling Indian joint venture Vodafone Idea (Vodafonewatch, #167).
While Axiata then initially favoured working with local partners to expand its reach and portfolio, its current digital transformation plans — focused on delivering advertising, financial services, and API platform development to a global market — now appear to complement Telefónica's digital connectivity priorities.