BT Media & Broadcast division unveils Vena as end-to-end broadcast platform.
Enabling remote production at core of new service, reflecting expedited industry-wide transition during pandemic.
Two "major broadcasters" already on the books.
Evolution pending in existing Media & Broadcast partnerships.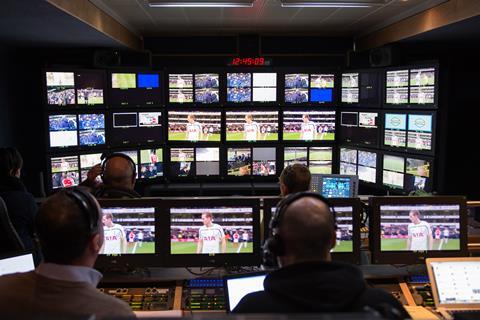 BT Media & Broadcast launched Vena, a software-defined "smart" broadcast network that aims to "simplify" the production and distribution of content.
Dubbed the "future of broadcasting", Vena is an application programming interface (API)-driven network that BT expects will enable it to change and upgrade functionality faster than it could with its traditional networks.
For clients of Media & Broadcast, key features flagged at the network's launch event were its ability to integrate with existing customer infrastructure; "intelligent" routing optimisation that allows users to "focus on high-value tasks"; and an "easy-to-use" self-serve portal. The unit flagged an ambition to use Vena to allow customers pay for bespoke services, rather than being tied to "traditional" long-term contracts.
For BT, Vena has involved a "multi-million pound investment" (an exact figure was not disclosed) and billed as one of Media & Broadcast's "flagship projects", ostensibly drawing together three of the unit's core areas of service: Acquisition, Production & Post, and Distribution (with Audience Interaction not included).
BT did not reveal its technology partners on the offering, nor did it give any indication as to the future of its portfolio of tools that seemingly overlap with Vena's capabilities — such as BT Media Supply Chain and BT Global Media Network. What is clear is that Vena will be Media & Broadcast's strategic focus, and will be central to an "evolution" of partnership strategy at the unit (see below).
TV presenter Otis Deley hosted a Vena launch event on 5 May 2021, with Faisal Mahomed, Director of Media & Broadcast, joined by Ian Newbury, Head of Portfolio, and Laura Tressler, Head of Sales & Account Management, as well as a handful of guest speakers.
The ins and outs
Mahomed said that the name Vena "represented exactly what the smart network does: it connects everything", referencing the anatomical vena, which carry blood around the body.
He passed to a sharply-dressed Newbury, complete with trademark pocket-square, to address Vena's technical specifics. Newbury explained that the network acts as an "end-to-end" broadcasting, procurement, and distribution platform, accessed via a self-service portal.
" At the outset, we spoke to a number of our own customers and the wider market to understand what is needed. This led to three basic principles: flexible; future-proof; and [easy to] use. "

— Newbury.
In essence, Vena "deals with the complex functions behind the scenes", he said. "We can provide broadcast-grade productions, engineered to arrive as and when you'd expect it to".
To do this, Vena combines "best of breed" equipment with BT's "proprietary", software-defined orchestration layer, Newbury stated. "By taking this approach, we have created a true media-focused end-to-end control and monitoring layer". By using BT's "in-house" software layer Vena achieves "greater flexibility", he said.
Though the partners involved in Vena's development were not named, Newbury noted that there were a number of technology providers "in the background".
Existing BT Media & Broadcast technology partners

Source: BT Media & Broadcast.

Aspera

Bulk data transport for Media Move.

Cobham

Radio frequency technology for Media Live.

Deluxe MediaCloud

Software-based broadcast playout solution.

Ericsson

Video processing technology.

Intelsat

Allied to deliver managed media solutions on terrestrial and satellite networks.

Jackshoot

IP-based live streaming for Media Stream.

Megahertz

Media service system delivery.

Nevion

Media networks and SDN control solutions for FacilityLine.

Sony Media Cloud Services

Workflow, collaboration management, and file transfer solutions.
Green screenings
As noted by Tressler, 2020 saw broadcasters take up remote production to a much greater extent than before the pandemic.
However, she said, off-premise production has benefits beyond COVID-19, with reaching sustainability targets chief among them. Vena is "another way to deliver carbon reduction", she claimed, not just by removing the need to transport people and equipment to a site, but also by opening up access to "sustainable suppliers".
The sustainability angle was bolstered by Newbury, who said that Vena will mean "less hardware" and fewer people on site.
Over the past year, BT itself has had to increasingly rely on off-premise production and remote broadcasting. Though BT Sport trialled remote production techniques ahead of the pandemic, in 2019 (BTwatch, #307), the first UK lockdown caused some challenges, seeing presenters rely on 4G connectivity and jury-rigged communications systems (BTwatch, #312). The unit then partnered with broadcasting specialist Telegenic to support remote production during the Premier League's Project Restart in mid-2020.
Extreme E racing coverage was held up as another example of industry adaptation at the Vena launch event. BT acquired broadcasting rights for the motor racing tournament in March 2021 (BTwatch, #323), and Barry Flanigan, Chief Strategy Officer at Extreme E production house Aurora Media Worldwide, was on the Vena guest panel. He highlighted that remote production solutions were integral to producing the racing series, particularly given its claimed focus on sustainability — remote production enabled "as light a footprint on-site as possible", Flanigan said.
Existing relationships set for evolution
Mahomed used the launch event to flag that two "major broadcasters" had already signed onto the Vena network.
Digital 3&4, which is responsible for the encoding and terrestrial broadcasting services for Channel 4 and ITV, was confirmed as one of the two. Media & Broadcast has expanded an existing partnership with Digital 3&4 "on the basis of the additional services that come with Vena", Mahomed said. He added that the second inaugural Vena partner will be announced shortly.
One aspect yet to be fully explained by BT Media & Broadcast is the true impact of Vena on existing relationships and contracts with broadcasters and production houses. When quizzed by Deley on potential changes, Mahomed said he was "proud" of current partnerships, "but this is an evolution". "With that evolution will be a change to how the commercial and the contractual models work between BT Media & Broadcast and our customers", he added.
Tressler went further, saying that while such contracts traditionally last for twelve–18 months, it is "increasingly important to not penalise smaller broadcasters". With Vena, she said, "flexible contracts" ensure personalisation, integrated cloud and linear services, and "robust service assurance", "without compromising on quality".

Joseph Purnell is a Staff Reporter for TelcoTitans, contributing telecoms news analysis since 2019 as part of the TelcoTitans Editorial team.