Two private networks in the West Midlands to be switched on, powering manufacturing modernisation in the region, underpinned by BT infrastructure.
BT/EE powers two projects in state-backed 5G Create funding call.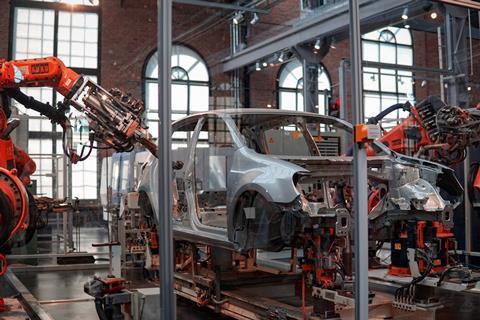 BT flagged developments across its various 5G innovation initiatives, including two new private 5G networks in the West Midlands, for which the operator will deploy and manage network infrastructure, and involvement in two projects that earned government funding as part of the latest 5G Testbeds and Trials funding call.
Private networks for regional manufacturing
BT's links to the two private 5G networks come via its strategic technology partnership with local testbed Worcestershire 5G (W5G), which was co-founded by BT (BTwatch, #295). West Midlands 5G (WM5G) also partnered on the projects. BT will supply and integrate the network infrastructure for both networks.
One will be deployed at the Manufacturing Technology Centre's Coventry Antsy Park facility. The network will enable innovation focused around autonomous vehicles, multi-access edge computing, and robotics, with a primary focus on the manufacturing sector. An initial trial will involve two robots performing tasks simultaneously, showcasing the potential for 5G networks to increase efficiency of factory operations. Longer-term targets for the network include establishing a "series of 5G use-cases" and a testbed for small- and medium-size enterprises in the region.
A second is for Birmingham-based aero parts manufacturer AE Aerospace. The network will be used to "modernise" the manufacturing supply chain, and capabilities will be added over three phases, each delivering a different solution: connected sensors on the factory floor for high-volume data capture; a quality assurance measure involving tracking and monitoring of parts in production; and a real-time image scanning solution to quality-check parts before shipping.
The announcements follow similar 5G installs in the region during 2020, including the 'live' 5G factory at local manufacturer Worcester Bosch, led by BT and W5G, and supported by Ericsson (BTwatch, #315).
Sarah Walker, Director for Corporate & Public Sector, Midlands & North at BT Enterprise, heralded the private networks as indicative of BT's commitment to its partnerships with W5G and WM5G.
MNOs take bit parts in 5G Create
BT was also one of three mobile network operators (MNO) to play a role in the latest 5G Testbeds and Trials funding call, 5G Create, alongside Telefónica UK (O2 UK) and Three UK. BT is directly involved in two projects in the latest cohort.
BT partnered with the Milton Keynes Council for MK 5G Create, based at the home of the MK Dons football club, Stadium MK. It will trial solutions for logistics, security, and surveillance. Speaking to specialist outlet Cities Today, the Council's Head of Transportation Innovation Brian Matthews shared an "ambition" to launch an autonomous passenger shuttle, running a route between the stadium and railway station, to showcase 5G-enablement on public and private roads. The project builds on existing trials headed by the Council under the MK:5G — Connecting Communities banner. In April 2020, BT and fellow participant CityFibre were part of the winning consortium in a bid to trial a 5G network in the city, with Huawei Technologies and the locally based Open University also involved.
EE, meanwhile, is backing the Green Planet AR project, which is developing an augmented reality (AR)-based mobile app. Led by AR specialist Factory 42, it will feature a holographic video of naturalist and broadcaster David Attenborough. London's Kew Gardens will also be turned into a testbed, with 5G equipment available for public hire to experience the app. For its part, EE will deploy its 5G network and edge computing, with its public network enabling the app to be available at "set locations" around the UK.
5G Create is a component of the Department for Digital, Culture, Media & Sport's (DCMS) innovation initiative to support next-generation technology — the same Testbeds and Trials programme from which WM5G was born. Specifically, 5G Create is designed to "boost productivity, grow existing businesses, or spark new ones". This cast the net much wider than previous calls, which focused more narrowly on establishing 5G testbeds or developing rural- and industrial-focused use-cases. The nine projects in this second cohort, announced in January 2021, were handed a share of £15.2m in UK government money, bolstered by £13.1m from partners and the private sector. Seven other projects had already been selected in August 2020.
In a change from previous funding rounds, five projects were highlighted for incorporating open RAN: 5G AMC2, 5G Logistics, Connected Cowes, Eden Universe, and Live & Wild. This comes amid efforts to advance the government's 5G Diversification Strategy to increase vendor diversity and oust so-called 'high-risk vendors' — namely, Huawei — BTwatch, #318.
A full run-down of the DCMS-funded 5G Testbeds & Trials projects, and more on the latest 5G Create cohort, is available here.
Project / Timeframe
Focus
MNO participation
Key participants(lead in bold)
Funding

5G Create — second cohort, January 2021

Note: * Hutchison Ports (owner of the Port of Felixstowe) and Three UK are both owned by CK Hutchison Holdings Limited.
Source: DCMS.

5G AMC2

(Accelerate, Maximise, and Create for Construction)

February 2021–March 2022

Testing 5G-enabled data management systems to maximise construction industry efficiencies.

–

AttoCore

BAM Nuttall

Building Research Establishment

£0.8m

5G Logistics

February 2021–March 2022

Security, traceability, and tracking of goods within extendable virtual boundaries, and between public and private networks.

–

ADVA

Airspan Communications

AttoCore

Bristol City Council

Bristol Port Company

Cellnex Connectivity Solutions

Davies Turner & Co

Maritime Transport

This is Gravity

University of Bristol

University of Cardiff

Unmanned Systems

West of England Combined Authority

£3.1m

5G Ports

February 2021–March 2022

Deployment of a 5G standalone network at the Port of Felixstowe, to run alongside an existing Three UK 4G network. Automation, logistics, and predictive maintenance are among the use-cases.

Three UK

Blue Mesh Solutions

Cambridge University

Hutchison Ports *

Three UK *

£1.6m

Connected Cowes

February 2021–March 2022

5G deployment in the Solent strait to enable real-time remote viewing and virtual reality (VR) experiences during the Cowes Week yacht racing event.

–

1851 Trust

aql

Cowes Week

£0.8m

Eden Universe

February 2021–March 2022

Use of AR/VR to create enhanced experiences for Eden Project visitors and online.

–

aql

The Eden Project

Marshmallow Laser Feast

Meta

£1.7m

The Green Planet AR

February 2021–March 2022

Creation of The Green Planet AR app, combining AR/VR and volumetric video to create an educational mobile experience.

BT Consumer (EE)

BBC

Dimension Studios

EE

Factory 42

Royal Botanic Gardens Kew

Talesmith

£2.3m

Live & Wild

February 2021–March 2022

Testing of network resilience by leveraging 5G-enabled filming on a mobile, vehicle-mounted base station.

–

aql

Candour Productions

MTN Safety

£1.2m

MK5G Create (Milton Keynes 5G)

February 2021–March 2022

5G testing at Stadium MK to include trials of autonomous shuttles, robotics, and surveillance.

BT Group

AppyWay

BT

CityFibre

Imperium Drive

Metaswitch Networks

Milton Keynes Council

MK Dons FC

Neutral Wireless

£2.4m

Project Vista

(Video and Stadia Technical Architecture)

February 2021–March 2022

Live sporting event coverage based on FeMBMS technology.

O2 UK

Digital Catapult

Digital TV Group

Global Wireless Solutions

O2 UK

Rohde & Schwartz

£1.3m

Total

£15.2m

Joseph Purnell is a Staff Reporter for TelcoTitans, contributing telecoms news analysis since 2019 as part of the TelcoTitans Editorial team.