Openreach puts April 2020 date on SOGEA and SOGFast VoIP products, coinciding with G.fast commercial launch.
COVID‑19 outbreak forces engineers to take a break, with domino effect across UK ISPs.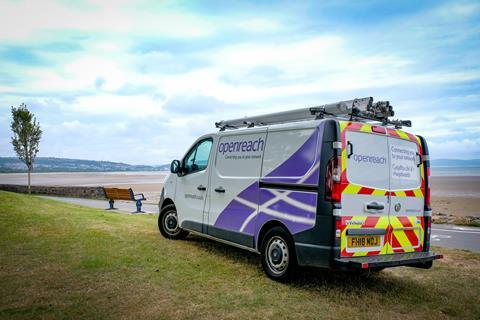 Openreach launched its Single Order Generic Ethernet Access (SOGEA) product, a standalone broadband service for UK communications providers (CP), marking what it described as the "beginning of the end" for landline voice services. A full commercial launch on 1 April 2020 made SOGEA available for all CPs but limited geographically to areas covered by full‑fibre or G.fast rollouts.
SOGEA replaces dedicated analogue telephone lines, instead bundling voice into the broadband connection, utilising IP telephony. Adoption of SOGEA is a key step towards turning off the Public Switched Telephone Network (PTSN), scheduled for 2025. SOGEA refers to fibre‑to-the‑cabinet (FTTC) broadband services, while SOGFast is the G.fast variant. There will be a voice‑only option, Single Order Transitional Access Product (SOTAP), for those not requiring broadband.
BT Consumer has been an early adopter, but it is anticipated that further CPs will join in the near future. In order to reach the 2025 deadline for a PSTN switch‑off, CPs must migrate an average of 50,000 customers to voice‑over‑IP (VoIP)‑based products each week for the next five years. With SOGEA, Openreach hopes to make this a reality by taking advantage of the recent change in industry mindset, having previously struggled to persuade CPs of the benefits of wide‑scale migration to all‑IP voice provision (BTwatch, #276 and #303).
G.fast goes official but coronavirus spoils the party
Separately, but relatedly, Openreach confirmed the commercial launch of its G.fast broadband product. From 1 April 2020, the offering moved out of an Early Market Deployment phase that has lasted several years.
The official commercialisation means that the up‑to‑330Mbps FTTC service sees some service level aspects finalised, despite the technology already covering approximately 2.7 million UK premises. This footprint is not expected get significantly bigger, however, with a shift in focus to full‑fibre deployment in 2018 seeing G.fast coverage targets reduced by more than seven million, down from an initial ten million premises target by March 2021 (BTwatch, passim).
Virus spreads to broadband installs
The impact of COVID‑19, although felt in every sector, has begun to affect home broadband and phone installations.
Openreach called time on the majority of new service provisions, effective 25 March 2020. This decision halted all indoor premises visits and paused installation (or upgrade) of a number of products, including SOGEA and SOGFast, as well as FTTC and fibre‑to-the‑premises.
The access services business said it would "prioritise only the essential work", which apparently means a focus on on‑street repairs and maintenance (see separate report). Virgin Media has also minimised in‑home visits that its engineers are carrying out.
Openreach's decision to halt work deemed non‑essential has had a knock‑on effect on internet service providers. BT and Sky Broadband were among those to block new orders for ultrafast services that would ordinarily require an in‑home engineer visit.