BT Media & Broadcast supports remote production for Scottish Professional Football League.
BT Sport's Jamie Hindhaugh says remote production is here to stay.
IP core being rolled out at Stratford studio.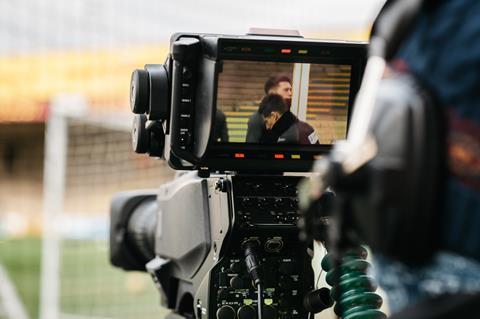 QTV, the Glasgow-based broadcast facilities and production specialist, appears to be another customer of Vena, the software-defined "smart" broadcast network launched by BT Media & Broadcast in May 2021 (BTwatch, #324).
At the time of the launch, BT indicated that two "major broadcasters" had already signed onto the Vena network, and confirmed Digital 3&4 as one of the two. Digital 3&4 is responsible for the encoding and terrestrial broadcasting services for Channel 4 and ITV and had an existing partnership with Media & Broadcast.
It is unclear whether or not QTV was the other broadcaster referenced at the time. A BT spokesperson told BTwatch that the second customer has not yet been formally announced.
However, Laura Tressler, Head of Sales at BT Media & Broadcast, indicated in a May 2021 interview with SVG Europe that BT and QTV would work closely over the coming years"to embrace the flexible commercial models Vena offers and start to plan how the orchestration layer can integrate with QTV's workflows and processes to simplify the journey even further".
As with Digital 3&4, any Vena collaboration would build on ongoing work between BT and QTV. For example, Media & Broadcast is providing the TV Outside Broadcast network (TVOB) that enables QTV to provide the Scottish Professional Football League (SPFL) with a new, centralised remote production set-up from Glasgow.
Also involved in the set-up are Cerberus Tech, which provides its Livelink software-as-a-service live delivery platform; and QTV's technical partner ES Broadcast, which provides professional broadcast solutions.
QTV signed a multi-year agreement with the SPFL that started from the 2020–21 season and includes the provision of TVOB, production, and distribution services. The agreement covers 142 Scottish Premiership matches per season.
Tressler also framed the QTV collaboration within the context of Project Restart, the agreement reached between the English Premier League and broadcasters that allowed BT Sport, among others, to resume live Premier League broadcasts in 2020 (BTwatch, #313).
Vena is a software-defined "smart" broadcast network that aims to "simplify" the production and distribution of content. Dubbed by BT as the "future of broadcasting", Vena is an application programming interface (API)-driven network that BT expects will enable it to change and upgrade functionality faster than it could with its traditional networks. For clients of Media & Broadcast, key features flagged at the network's launch were its ability to integrate with existing customer infrastructure; "intelligent" routing optimisation that allows users to "focus on high-value tasks"; and an "easy-to-use" self-serve portal. The unit flagged an ambition to use Vena to allow customers to pay for bespoke services, rather than being tied to "traditional" long-term contracts. For BT, Vena has involved a "multi-million pound investment" and is billed as one of Media & Broadcast's "flagship projects".
Remote control
Over the past year, BT Sport itself has had to increasingly rely on off-premise production and remote broadcasting. Though BT Sport trialled remote production techniques before the pandemic in 2019 (BTwatch, #307), the first UK lockdown caused some challenges, seeing presenters rely on 4G connectivity and jury-rigged communications systems (BTwatch, #312).
The unit then partnered with broadcasting specialist Telegenic to support remote production during the Premier League's Project Restart in mid-2020.
Jamie Hindhaugh, Chief Operating Officer for BT Sport, has recently spent much of his time explaining how the provider has transformed its production processes to create a virtual television studio that enables presenters and crew to produce and broadcast presenter-led live shows from home.
This required BT Sport to create new workflows, governance procedures, and protocols, implemented via training over a three-week period, with security aspects proving to be the biggest challenge.
In an April 2021 webinar hosted by SVG Europe, Hindhaugh joined forces with Dan McDonnell, Managing Director of broadcast partner Timeline Television, to provide further insights into how the coronavirus pandemic accelerated remote production plans at BT Sport, noting that it had already been the "direction of travel".
Notably, Hindhaugh said he thinks BT "will never go back to where we were before", and highlighted an initiative he is leading called Staying Smart, "which is about actually how we operate whenever post-COVID-19 happens".
" Remote is here to stay. It was always part of our roadmap … we had four years in our plan; we did it in five weeks. We are already producing remote games in 4K HDR, we are looking at 8K… We're also looking at decentralising Stratford, giving us a bit more reach in other areas. But for me it's about pick 'n' mix. It's about having all of these different opportunities and then trying to identify the best way that individuals want to choose to work, and how they incorporate themselves into a production workflow. "

Hindhaugh.
In particular, he and McDonnell pointed to how BT Sport, in collaboration with Timeline, has upped the pace of its transition from serial digital interface (SDI) to IP at its at its studios in Stratford, in order to future-proof the ability to provide remote production.
" We're slowly rolling [the IP platform] out over the next few months. Stratford is obviously a very big facility so we can't turn it off for 24 hours, so we're doing [the rollout] in stages, but we'll eventually transition to an IP workflow which will enable [BT Sport] to do 4K, HDR, and Dolby Atmos remote productions [easily], and we can roll it out to more events. "

McDonnell.
McDonnell also made reference to a Timeline application called Stream Anywhere that essentially turns an iPhone into a broadcast camera. BT Sport has used the application for The Early Kick Off Show, The Football's Not On, and MotoGP.
BT still seems to be hedging its bets with regard to the future of BT Sport (see separate report). During the presentation of fourth quarter and full year results for the periods to 31 March 2021, Philip Jansen, BT Group Chief Executive, seemed better disposed towards the unit, following the three-year renewal of its current broadcast agreement with the Premier League (BTwatch, #325).

Anne Morris is a freelance journalist, editor and translator. She has been working as a reporter and news analyst for TelcoTitans since 2016.