Openreach CEO warns of constraints on pace of fibre network build.
Total UK vacancies reach new record high of 1.3 million.
Selley remains bullish on Openreach support from BT.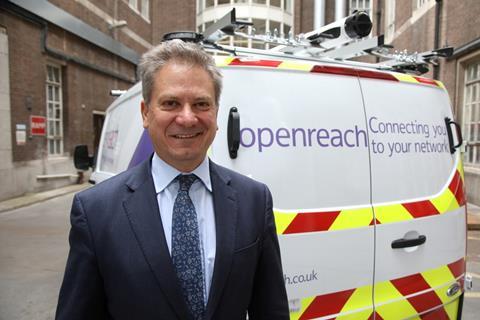 Openreach CEO Clive Selley warned that the "tortuous" process of recruiting skilled workers from the European Union following Brexit is having a detrimental effect on the speed at which fibre-based broadband networks can be rolled out across the UK.
In an interview with the Financial Times, Selley noted that people in countries such as Portugal and Spain "want the work", while Openreach "wants the skills" that they gained from building fibre networks in their own countries, but blamed red tape at the Home Office for holding up recruitment and thereby "constraining the rate of fibre build".
Selley told the FT he would "take a thousand" contractors immediately "if it was easier getting people in".
In February, Openreach announced plans to create 4,000 new jobs during 2022, including 3,000 apprenticeships, as part of what it flagged as the "largest recruitment drive" in its history to help build out its full-fibre network and reach 25 million homes and businesses by the end of 2026.
In early-June, Openreach again noted that it had passed more than 7.2 million homes to date, although the FT put this figure at 7.6 million.
Openreach has about 37,000 employees, of which 15,000 are engineers working on fibre-to-the-premises build and provisioning. It has a recruitment rate among engineers of 1,000 per quarter, as of November 2021, and eleven regional training centres across the country (BTwatch, #330).
Selley previously indicated that four of Openreach's largest projects — fibre network deployment; rural fibre build; copper recovery; and exchange decommissioning — will occupy its workforce "into the early-2030s".
According to the latest report from the UK Office for National Statistics, the number of job vacancies during March to May 2022 rose to a new record of 1.3 million, an increase of 20,000 from the previous quarter. The figure is also 503,900 higher than the pre-pandemic level in January to March 2020.
The number of vacancies in the telecoms industry is not specified, but ONS reported 79,000 vacancies in "information and communication" and 133,000 in "professional scientific and technical activities".
Fibre strategy
Selley also commented that it is "quite realistic" and "achievable" for Openreach to deploy FTTP networks to 97% of UK homes by 2030, but stressed this would require more government support.
Philip Jansen, Chief Executive at BT, indicated last year that the Group will not be halting its FTTP footprint expansion when it reaches the 25 million milestone, and suggested that BT could build out to "roughly 30 million" premises by around 2030.
The Openreach CEO also repeated his previous comments that he gets great support from BT. "What I'm doing is no cheap hobby. They're showing great confidence in us", he said.
Selley, who has held the CEO post at Openreach for more than six years, also indicated in March that he had previously met with Patrick Drahi to discuss "best practices" that could be implemented for construction of the UK's broadband network.
Drahi's Altice group has some experience in building fibre networks in France, Israel, Portugal, and the USA. Drahi has also been publicly supportive of BT and Openreach's strategy to deploy full-fibre networks in the UK.
The French billionaire increased his stake in BT to 18% last December through Altice UK, although this move is under review by the UK government on the grounds of a potential threat to national security.
Jansen has previously been keen to position BT as the only true national player, and Selley also indicated that he expects the number of competitive fibre broadband providers to shrink in the coming years.
"You can't have hundreds of private companies; it's just nonsense", he told the FT. However, he acknowledged that "some serious scale players" were emerging that need to be taken seriously.
Here, Selley was no doubt thinking of Virgin Media O2, which aims to retrofit its 15 million, DOCSIS-oriented cable network with FTTP by 2028.
In March, VM O2 CEO Lutz Schüler said BT had "better watch out" as the operator steps up its broadband rollout.

Anne Morris is a freelance journalist, editor and translator. She has been working as a reporter and news analyst for TelcoTitans since 2016.