Group ends talks on InfraCo JV as rising fibre demand and lower build costs dilute benefits of external funding.
Virgin Media O2 firmly in BT sights as it aims to lock up wholesale market, and move fast on convergence.
Future revenue growth anticipated, but greater efficiency and lower spending the likely source of short‑term improvements.
Beyond Openreach, CFUs struggling to grow, but improving brand reputation and new services expected to reverse decline.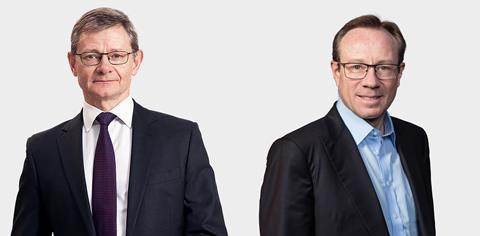 The delivery of full‑fibre infrastructure remains fundamental to BT strategy, and the Group's latest results presentation saw CEO Philip Jansen and CFO Simon Lowth lay out a programme based on a continued emphasis on cost efficiency, that will provide BT with a considerable "competitive edge". Central to this is a reduction of the estimated average cost of the commercial fibre rollout. BT is aiming for a 15% reduction in the estimated cost of reaching its headline, 85% coverage goal. The Group is also going it alone, and no longer seeking a joint venture partner to reach its rollout targets.
Following weekend press speculation, BT had confirmed to the markets that it was ahead of schedule in delivering previously announced cost‑cutting initiatives, perhaps taking some of the wind out of the sails of Jansen's presentation on the results call for the six months to 30 September 2021 (H1 FY21–22).
He was, though, still able to provide promises that more savings are coming down the line by the end of FY24–25, while the costs associated with delivering them will remain within original plans. At headline levels, revenue and profitability continues to fall, with little sign of a bounce‑back from the worst impacts of the pandemic, and a turnaround within the consumer and business units expected to be modest and potentially slow. This has only heightened the need for the operator to drive on furiously with cutbacks and operational reforms that may keep unwanted buyers from the door.
Equinox puts daylight between Openreach and rivals
Openreach is now working within a cost envelope of between £250 (€292) and £350 per premises passed. Management highlighted that this is strikingly lower than estimated costs in Germany, where a €1,000+ per premises figure has been cited. More significantly, it appears to significantly undercut Virgin Media O2's Project Lightning fibre rollout costs (nearing £600 per premises passed on recent reports) and earlier estimates reported for CityFibre's outlay (c.£500).
This improved rollout efficiency has been accompanied by rising demand for full‑fibre products, and ten communication providers signing up for ten‑year commitments under the Openreach Equinox fibre pricing structure. Jansen was keen to point out the three biggest Openreach customers in the UK had agreed to the new deal, highlighting Sky and TalkTalk as customers, but not mentioning that BT Consumer is the biggest of all.
Under the Equinox terms, the CPs are committed to using the fibre infrastructure wherever it is available, with an expectation that at least 75% of customers in an exchange area will be signed onto full‑fibre. This will strongly support the fibre business case, which is dependent on shutting down copper assets as quickly as possible to avoid the need to maintain two networks. While under Ofcom rules, Openreach can begin the process of shuttering copper once 75% of an exchange area is served by ultrafast services, the commercial momentum caused by the three major CPs promoting the new network will likely accelerate the switch‑off.
Going it alone
The revised cost envelope for fibre to the premises was identified as a key reason behind the BT Group decision to suspend previously floated plans to explore securing an investor for a JV to support the build of a five million premises footprint. Jansen said that with the lower cost of build, the need for external investment recedes, and existing shareholders will be able to get the full benefits of the build and the anticipated associated surge in Openreach business.
It was also acknowledged that creating a JV could have been a distraction that would have had an impact on the focus of the Group on building quickly and efficiently. With the Group facing close scrutiny of its plans as major shareholder Patrick Drahi looms (and with Deutsche Telekom still a substantial, if less interventionist, presence) managing another investor in a critical project could certainly have diverted management focus.
BT upping the voltage in response to VM O2 challenge
Jansen avoided naming VM O2 specifically in his comments, but it is clear that the cableco (which is planning to ditch cable technology to complete a move to a full‑fibre network itself) has had a target placed on its back by the BT CEO.
The Liberty Global and Telefónica JV has indicated that it considering opening up its infrastructure to wholesale customers, and stifling this opportunity is a motivating factor for BT's wolfish approach to FTTP sign‑ups. The new contracts with CPs incentivise fast fibre adoption with Openreach, and while regulatory controls have prevented BT's access services business from offering customers volume‑based deals, Equinox pricing is intended to make it less appealing for a CP to share out its business.
There were (slightly) more subtle digs at the rival, too. The depth and extent of interoperability between Openreach systems and those of its CP customers was highlighted — by extension throwing shade on the integration capabilities currently available with VM O2. Openreach was positioned as the only national ultrafast network builder (although VM O2's Gigabit reach considerably outreaches Openreach's ultrafast range at the moment), and is positioning itself as a one‑stop shop for all locations.
The Consumer business is also squaring up to VM O2 in the retail sector, and Jansen declared the operator had a head start on converged products with a pipeline of differentiated products on the way. The premium Consumer converged proposition Halo (which has mobile bundling options alongside fixed voice and broadband) was flagged, and half the BT broadband customer base is said to be on an iteration of the offering. While BT does not provide a breakdown of broadband accesses, this is likely to mean in the region of four million customers are on the premium deal. Halo also includes a commitment to a switch to full‑fibre as soon as it is available to customers.
Lean mean fighting machine
The flagged reduction in the cost of the fibre rollout was part of a series of efficiency gains highlighted by BT as it continues its turnaround and bolsters defences against a possible outside bid for control of the business.
With the £1bn in gross annualised services achieved 18 months ahead of schedule, BT has brought forward the next milestone: reaching £2bn in annualised savings forward by a year, to the end of FY23–24. It is promising that additional, although unspecific, additional savings will be made in FY24–25, without the Group having to spend more than the originally forecast £1.3bn cost of unleashing efficiencies.
The predicted capex peak for digital transformation plans is also expected to come in under budget, reaching £4.8bn in FY22–23, rather than £5bn as previously expected.
CFUs still need to fire their engines
The need for the Group to maintain this emphasis on efficiency and transformation is underlined by the current performance of its customer facing units.
While Openreach is thundering on, Consumer, Enterprise, and Global are still stalled. Consumer is improving its reputation, but this is yet to translate to rising revenue and enthusiasm for convergence remains muted.
Enterprise is also seeing legacy losses outpace digital growth, although an expansion of its mobile business may be an early indicator that the division is using its full range of assets to compete more effectively in the market under new CEO Rob Shuter. This comes after years of optimism on the potential of being a converged operator, but little in the way of tangible success.
Global is also facing a tough time, and while Jansen declared the Global transformation plan to be exemplary, it is not translating to growth. This was largely blamed on the ongoing pandemic, and a caution among customers undertaking new projects, despite the supposed upsurge in demand for digital services, and pressure will be on CEO Bas Burger and his team to execute.


Neal Doran is a Senior Analyst for TelcoTitans. Neal's industry knowledge and experience as a telecoms analyst and writer spans three decades, and he has been a key part of TelcoTitan's Editorial team since 2001.