Openreach continued to trumpet progress with its Fibre First programme, with the addition of another 36 locations where it plans to build its FTTP network in the next twelve months, taking the total to 74.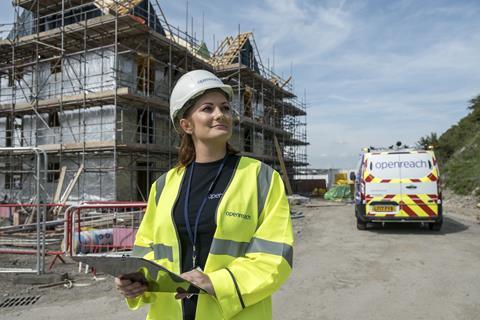 The rollout expansion comes as the division continues to encourage greater uptake of the ultrafast services among its customer base with new pricing that narrows the gap between full fibre and partial fibre offerings.
In promoting its renewed fibre focus, Openreach said it has deployed 2.6 million kilometres of fibre cable since February 2018, hired 3,500 trainee engineers in 2018, and recruited 2,600 of 3,000 planned trainee engineer hires for 2019.
The access services division is introducing new prices to encourage internet service providers to migrate their customers to fibre services. For example, it aims to reduce the monthly price of the 330Mbps product by 36% to £24.28; the 110Mbps product by 20% to £17.28; and the 40Mbps product by 10% to £14.28 – with some of the changes coming into effect from 1 September 2019. The division is not adding order volume commitments to the new prices.
Furthermore, it plans to introduce new 500Mbps and 1Gbps variants of its FTTP service later in the 2019-20 financial year. Katie Milligan, Managing Director for Customer, Commercial and Propositions at Openreach, said the provider is offering wholesale customers "a greater incentive to switch their customers to a full fibre world, with more competitive pricing and a wider choice of products".
BT Consumer the predictable beneficiary of Openreach discounts
Milligan also suggested that the new offers are intended to particularly incentivise "customers who are currently using superfast fibre-to-the-cabinet services". Considering that major Openreach customers such as Sky and TalkTalk have only been building momentum on migration of customers from ADSL-based services to superfast services in recent quarters, the intended target of the new proposition looks to be BT Consumer.
The BT retail division has reached 75% penetration of its base on FTTC services, with the majority of its customers having already been on FTTC tariffs for several years. Consumer is taking hits from the intensified competition in superfast (engendered by Openreach's volume discount offers), and will therefore be looking at ways to differentiate and upsell as a counterpoint to indications that it is preparing to return fire in an escalating price war (BTwatch, #297 passim and see separate report).
Altnets step up momentum
While Openreach is cutting prices, the fibre altnets are intensifying their market challenge, with new players arriving on the scene.
CityFibre announced a second phase of rollouts that will add 14 towns and cities, covering more than one million homes, to its Gigabit City programme, including: Batley, Bradford, Derby, Dewsbury, Doncaster, Inverness, Ipswich, Leicester, Lowestoft, Newcastle-upon-Tyne, Rotherham, Slough, Swindon, and Worthing. The company had already unveiled plans to deploy fibre networks in twelve cities, and said the additional locations mean its network will pass two million of its planned five million premises. CityFibre noted that construction is underway in ten of the original twelve cities, with 1Gbps broadband services live and on sale via its retail partner Vodafone in five (Aberdeen, Coventry, Milton Keynes, Peterborough, and Stirling). According to Think Broadband, the number of premises where Vodafone Gigafast fibre broadband services can be ordered stands at 63,115.
The fibre landscape has become a little more crowded after it emerged that new entrant Swish Fibre has submitted an application to Ofcom for so-called "code powers" – meaning that, if approved, the regulator will apply the electronic communications code to the altnet to enable it to build an FTTP network more easily. While a consultation for the new licence is underway, Swish said it is already recognised by Openreach as a communications provider and plans to use a combination of Openreach ducts and poles, along with a newly built ducted network of its own, to provide a full fibre broadband service. Manchester-based Swish Fibre has only recently begun discussing its plans to roll out FTTP networks "within a commutable distance of London". It has initially identified 250,000 properties where broadband availability is poor and there is strong demand for ultrafast broadband services. Ofcom noted that the provider plans to focus on six regions in Southern England for its initial deployment, and aims to later expand its network to other parts of the UK. The regulator added that the FTTP network "may also be supplemented by wireless links", although no further details were provided. It also appears that Swish intends to provide wholesale access to its duct infrastructure. Swish Fibre is hoping to "break ground" in the final quarter of 2019 and offer connectivity services to homes and businesses from 2020.
Many other entities have also recently applied for code powers, including housebuilder Persimmon Homes, which aims to deploy FTTP networks to serve its housing developments; and My Fibre Limited, which plans to provide and operate dark fibre campus networks in London and the South East of England, and is said to have proposed the construction of an FTTP network in Wales.
It was reported that CityFibre is in talks with TalkTalk to potentially invest in the operator's FibreNation programme. Goldman Sachs-backed CityFibre was an early infrastructure partner in the project (BTwatch, passim). At its most recent trading update, TalkTalk had indicated that it is making "good progress" in finding an investment partner for the infrastructure programme which, to date, has largely appeared a theoretical exercise (BTwatch, #303).
Virgin Media on a charge
Virgin Media, which gained a new Chief Executive in June 2019 after its former Chief Operating Officer Lutz Schüler took over from Tom Mockridge, also unveiled plans to double speeds on its existing cable network by the end of 2021, offering up to 1Gbps broadband services to nearly 15 million households. As previously indicated, the cableco aims to achieve this by upgrading its hybrid fibre coax (HFC)-based DOCSIS 3.0 network with DOCSIS 3.1 technology (BTwatch, #303 and passim). It aims to have covered one million households with the upgrade in at least two cities by the end of 2019, starting in Southampton.
Virgin Media is clearly galvanising itself to take on BT as well as rival altnets, with the introduction of faster broadband speeds. The DOCSIS 3.1 rollout is being implemented alongside Virgin's Project Lightning programme, which had aimed to cover up to an additional four million households with FTTP connectivity by the end of 2019. However, total premises covered reached 1.8 million by end-June 2019, and it seems that the focus is shifting more to the DOCSIS 3.1 upgrade. At a recent Business Briefing, BT Technology Chief Executive Howard Watson was critical of DOCSIS technology, describing its reliance on shared-access as its "Achilles' heel" (see separate report).
It has also been speculated that Virgin's parent company, Liberty Global, is contemplating the establishment of a new venture that would build its own FTTP network using Openreach PIA products and be run separately to both Liberty and Virgin. According to the Financial Times, the group has appointed investment bank LionTree to establish a joint-venture business, which is said to have been given the working title of Project Hermes. The report suggested that the new venture could expand the Virgin Media footprint by an additional two million homes or more in sparsely populated areas, over time.
A separate Financial Times interview with Schüler suggested that Project Hermes and Project Lightning could together expand Virgin's footprint by eight million households, increasing its reach from 50% to 70%. A benefit of Project Hermes as a separate entity venture could be staying out of Ofcom's regulatory crosshairs by circumventing the risk of accumulating 'significant market power'.
Although it seems that neither Liberty Global nor Virgin Media have commented on the reports, Mike Fries, CEO of Liberty Global, did express interest in reaching the ten million homes outside of its existing UK footprint during the investor earnings call for Liberty's second-quarter results for 2019.
"Let's just say that we are in the mix as we should be in any discussions about building the next wave of networks outside of where we already have built superfast broadband… If we could extend our footprint potentially using other people's networks or participating in off-balance-sheet type network construction, that could be pretty interesting. So it's all very preliminary, and it's work you would expect us to do."

– Fries.
Worth noting is that Liberty Global recently received €10.1bn from Vodafone Group from the sale of its cable assets in the Czech Republic, Germany, Hungary, and Romania.