Ofcom is changing its approach to regulation to support an accelerated fibre rollout, creating an opportunity for Openreach to step on the gas.
Artificially-high superfast pricing is to be put in place for five years, to give altnets an opportunity for better margins as they grow.
Openreach will see considerable freedom on full-fibre pricing, and will be able to recoup investment costs across more services due to Ofcom's new approach.
Openreach is expected to open up its infrastructure and dark fibre to give altnets the tools to compete more effectively.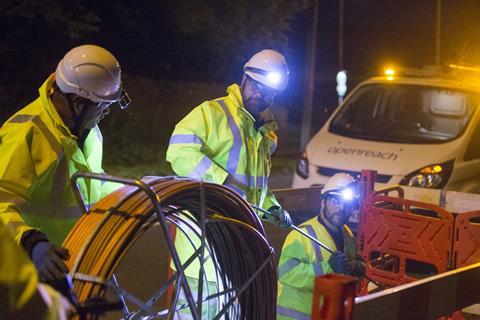 Ofcom issued a consultation on its plans for future regulation of full and partial fibre services in the UK, featuring a two-tier proposal hoped to encourage broader and more intense fibre-to-the-premise (FTTP) deployment by Openreach, while also creating headroom for the UK's fibre altnets to make an investment business case.
The proposed changes from Ofcom laid out in the Promoting Competition and Investment in Fibre Networks proposal document are due to come into effect from 2021, and apply for a five-year period (up from three years as part of efforts to offer longer-term certainty on pricing for the sector). Ofcom considers that the UK can be divided into two broad categories:
Areas where it considers that multiple competing fibre networks could be established. Approximately 70% of the population are based in potentially competitive areas.
Areas where it appears that only one credible network operator could be supported. Ofcom assumes that this is usually going to mean supporting Openreach. Within the final 30% there is a smaller subset, equating to around 5% of the population, that is likely to need deliberate state intervention to encourage investment.
After identifying these two major categories, the key changes the Ofcom proposals are currently expected to create are as follows:
Margin to compete for rivals. In the potentially competitive areas of the country, Ofcom is planning to regulate the cost of 'anchor' superfast broadband products with prices set above the cost Openreach incurs in providing them. The price of services delivering 40Mbps download speeds and 10Mbps upload speeds (40/10 services) will be subject to charge controls based on the cost of replicating the service for new entrants to the market, rather than the costs to Openreach based on its scale and experience and existing deployed infrastructure. Leased lines, offering connectivity both above and below 1Gbps, will also see regulated pricing based on the cost of delivery by a new entrant replicating Openreach services, and not the cost that Openreach would incur. These controls will be adjusted for annual inflation over the five-year period the review is set to cover but otherwise remain unchanged. With these prices set, it is expected that there will be an increase in the margin available for operators delivering network access services, and an opportunity for alternative access providers to more effectively offer communication providers a viable and efficient alternative to the incumbent.
Incentive to invest for Openreach. The regulator is suggesting what it described as a "radical departure" in its approach to encouraging investment in areas deemed non-competitive. The proposed new Regulated Asset Base (RAB) approach to establishing regulatory controls is one that is used to regulate other utility industries. It essentially gives the regulated company more scope to recover the costs of investments from services beyond those that will be directly created by the investment itself. In Openreach's case, this means that the cost of deploying fibre in non-competitive areas of the country can partially be recovered from the prices charged for delivering copper-based services to these areas. There are a significant range of ways to apply RAB rules, and any implementation would require collaborative forward planning from Openreach and Ofcom on business and investment plans, suggesting there will be considerable devilish detail to be dealt with before the new approach beds in.
Fibre pricing autonomy for all. While Openreach will be required to provide network access on a non-discriminatory equivalence of inputs basis for all envisaged active broadband services, there will be no price controls imposed on ultrafast full fibre services, or copper-based services above the basic 40/10Mbps offering.
Ofcom chooses the dark side. Ofcom is also returning to plans to require Openreach to provide full access to its dark fibre assets. One of the key anticipated benefits of permitting dark fibre access will be in supporting the introduction of effective levels of mobile backhaul capacity to support 5G services, although the regulator is keen to stress that it is not intending to limit the uses to which regulated dark fibre access can be put. Opening up dark fibre access has proven controversial in the past, however, and may result in further debate and amendment prior to its introduction.
Copper switch-off gets Ofcom backing. Ofcom also indicated it will support Openreach plans for migration of services from copper to fibre on an exchange-by-exchange basis, and provide regulation to reflect a process that would see copper services ended, and new or equivalent services delivered over fibre.
Giving altnets tools to fight, and Openreach freedom to race
In setting out the regulated fibre investment plan, reference was made to Ofcom's Physical Infrastructure Market Review, which is expected to lead to unrestricted access to Openreach ducts and poles being made available to altnets as a crucial element of creating an environment in which new entrants can expand in the market (BTwatch, #300).
In maintaining unrestricted duct and pole access, and planning for enforced access of Openreach dark fibre, the regulator appears to be giving altnets what it considers to be the tools they will need to compete with Openreach in providing next-generation services. Meanwhile Ofcom is also freeing up Openreach to invest and deploy fibre as it sees fit across most of the country, and making it easier for the BT business to make the level of return needed to bring full fibre to more remote or rural areas of the UK. At this stage of the consultation process it remains to be seen whether the proposed environment would provide a framework for a fair fight, but BTwatch suspects that BT will be happy with the plan. While not entirely giving the incumbent licence to accelerate FTTP by any means necessary, Ofcom certainly appears willing to risk the prospect of Openreach largely dominating in the provision of FTTP services in exchange for faster progress in reaching widespread full-fibre availability.
Altnets told to toughen up
Ofcom acknowledged that encouraging Openreach fibre investment could clash with altnet investment plans, and that there is a risk that the BT business will change its own rollout plans to counter the rollout plans of its emerging infrastructure rivals. While expressing some sympathy regarding this risk, the regulator noted that Openreach is producing a degree of mid-term visibility of its investment plans for fibre deployment.
The regulator also stated that Openreach deciding to respond and build in areas targeted by altnets would help create an environment where there are multiple networks offering competing services which helps support its goal of competition at infrastructure level. Ofcom further suggested that an assumption that a major rival such as Openreach could join the fray in their chosen markets should be factored in to any business plan adopted by an altnet.
Regulation
Ofcom's fibre growth approach
Ofcom has identified three principle ways in which it believes regulation can be applied to foster fibre deployment:
Promoting competitive networks "as far as possible" through opening access to Openreach, and regulating prices to promote competition.
Enabling investment in uncommercial rural areas through its approach to regulated pricing.
Supporting public intervention in the hardest to reach places.
End-users may feel short-term pain
Ofcom's planned 40/10 price controls are likely to mean that the cost to end-users of anchor superfast services will be higher than the prices that they would see in an unregulated market. However, the higher costs are said to be justified due to the longer-term benefits to consumers and business that are anticipated from the proliferation of full fibre services.
Suppliers
Sales-enablement automation platform provider Bigtincan flagged that it had signed an extension to its existing agreement with Openreach to provide an enablement solution for its customer-facing teams processing orders and project updates. The deal, worth a "minimum" of $615,000 (£471,380) over the initial twelve months, was said to be "structured for growth", with the value of the deal able to further increase in the second year of the deal through "usage-based extension options". Bigtincan claimed that since initially securing Openreach as a customer the annual revenue generated by the contract had risen by more than 80%, justifying its "land and expand" sales strategy. Bigtincan's mobile, artificial intelligence-powered sales automation platform is expected to be used by both Openreach staff, and "hundreds" of contractors to support efforts to cut installation times for orders, while increasing customer satisfaction rates. The US-based platform provider added that the extension sees it working with five of the world's leading telcos, including AT&T.
Competitors
BT arch-rival Virgin Media highlighted that it made use of Openreach physical infrastructure access (PIA) products for the first time to help deploy its broadband network under the Project Lightning programme. The cableco said it had connected more than 2,000 premises in Pontyclun in Wales to its fibre-to-the-premises (FTTP) network using Openreach cable ducts. BT rival TalkTalk also recently indicated it is using PIA products from Openreach to reduce deployment costs for its full-fibre FibreNation programme (BTwatch, #303). Virgin Media's Project Lightning programme is leaning increasingly heavily on FTTP, as opposed to its traditional DOCSIS-based network technology. The cableco said the use of PIA "helps minimise disruption, speed up build times, and reduce the costs of expansion", and indicated that it would consider using Openreach ducts again in other areas of the UK. In 2018, it trialled the use of an Openreach trunk duct to go under a railway line in Stallingborough, Lincolnshire.
Competitors
Sky shopping around for fibre, as Openreach competition intensifies
Recent speculation suggests that BT and Openreach should be bracing themselves against growing competitive pressure from rivals, as they galvanise themselves to improve the UK's current position as fibre laggard.
Sky has reportedly approached providers that are building fibre-to-the-premises (FTTP) networks to rival that of Openreach, in an attempt to accelerate the roll out of fibre-based broadband services across the UK.
The Telegraph said Stephen van Rooyen, Chief Executive of Sky UK, is in contact with fibre altnets such as CityFibre, TalkTalk's FibreNation venture (BTwatch, #301), and Hyperoptic, although any talks are not expected to include discussion of joint investments in infrastructure, but rather focus on wholesale arrangements. Worth noting is that Sky is already listed as a wholesale customer of FibreNation, along with TalkTalk (BTwatch, #303).
Although Sky, which is understood to have around six million broadband lines, signed a discount wholesale arrangement with Openreach in 2018 (BTwatch, #299), the report has led some to wonder if the satellite provider could eventually jump ship from Openreach to the rival platforms, although such a move would be far from imminent. Indeed, ISPreview said "credible sources" suggest that Sky intends to launch FTTP plans based on the Openreach network in the second half of 2019, following the launch of G.fast offerings in spring 2019, although nothing has apparently been confirmed by Sky. If Sky does plan to cosy up to the fibre altnets, then G.fast may also prove to be of waning interest to the provider.
Meanwhile, The Telegraph also reported that Virgin Media parent Liberty Global is considering opening up its cable network to rivals for the first time – something the provider has been reluctant to do in the past.
The report suggests that Virgin Media is seeking ways to counter the challenge of the growing number of fibre deployments in the UK as noted above. It may also ease regulatory pressure, with BT regularly noting in communications with Ofcom that infrastructure-sharing obligations are not imposed on Virgin Media, putting Openreach in an unfair competitive position where the networks co-exist (BTwatch, #219 and #223).
The Telegraph separately reported that Charles Dunstone, Executive Chairman of TalkTalk, plans to raise £1bn from international investors to bankroll FibreNation.
Fibre
Openreach FTTP rollout reaches 20,000 premises per week
Matthew Kirkman, Openreach's Director of Infrastructure Solutions, reportedly confirmed that the division is now passing 20,000 UK homes per week with its fibre-to-the-premises (FTTP) rollout, up from 14,000 in mid-April 2019, and 13,000 at end-2018 (BTwatch, #301 and #303).
Kirkman disclosed the details as part of a presentation given to a seminar, called Fibre To The New Home, run by the Independent Networks Co-operative Association (INCA) in Cardiff during April 2019.
He also revealed that the access services division is forecasting that 99% of new builds will be connected via FTTP by 2023-24, up from the current 84% (and 59% in 2018-19). Kirkman added that 88% of the 240,000 new builds Openreach has connected over the past twelve months have opted to install FTTP, with 11% connected via fibre-to-the-cabinet (FTTC), and less than 1% to copper.
Although the Fibre First project is the high-profile public driver of the increased full-fibre rollout, BTwatch has previously noted that a substantial chunk of the weekly figure is coming from new build sites, as well as existing Broadband Delivery UK programmes.
According to Kirkman, since February 2016, Openreach has contracted to connect around one million new builds to 'fibre broadband', through 14,000 developers. When completed, 840,000 of these sites are expected to use FTTP technology, with the installation of almost half of the connections to be managed by the developers and their contractors, thereby qualifying as self-installs.
Openreach is signed up to a government-led voluntary agreement with construction trade industry association the Home Builders Federation to offer all new housing developments the opportunity to connect to 'superfast' speeds of at least 24Mbps via FTTC, and, where possible, provide FTTP infrastructure for all new developments of 30 properties or more (BTwatch, #274 and passim).
In November 2018, Openreach began offering incentives to encourage house builders to deploy FTTP in developments with fewer than 30 premises, reducing the cost of installing the technology in small-scale housing developments by 75% on average (BTwatch, #300). The access services division, which already installs FTTP at no additional charge to all new housing developments of 30 or more homes, indicated that it previously charged up to £25,000 per site for developments of between two and 30 homes.
Openreach recently confirmed that its FTTP network has passed more than 1.2 million premises in the UK (see separate report).
Fibre
Local business internet service provider (ISP) Giganet is set to offer ultrafast full-fibre broadband services in Salisbury via Openreach's fibre-to-the-premises (FTTP) infrastructure. In March 2019, Openreach named Salisbury as the first city that will see universal FTTP availability as part of the Fibre First programme, with full-fibre coverage expected to be complete by April 2020 (BTwatch, #303). Giganet said Openreach had committed to deploying FTTP to an average of 60 premises per day for the next twelve months, and had confirmed at a full-fibre consultation event, held in London on 25 March 2019, that it would "shortly" release six-month rollout plans with estimated go-live dates. Giganet, the full-fibre subsidiary of Hampshire-based small business communications services provider M12, has invested in its own dedicated rack in the main BT Salisbury exchange, and already connected customers to full-fibre broadband in Salisbury where coverage exists, but plans to offer services more widely as the Openreach rollout progresses. The ISP suggested the full-fibre deployment was "likely to be complex", and added that factors such as blocked and collapsed ducts may cause delays.
G.fast
The jury seems to be out as to whether BT Group will adopt G.fast equipment running at 212MHz, even though the first five G.fast devices operating at that frequency have recently passed the certification programme organised by the Broadband Forum and the University of New Hampshire InterOperability Laboratory (UNH-IOL). According to the Broadband Forum, products from ADTRAN, Intel, NetComm, and Nokia are among the first to be certified, indicating their market-readiness for multi-vendor deployment. The Forum added that 212MHz G.fast "takes these services over copper to another level", and is said to enable speeds of up to 2Gbps. The current G.fast certification programme tests bit rates up to 1.45Gbps over distances of up to 400 metres from the distribution point. Although BT and Openreach originally focused on G.fast deployments, and have previously tested long-term evolutions of the technology including G.mgfast and XG.fast with ADTRAN and Nokia, respectively (BTwatch, #270, #276, and #298), the Group has subsequently shifted its emphasis to the deployment of fibre-to-the-premises (FTTP) technology under the Fibre First programme. Indeed, FTTP deployments appear to be slowly catching up with G.fast. In February 2019, Openreach said it had passed 1.7 million premises with G.fast (BTwatch, #302), while, in April 2019, claiming the FTTP network had reached 1.2 million premises with a run rate at 14,000 homes passed per week (and indications that this rate is approaching 20,000 – see separate report). Current G.fast technology tends to operate mostly at 106MHz, but 212MHz capabilities were added to the International Telecommunication Union G.fast standard under Amendment 3.