Openreach to be unconstrained on full-fibre pricing until 2031 under proposed plans from the regulator.
Jansen claims he would rather have a cap on returns, and more time.
Fellow infrastructure builders happy with clarity, but Openreach customer TalkTalk unhappy with impact on wholesale.
Regulatory clarity may kickstart discussions on monetising Openreach.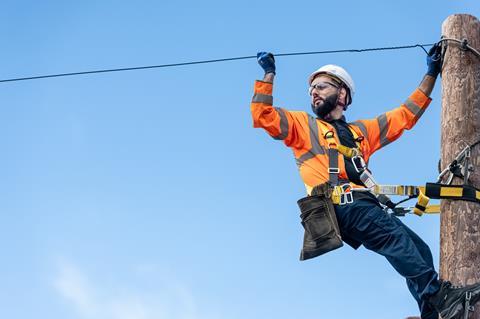 Ofcom provided another clue as to the likely direction of the upcoming WholesaleFixed Telecommunications MarketReview (WFTMR), which is set to determine the regulatory landscape for fibre deployment in the UK.
During a speech at the FTTHCouncilEurope conference, Ofcom Chief Executive Melanie Dawes said the regulator does not expect to introduce cost-based pricing for Openreach fibre services until "at least2031", which would cover the lifecycle of the next two major market reviews.
The assertion by Dawes can on the face of it be seen as a reasonable outcome for Openreach in its pursuit of clarity on regulation, and for BT Group more widely as it endeavours to ensure a "fair bet" return on its investment in the new infrastructure.
Dawes acknowledged the reasoning behind BT's continued calls for pricing freedom, saying"we recognise there must be a compelling investment case. Shareholders and fund managers have plenty of choices over where to put their money". Based on the assumption that companies "play by the rules"and prices remain affordable, Dawes maintained that Ofcom would not stand in the way of investors making a return on their money.
BT uncomfortable with the shackles off
BT initially described the remarks as a "positive sign", but the operator did not gloat or over-react to the news, with the final determination on the matter still potentially months away and the proposed duration of the fair bet period at the lower end of its ten-to-twenty year estimates for making a decent return.
BT also warned that finer details across the MarketReview remain to be settled. However, in recent months the signals from the regulator have appeared increasingly amenable to the incumbent's wishes, and noting the risk of devils in the detail in response to new developments has become as reflexive for BT management as touching wood to avoid tempting fate.
This early dose of caution was underlined by subsequent comments from Group Chief Executive Philip Jansen, who suggested BT would not see a return for 18–19 years, and suggested a different approach might be needed from Ofcom.
With BT having set out a model that it considers sustainable with a 10%–12% return on capital (BTwatch, #313, #315), Jansen suggested that the Group would be willing to accede to the regulator taking steps to ensure that fibre pricing did not deliver returns in excess of that level, if it could be assured that it would have a clear view further along the road.
"BT is not going to be making any return on this until year 18 or 19. I need certainty for 20 years if I am going to build like fury, which is what I am always saying I want to do. The problem is, if I only have ten years of certainty, I have an incentive to build slower so that when the time comes to negotiate the next price settlement it is not one-sided.

The board and I would be happy to agree to cap our returns, in return for more certainty."

Jansen.
Fellow builders appreciate clarity, with conditions
Elsewhere, the response of other stakeholders could be described as mixed.
Virgin Media welcomed the greater certainty, and the cableco's CEO Lutz Schüler commended the prospect of "vital" clarity while urging Ofcom to remain focused on supporting network expansion. Similarly, altnet CityFibre welcomed the certainty, but reminded Ofcom of its responsibility for nurturing broader investment. As infrastructure owners and builders, CityFibre and Virgin Media may be less directly affected by Openreach having more pricing freedom, but altnets dependent to a degree on Openreach for services appear to have different views.
TalkTalk, an increasingly vocal critic of Openreach and Ofcom's relationship, appeared perturbed by "almost total pricing freedom" for Openreach, calling it an "unnecessary, multi-billion pound giveaway to BT".
TalkTalk is making life more difficult for Openreach in a variety of ways, among them refusing to pay bills where the service provided is said to have not been up to scratch (BTwatch, #317). With the altnet disputing charges linked to Ethernet lines where Openreach has used controversial "deemed consent" terms and conditions to justify service delivery delays and avoid penalties, Openreach has now "reluctantly" issued court proceedings to recover the withheld funds.
Openreach ready to take foot off the brakes
It appears likely that the Ofcom concession will form part of a suitably agreeable regulatory environment that will enable BT to remove some of the caveats from its commitments to reach 20 million premises with full-fibre connectivity by the mid-to-late-2020s (BTwatch, #313).
The prospect of a relatively clear run at fibre for ten years could support a couple of critical elements of a BT Group resurgence. While agreeing long-term volume deals with CP customers has proven difficult to clear on a competition law basis, Openreach will now at least be able to consider contract terms that run beyond the scope of a single five-year regulatory review period without considering the complications of mandated prices coming into force midstream. Until now, Ofcom has generally only offered any certainty for up to three years.
Taking bids?
The clarity on regulation is also expected to re-open discussions on looking for outside investors for Openreach. Management has tended to kick the can down the road on this, saying that no discussions on a stake sale could be meaningful while the regulatory environment is uncertain, but the noises from Ofcom now suggest exploratory talks are not beyond the realms of possibility.

Neal Doran is a Senior Analyst for TelcoTitans. Neal's industry knowledge and experience as a telecoms analyst and writer spans three decades, and he has been a key part of TelcoTitan's Editorial team since 2001.