Openreach not to face caps or controls on national ultrafast pricing until 2031, as long as it is "fair and reasonable".
Locally-targeted pricing from Openreach prohibited as Ofcom seeks to protect emerging altnets.
BT Consumer may lose some edge from 90 day notice period for new propositions from Openreach.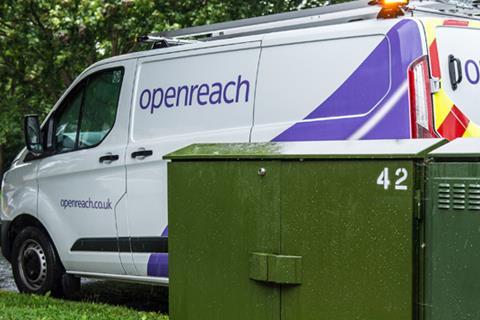 Ofcom published its Wholesale Fixed Telecommunications Market Review (WFTMR) and cleared the way for BT and Openreach to make good on commitments to reach 20 million homes with a full fibre network by the "mid-to-late 2020s".
The biggest story that initially emerged was that the regulator, as expected, has given a clear indication that it does not expect to regulate fibre pricing in a timeframe covering two five-year review periods — as long as Openreach is "fair and reasonable". Following many of the proposals that had emerged in earlier consultation documents (BTwatch, #309), the final WFTMR also formally provided a commitment to the "fair bet principle" expected to enable BT to make a profitable return on its investment.
Ultrafast and furious
BT welcomed the Ofcom decision, and reasserted it will follow through on its rollout goals. While the Group had been calling for a longer timeframe for regulatory certainty on fibre regulation, it said that the decision as it stood did not materially diverge from its expectations, and that it would be able to continue acceleration of its fibre programme.
Using his catchphrase, CEO Philip Jansen promised the Group would "build like fury", and evoked pandemic 'blitz spirit' in describing the outcome as a "shot in the arm" for the UK.
Meanwhile Openreach CEO Clive Selley was all business, highlighting the progress to date in passing 4.5 million premises, and the ambition to ramp up to passing three million homes a year now the regulatory questions are relatively settled — a pace that once achieved should make it possible for the business to reach its coverage targets around 2027.
Although Openreach will be able to price freely for ultrafast services and begin to go through the gears on the accompanying copper switch-off, it will need to respond to the prospect of heightened infrastructure competition as rival altnets also pursue expansion. Cityfibre is targeting eight million homes in the mid-term, Hyperoptic five million by 2025, and Virgin Media, after upgrading its entire cable infrastructure for Gigabit services by the end of this year, seemingly on track to further take the ultrafast fight onto Openreach turf.
Ofcom was clear that it envisages the WFTMR enabling all the players to slug it out.
The WFTMR, which runs to 1,600 pages including supporting documents, goes beyond giving BT visibility on the regulatory future. It is also intended to foster competition in the UK at infrastructure level and hopes to achieve this through ensuring that Openreach effectively opens its physical infrastructure for rival communications providers.
WFTMR is also intended to facilitate the rapid migration from copper services, and reaffirmed the previously outlined timetable for allowing Openreach to withdraw copper services when ultrafast availability begins to dominate an exchange area.
For now, a bet's a bet
Ofcom has firmly indicated it does not intend to introduce regulated pricing on fibre products in the next market review period, which is scheduled to come into effect in April 2026 and run until 31 March 2031.
The regulator further said that, should it determine that cost-based regulation is needed in the future "we will honour the fair bet principle", and in setting controls will allow BT to retain any 'upside' it has already earned, and to continue pricing at a level that would ensure it is earning the cost of its capital.
This provides BT with an unprecedented level of visibility on regulation. It is particularly striking when compared to the situation when it committed to its accelerated fibre-to-the-cabinet (FTTC) programme from 2009. At a time when the regulator would only be bound by decisions for a three year review cycle, by 2017 BT was said to have been poleaxed by a regulatory change of heart on light-touch regulation on FTTC products which caused friction for years to follow (BTwatch, #287, passim). As rivals roll out fibre, the new rules may also enable Openreach to supercharge uptake on its own infrastructure through keenly priced products, with the commitment that it will be able to recover the underlying cost of capital long-term safely in its back-pocket.
Nevertheless, BT had been asking for more from the WFTMR, and had proposed an immediate cap on returns in exchange for even longer term certainty covering 20 years or more (BTwatch, #318). This play, noisily supported by CEO Jansen, resoundingly failed, yet the operator remains sanguine. It may be that the Group now expects to soldier on despite this injury to its viable investment business model.
Or, cynical observers might suggest, BT will now be able to continue unshackled having distracted attention from Ofcom's fairly extraordinary display of regulatory laissez faire with its pleas to have the cuffs put on.
Local firefighting ruled out
The WFTMR is not completely hands-off when it comes to fibre regulation. For example, there will need to be an entry level 40Mbps product that will be priced at a slight premium to the existing copper-based 40Mbps product to provide affordable access for users who do not require ultrafast services.
Openreach will also not be allowed to provide regionally targeted fibre pricing promotions under the new rules. This is intended to protect smaller altnets, and prevent Openreach from undermining investment business models by overbuilding and undercutting prices in areas where altnets are present.
If Openreach did wish to lower fibre prices, it would have to act on a nationwide basis, and it should not be considered impossible that the access services business may price aggressively in order to make life difficult for competitors. This could further encourage alternative infrastructure builders to focus on areas in parts of the country where Openreach competition is less likely to emerge.
Ofcom developed three categories for considering the competitive landscape in the UK. It had decided that there are currently no Area 1 locations that are effectively competitive. However, 70% of the country falls into the Area 2 category of potentially competitive, with the remainder in Area 3.
PIA on the rise as dark fibre fades
Openreach will have additional obligations linked to the provision of physical infrastructure access (PIA), and should a part of its infrastructure prove inaccessible or otherwise unusable by another network operator, the BT-owned business would be required to undertake the necessary work to make the infrastructure accessible.
The Ofcom approach to PIA had been established under other reviews, and the regulator is working with the industry on determining the effectiveness of existing arrangements. The WFTMR suggested that while there is a feeling that PIA products are moving in the right direction, continued work is necessary to ensure they are fit for purpose.
An attempt by some operators, including Telefónica UK, Virgin Media and Vodafone UK, to push Openreach to separate the poles and ducts elements of the business into an independent unit was deemed outside the scope of the review, and Ofcom appeared to suggest that close monitoring of Openreach to ensure equivalent service was being provided for all customers would achieve the same objective.
Meanwhile dark fibre will have a limited role in the regulatory environment created by the WFTMR, with Ofcom mandating a dark fibre product from Openreach merely in areas with the lowest prospects of network competition, and only in relation to leased line products.
While some communications providers had favoured the use of dark fibre, Openreach and other infrastructure providers, including Cityfibre, had resisted the prospect, with altnets warning that it could undermine infrastructure build business cases.
Consumer headstarts reined in
A possible downside for BT Group is the implementation of a 90-day notice period for all new Openreach commercial propositions such as volume deals. The notice period is intended to help altnets respond to new offers and provide communications providers with clarity as they look to sign contracts while also giving Ofcom time to review whether the propositions pass standards of fairness.
This may be a blow for Openreach's biggest customer, BT Consumer, which has been in a position to quickly take the access services division up on volume deals that have helped it drive fibre adoption within its base and gain something of a competitive edge at the retail level.
Openreach able to spread the cost of fibre upgrades
Ofcom has decided that in terms of pricing regulation for existing copper services, Area 3 regions where Openreach is currently the only major infrastructure player will be treated the same as the rest of the country.
This means that the higher cost of deploying fibre to unprofitable areas will also be recoverable by Openreach in the calculation of infrastructure costs used to set the prices for legacy copper products under a regulatory asset base model.
The BT access services business secured this concession with its commitment to pass 3.2 million premises in Area 3 as part of its current rollout plan (BTwatch, #313).

Neal Doran is a Senior Analyst for TelcoTitans. Neal's industry knowledge and experience as a telecoms analyst and writer spans three decades, and he has been a key part of TelcoTitan's Editorial team since 2001.