While whole Group faces headwinds, Consumer and Enterprise take the brunt of COVID‑19 impact.
The "usual" working capital payments on top of slumping earnings result in negative cash flow for the quarter.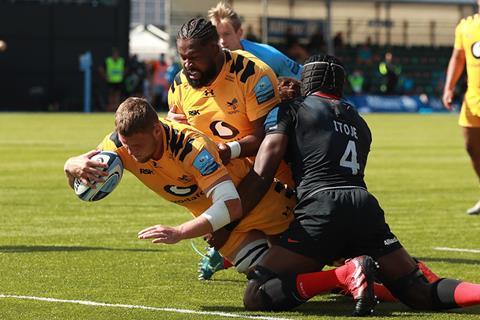 BT Group took an expected hit to headline revenue and EBITDA in Q1 FY20–21, with a trend of declines being pushed onto a steeper downward gradient by the impact of COVID‑19.
A 7% fall in revenue was pinned on COVID‑19, with a loss of BT Sport revenue highlighted as well as a slump in business activity for the Enterprise and Global divisions. Openreach, with connectivity demand rising, bucked the downward trend and took a shade off the negative impact.
EBITDA was down by 7% too, with BT saying ongoing restructuring savings and measures in place to mitigate the impact of COVID‑19 could not outweigh:
Loss of business associated with the pandemic.
Costs of the Group's continued investment in improving customer experience.
Higher spending at Openreach around staff training and pay.
Capital expenditure (capex) was broadly flat year‑on‑year, as infrastructure rollout at Openreach was slowed by lockdown. Despite this pause, the network investment element of capex still rose 2%, increasing its significance as share of spend. Further acceleration of capex is anticipated in the wake of a hoped‑for post‑pandemic recovery (see below).
Cash flow was negative for the quarter as a result of the falling EBITDA, and "pressures on working capital" said to be "usual" for the first quarter. These included payments due to vendors, the timing of collection of funds from public sector contracts, and the payment of management bonuses.
Q1 FY19–20
Q1 FY20–21

BT financial performance breakdown, Q1 FY20–21

Group managing to protect margins through pandemic.
Exceptional crisis plus "usual" capital costs equates to cash outflow.

Notes: * Adjusted, i.e. before specific items. ** Before lease liabilities.
Source: BT.
Revenue *

£5,633m

£5,250m

EBITDA

£1,958m

£1,813m

EBITDA margin

34.8%

34.5%

Profit before tax (adjusted)

£749m

£550m

Cash capex

£1,067m

£1,045m

Normalised free cash flow

£323m

-€49m

Net financial debt **

£11,642m

£11,715m
Consumer and Enterprise lead the bad news…
Looking more closely at the Group's customer‑facing divisions, Consumer saw revenue fall 7% and EBITDA come down 15%, appearing to underline the growing importance of BT Sport revenue to the division's top line.
The full impact of the loss of revenue and profit from BT Sport was not disclosed, but Allera indicated that £24m–£30m was lost in the quarter from pubs and clubs alone, and the impact is expected to be felt through the rest of the year, with commercial sport customers paying heavily discounted rates over the period.
A slump in other commercial activity — with retail outlets shuttered — combined with the ongoing upgrade of customers onto superfast connections (BTwatch, #307), also contributed to the pandemic's impact being exacerbated at EBITDA level.
Similarly, Enterprise felt the force of the bad quarter more heavily at EBITDA level, with revenue dropping 9% and EBITDA decreasing 13% at headline levels. Excluding the impact of the sales of BT Fleet and Tikit, revenue would have been down 6% and EBITDA down 12%.
BT financial performance breakdown by segment, Q1 FY20–21

Consumer and Enterprise bearing the brunt of UK lockdown.
Global reviving under the radar as transformation benefits materialise.
Openreach moving from slow decline to slow growth.

Q1 FY19–20
Q1 FY20–21
Notes: * Adjusted, i.e. before specific items.
Source: BT.
Group revenue *

£5,633m

£5,250m

Consumer

£2,550m

£2,362m

Enterprise

£1,483m

£1,352m

Global

£1,085m

£990m

Openreach

£1,268m

£1,286m

Group EBITDA

£1,958m

£1,813m

Consumer

£588m

£501m

Enterprise

£465m

£406m

Global

£140m

£141m

Openreach

£717m

£729m
… Openreach and Global provide the better news
Meanwhile, Global's headline figures include a 9% revenue drop, but a 1% improvement in EBITDA. Excluding the impact of the sale of the Spanish business, the division's revenue decline was 7%, and the EBITDA increase reached 4%. Although ongoing operational efficiency projects and COVID‑19 mitigation measures were flagged as contributing to improving profitability, the division also benefited from a £3m boost from foreign exchange movements alongside a handful of unspecified one‑offs.
Openreach was also a source of positive news, with revenue growing marginally on fibre and Ethernet demand, and EBITDA rising 2% despite higher operating costs. The division cited success for its volume deals on superfast services, introduced two years ago (BTwatch, #297) — which appears to be encouraging the division to pursue a similar approach to generating demand for full‑fibre services (see seperate report).
BT Group Q1 FY20–21
1

2

Currently reading

Numbers: no sport and shut businesses take their toll

3

4

5