New logo intended to create a more unified identity across all BT units, and refresh a tired image.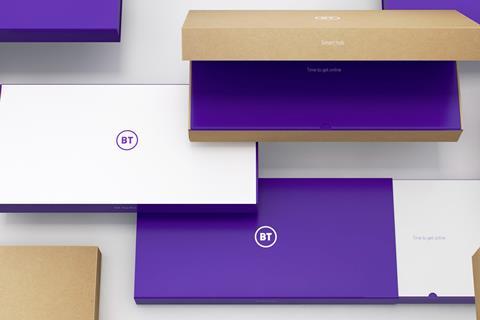 BT Group finally updated its core branding, replacing the 'connected world' theme, more than fifteen years after it replaced the preceding Piper logo (BTwatch, 2004.03, passim).
The new branding, essentially the letters 'BT' in a circle, was inevitably on the receiving end of mockery and harrumphing around the cost of the exercise, with even UK retailer Poundland gaining press coverage by claiming to have emulated the BT approach with a new logo – a 'P' in a circle – for just £1.
Nevertheless, the new look was aguably long overdue, and will quickly become well-recognised through marketing activity such as new sponsorship of the English Football Association (see separate report).
The latest visual identity was created by tiny design agency Red&White, and was said to have been a three-and-a-half-year process (another reason the apparent simplicity of the logo took a media hammering). The focus is said to be on supporting the repositioning of the BT brand as "a digital champion".
"We wanted to help the brand generate the confidence to tell these stories and change perceptions for the British public – it's a tech brand, not just a telecoms brand. "

- Paul Franklin, Creative Director at Red&White.
Over the coming months, the new branding will be rolled out across digital platforms, marketing materials, product packaging and merchandise, as well as in offices and on vehicles.
The new identity is to be used across all sub-brands with BT in the title (such as BT Redcare, BT Sport, BT TV, and BT Wholesale), and the clear and compact roundel around the name is expected to provide flexibility for the identity to work across many different media.
While the initial publicity for the logo presented it as black, monotone on a white background, the rebranding actually appears to focus on the role of purple as the principle colour of the BT brand.
As the rebranding was finally unveiled, Zaid Al-Qassab, BT Group's Chief Brand & Marketing Officer, announced his departure to join broadcaster Channel 4 (see separate report).
New brand may reverse BT's marketing value decline
The rebranding exercise coincided with Brand Finance releasing its latest listing of the UK's most valuable brands.
BT fell two places to tenth on the list, as the estimated value of its brand, should it be licensed on the open market, dropped by 25% to £6.4bn.
Brand Finance may reconsider the worth of the refreshed BT brand once it is rolled out in full over the course of summer 2019.