Geospatial intelligence tool is being trialled to support security efforts across BT's physical assets, moving beyond its CAV origins.
Epidemiological methods used to model and monitor the spread of malware.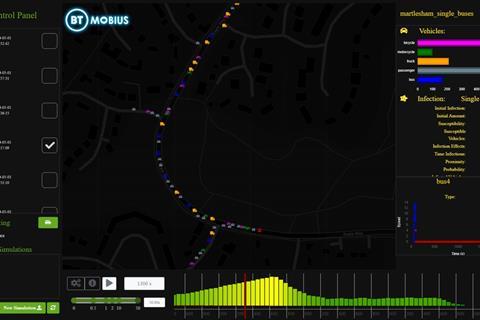 Mobius, a cybersecurity project operating within BT's Applied Research function, is reportedly rolling out trials beyond its initial use-cases as the solution draws plaudits for its innovative approach to approaching threats.
Although initially unveiled in early-2020 as a solution to measure malware infection rates among connected autonomous vehicles (CAV), BT Head of Security Research Ben Azvine said the team behind the solution has expanded its scope in recent months. It is now being deployed "beyond self-driving cars to look at how we protect larger fixed assets such as buildings and network equipment", and becoming a more generalised geographic information system (GIS).
The Mobius solution uses epidemiological methods to model the spread of malware. Developed by a team at BT's East Anglian innovation hub Adastral Park, it began as the operator's central contribution to ResiCAV, a government-funded project led by automotive engineering consultancy Horiba Mira.
ResiCAV attracted a total of £355,418 in funding from UK innovation agency Innovate UK as a feasibility study to inform operational requirements for cybersecurity resilience in road infrastructures, in preparation for the emergence of CA Vs. It involved a partnership between lead Horiba Mira and participants BT, Bristol's Centre for Modelling & Simulation, Oxfordshire County Council, Thales UK, and the University of Warwick's Warwick Manufacturing Group.
In November 2020, the Mobius project was named the winner of the Excellence in Cybersecurity award at the Institute of Engineering and Technology's annual E&TAwards celebrating technological innovation.
Jonathan Roscoe, Research Manager and Technical Lead for Mobius, told BTwatch that alternate use-cases being investigated include monitoring criminal trends and alerting facilities for "COVID-related incidents", but hinted that others are in the works.
"We're also aligning Mobius with wider ongoing research at BT around how biological modelling can help accurately predict the spread of malware across large-scale computing networks."

Roscoe.
Currently, BT is using Mobius to investigate physical security incidents "across BT" in a trial capacity.

Joseph Purnell is a Staff Reporter for TelcoTitans, contributing telecoms news analysis since 2019 as part of the TelcoTitans Editorial team.