Former BT executive is relishing new challenge of bringing together a distinct and inclusive 5G strategy for Scotland.
5G continues to be a disruptive and highly politicised step-change in the telecoms industry's development, with devolved government seeking policy differentiation from Westminster.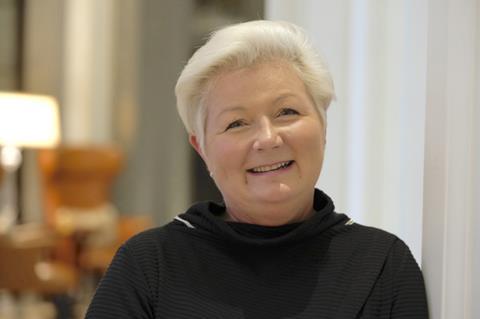 It's lockdown still, and Julie Snell is watching the rain patter down on the window at her home in Worcester.
She is already a few weeks into her new job as Chair of the Scotland 5G Centre (S5GC), and after a solely virtual process of interviewing and on-boarding, is itching for travel restrictions to be relaxed so she can jump on a train up to Glasgow. "It's been driving me mad because I can't wait to get back up in Scotland and get far more involved", she says.
Snell — a former senior staffer at BT — retired from her last full-time job, as Chief Executive of smart-city venture Bristol is Open, in January. However, she retains several industry positions and plans to be "very hands-on" in her S5GC role. "I am not the sort of chair that just comes in for board meetings", she says.
The centre opened in late-2019, and under the management of Snell and CEO Paul Coffey, an ex-EE executive who was recruited alongside her in May, aims to prepare the ground for a wide-ranging 5G investment and innovation programme focused on Scotland's distinct mix of socio-economic needs and market characteristics.
For Snell, the COVID-19 crisis has created a more urgent call-to-action for the S5GC by further exposing society's inequalities — including a digital divide that could become even wider in the 5G era, if roll out remains skewed to 'high-value' districts.
"In the UK, I think what has come out during COVID is just how much of the population is still being left behind connectivity wise… COVID has helped us all understand a bit more what community means, and I'm hoping our governments have understood it too. We certainly know the Scottish government have put digital connectivity… right at the top of their agenda."

Snell.
Julie Snell: career history (selected)
2020–: Chair, The Scotland 5G Centre
2017–2020: Chief Executive, Bristol Is Open
2011–2013: General Manager, Next Generation Access, BT
2009–2011: General Manager, Bundled Product Propositions, BT
2006–2009: General Manager, Retail Products & Distribution, BT
2002–2006: Head, Wholesale & International, BT
Pre–2002: various roles at BT, DeTeWe, Rabbit Telecom, and Vodafone
Scotland's 5G standalone ambition
The S5GC has a packed couple of years coming up, if is to overcome that early coronavirus disruption and tick off everything on Snell's to-do list.
The initiative is currently funded by the Scottish government, and receives further support via founding partners the University of Glasgow, the Scottish Futures Trust, and the University of Strathclyde — which hosts the centre in the Glasgow City Innovation District.
The government's initial £5.3m (€5.8m) tranche of financing is due to run out in 2022, however, and Snell's mandate is to secure additional funding that can underpin a more expansive, longer-term 5G connectivity and services vision for Scotland. "The next two years are critical for us in making that step change and I'm hoping that's where I add value", says Snell.
The manifesto
For Snell, Scotland has the ways and means to draw up an ambitious national 5G programme in that time, pushing the technology's benefits into a wide variety of applications across academia, conservation, fishing, farming, and elsewhere.
She is adamant there is genuine leadership buy-in for the importance of wireless connectivity improvement, pointing to 2019's publication of a government strategy paper trumpeting the "significant opportunity" 5G presents for the country. Entitled "Forging our digital future with 5G: a strategy for Scotland", the paper was part-inspired by a commissioned Deloitte study claiming Scotland's GDP could receive an 8.3%-boost by 2035 if the government succeeds in enabling a 5G-based digital "revolution".
She also sees a less complex decision-making platform for 5G initiatives than in the rest of the UK, citing the devolved government's more "simplified local and national structure". Scotland has the "whole ecosystem in one place" — something that can help 5G players more easily engage with public sector organisations in areas such as healthcare and transport, she says.
Her past experience is that politics between different government bodies often "gets in the way" of new initiatives but "in Scotland, to me, the politics are actually pushing the need".
"I've had a long career working in communications across most of the big players in the UK industry… I've been involved with a lot of projects that deliver a big chunk of what they say but there's always that element that gets left behind. And part of it is because the way the UK comms market has evolved is very disparate, with a lot of decision-makers, a lot of issues, and a lot of things to overcome each time."

"The difference in Scotland [is] the government has decided to take hold of digital connectivity and make it a core part of their strategy."

Snell.
As well as highlighting this apparent political cut-through on 5G, Snell sees Scotland as offering geographical efficiencies, noting 5G investors have an opportunity to explore urban, agricultural, and remote applications in a "fairly close space".
This idea of a one-stop-shop for 5G experimentation is something other countries are interested in creating too — so if Scotland gets it right, the model could be "expanded, replicated, and duplicated around the world", she claims.
Scotland's bid for 5G independence
In keeping with the independence agenda of the ruling Scottish National Party, the Forging our digital future with 5G: a strategy for Scotland paper set out a distinctly autonomous 5G vision for the country (although remains wedded, for now, to funding from Westminster).
Through its plan, the Scottish government hopes to unearth a whole field of socio-economic carrots that were dangled by the Deloitte 5G impact report, including the aforementioned £17bn GDP uplift, creation of 160,000 new jobs, and a £3.3bn export volume boost, all by 2035.
In his foreword to the document, Scotland's Minister for Energy, Connectivity & the Islands Paul Wheelhouse noted 5G's "transformational" potential but lamented that the devolved government in Holyrood has limited power to set its own agenda. "Telecommunications in the UK is reserved to the UK government and mobile network rollout is commercially led", he wrote. "We continue to press the UK government to give us the powers and resources which would allow us to reap the significant benefits that we could see from enhanced 5G provision in Scotland".
The UK's Future Telecoms Infrastructure Review, which was published in 2018 and underpins UK telecoms policy (BTwatch, #297), set out a goal of extending 5G to the majority of the UK population by 2027. However, the Scottish government's paper argued that the Review was "focused on the deployment of full fibre connectivity", and a more 5G-specific policy framework was required to enable that deadline to be hit. "The Scottish government believes a 'do-nothing' approach will most likely lead to a repeat of previous UK-wide deployments of digital infrastructure (mobile and broadband) where more populous urban areas are the focus of investment and rural areas are at the end of the queue", the document said.
The report also deemed the UK government's investment to date in Scottish 5G initiatives "insufficient", saying that "future funding allocations must fully take into account the challenges to widespread rollout which exist in Scotland due to our country's geography. We would expect to be fully consulted on future funding priorities".
One area where the Scottish government is thought to be seeking to apply pressure down south is in spectrum licensing, and persuading UK regulator Ofcom to do more to widen frequency access by lowering costs, spreading payback over longer timeframes, and/or creating new licensing platforms. Private and neutral host networks are evidently seen as a key enabler in the Scottish 5G master plan — in both urban settings, for businesses and academia to push advanced applications, and rural areas where many households and businesses are lucky if they receive 2G signal from their MNOs, let alone 5G.
The 5G orchestration challenge
Looking at how the S5GC plans to construct Scotland's 5G jigsaw, it is evident why its founders sought out Snell's experience on 'multi-sided' ICT initiatives such as Bristol is Open and Building Digital UK (with Snell having helped lead BT's highly successful effort to tap into the subsidised rollout programme, when under its former 'Broadband Delivery UK' banner).
A series of 'Wave One' 5G projects have already got up and running in Scotland, in sectors such as agriculture, emergency response, renewable energy, and fishing. However, the government, in its 2019 paper, conceded that the initiatives, at that stage, were "largely limited to small-scale trials and idiosyncratic applications", and has tasked the S5GC with helping establish a more coordinated approach.
Snell presents the S5GC as becoming a central facilitator in the development of 5G use-cases in Scotland, acting as a match-maker between the multiple stakeholders — public sector, industry, academia, and finance — that feed into the gestation of innovative projects. This aligns neatly with the broader role of the Scottish Futures Trust as go-between on modernisation of the country's infrastructure and services.
"The idea is to try and make sure that we don't end up with isolated bubbles doing great work [but that] we don't know about, or opportunities that aren't seen externally. So by putting it all together in one place and becoming the portal to everything, all the good work that is happening, you also make it easy for other international companies [and] groups to come into Scotland and know 'where do I start?'"

Snell.
Global Scotland
Snell's pragmatic plan for 5G relationship-building extends to businesses and organisations in Scotland, the rest of the UK, and international markets.
One of her first moves will be to bring different business and community figures into an S5GC Advisory Board, due to be in place by September. She describes this as her "current big focus" and says she is planning to enlist "contributors from across Scotland, to help advise us as to what is relevant to Scotland and what is relevant to them as individuals and businesses".
She also plans to pursue ways to coordinate 5G rollout in the country with existing infrastructure initiatives, including the 4G Infill programme (where the government invested £25m to extend 4G coverage beyond commercial roll out) and Scotland Transport's road network upgrades (for harmonisation of ducting work). "If you do things in isolation each time, it's going to cost a huge amount more than if you got together", she notes.
Outside of Scotland, she aims to secure a larger slice of UK Department for Digital, Media, Culture & Sport financing for 5G, saying "too much of the money, I think, is still staying south" — and pursue collaboration with the busy West Midlands 5G testbed, set up in 2018 with £25m of DCMS money (plus other funding). "I'm all for collaboration and I'm all for not reinventing the wheel", says Snell. "It's certainly something I've seen DCMS encourage far more in the UK. It used to be [that] after funding bids, everybody kept what they were doing quiet because they were in competition with each other", she adds.
Globally, she sees ties with the Department for International Trade as key to attracting investment and cites South Korea as a particular focus, describing its progress on 5G as "technically absolutely brilliant" and claiming there is fertile ground to build ties between the two countries on business cases and user experience.
New generation, new partners
With the pressure on telcos' balance sheets and cost of delivering 5G narrowing MNOs' investment options, it is clear the S5GC is casting its net far and wide when it comes to ecosystem-building.
As with the Scottish government, Snell is conscious of how the cost of mobile licences tend to end up capping operators' commercial network roll out, and as more 5G frequency rights are opened up, says she is "desperately hoping the government don't see this as they usually do — which is a way to get some very quick money into the Treasury". "All that will do is stifle innovation, and it will keep us where we are with the digital divide just getting wider and wider", she says.
The more positive flipside of MNOs' challenges is the entrance of new players into the market, focused on 5G-related service areas such as Internet of Things and edge computing, and new infrastructure management models. The likes of Google and Facebook have "got to be on the list" when it comes to partnering, she says — noting that "these are the people that are helping drive this new era".
Snell particularly highlights Scotland's opportunity to spearhead development of satellite-based 5G use-cases, saying she has been highly impressed by Project Darwin, a four-year programme, announced in 2019, that is exploring hybrid delivery of connected- and autonomous-vehicle applications with the backing of Hispasat, Telefónica UK, and the European Space Agency (Telefónicawatch, #136). It is based out of the Harwell Campus in Oxfordshire, but has the University of Glasgow as one of its participants.
Elsewhere in the satellite/5G space, she cites "a lot of interest, particularly from Asia and Europe" in combined, country-to-country testbeds — "but what they need is access to the network and there's not a huge number of those that have been rolled out with any form of rural access".
While no names are mentioned, it is clear infrastructure funds are seen as potentially major players in Scottish 5G infrastructure, with Snell flagging interest in partners that "may be prepared to actually understand the benefit of long-term investments".
"In my opinion, I think there is still a lot to be done, but what we are starting to see is a shift change in the attitude to investing in the infrastructure… What you're starting to see is a shift for investors who would maybe traditionally invest in roads or rail and so on."

Snell.

Richard Agnew is Group Editor at TelcoTitans.