Communication Workers Union Annual Conference galvanises members as it takes fight to BT.
Industrial action ballet to go ahead "as soon as possible".
"These people have no integrity" says Deputy General Secretary Andy Kerr.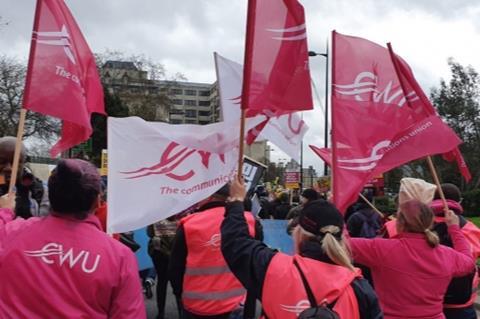 The Communication Workers Union (CWU) confirmed its intention to proceed with a statutory industrial action ballot "as soon as possible" following a vote at its annual conference.
Members' vindication comes as little surprise following a vehement rejection of BT's £1,500 flat increase in early-April.
In a closing statement at the CWU Annual Conference, the union said delegates agreed the flat increase was "an insult to members struggling with a spiralling cost-of-living crisis from a company that had made £5.7bn in profit in 2021". Members were said to be "appalled" by the failure to "adequately reward the contribution made by CWU members keeping the country connected during the pandemic".
General Secretary Dave Ward told CWU members they "could not have made a better decision than to take BT on".
BT blasted
The flat rise — BT's largest in two decades — came into effect on 1 April 2022 and applies to frontline employees such as engineers, contact centre staff, and retail workers. It affects approximately 58,000 of BT Group's 93,000 employees in the UK across BT, EE, Plusnet, and Openreach. It will cost the Group approximately £87m.
However, the union believes a 10% pay rise is in order.
" BT Group's decision is not about affordability, no matter what they say. They're making massive profits, and the workers who create that profit for them are in serious need of a massive pay rise. In this climate, where the cost of everything is skyrocketing, nobody could expect our key worker members to sit back and expect such insulting treatment. These people have no integrity in my view — absolutely none. "

Andy Kerr, Deputy General Secretary, CWU.
BT has also come under fire following plans to TUPE BT staff across to EE as it adopts the latter as its flagship consumer brand. CWU member Quincy Raymond accused BT of having "worsened terms and conditions, forced redundancies, [and] failed to provide a decent pay offer".
"And now, [it has] TUPE'd Consumer into EE", he said. "BT cannot be trusted — plain and simple. We need to carry this motion to let our members know that whilst BT will let them down, we will not".
Quotes from CWU members lambasting BT and its alleged greed were plentiful.
"What this comes down to is morals – and I tell you now, Philip Jansen and co have none of them. They're not discussing terms and conditions – they're imposing it. And when they're imposing it, they're bullying. It's time for us to stand up to them and fight back. Where I was brought up in the East End of Glasgow, if you're a bully, you get a pasting. Well, this is our time to give them a pasting."

Jonathan Bellshaw.

"We thank you for not giving us a pay rise last year, and for ignoring the cost-of-living crisis we're currently speeding into and for putting our BT bills up 9.3% and pushing our members into poverty."

Miranda Stevenson.