Eunice and Franklin repairs ongoing, but still almost 20,000 Openreach customers unable to access broadband.
"Vast majority" down to power outages.
About 100 Openreach poles damaged alongside 300 green roadside cabinets.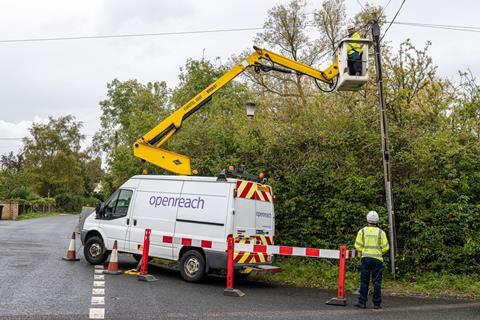 Openreach issued an update on its recovery efforts following significant service disruption caused by Storms Eunice and Franklin.
Thousands of engineers continue to repair the damage, with most of the work said to be across East Anglia, London and the South East, and the South West of England, as well as South Wales.
"The strong winds damaged around 100 of our poles and many overhead wires", an Openreach spokesperson confirmed. It noted that while many of its green roadside cabinets are not currently functioning, this is down to power outages rather than service issues.
It added that the "vast majority" of UK homes without broadband "should be reconnected as soon as power in those areas comes back on".
It has been widely reported that about 1.4 million UK homes suffered power cuts, although supply to some 1.2 million has already been restored.
Openreach informed TelcoTitans that the total number of affected premises was more than 20,000, shortly before updating that number to "just under 20,000". It is difficult to ascertain the exact speed of Openreach's recovery, with the number of fixes in that time unclear. However, "around 300" of its green roadside cabinets previously lacked power — a number that has rapidly fallen to approximately 180 — which may give better insight into the pace of recovery.
In a much shorter statement, BT said its core network had held up and it is not witnessing any major issues "at this time".
Various UK ISPs — including BT, EE, Virgin Media, and Vodafone — are part of Ofcom's Automatic Compensation scheme, which hands out £8 (€9.60) per day to its customers for delayed repairs following an outage, though this is only applicable if it is not restored within 48 hours.