New offering extends price premium top echelons of Consumer portfolio.
BT Plus brand swapped out for Halo 1, while Halo 2 offers latest bells and whistles.
Ultrafast Halo being pushed by BT at same price points as superfast offerings.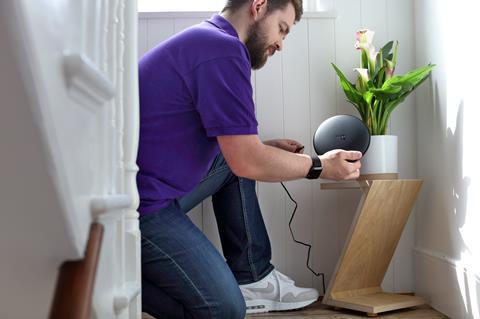 BT Consumer flagged the commercial availability of BT Halo, its new flagship offering replacing the short‑lived, but seemingly successful, BT Plus offering.
Unveiled as part of the Beyond Limits initiative (BTwatch, #307), the new premium package combines fixed broadband and telephony services with options to add 5G mobility within a single contract. The bt.com website shows prices for Halo 2 starting from £57.99 per-month on a 24‑month contract, compared to a £54.99 point that accompanied BT Plus in 2018 (BTwatch, 296).
Incentives on BT Halo 2 include in‑home support from BT's Home Tech Experts; a BT Smart Hub 2 with Wi‑Fi Controls, and the Keep Connected Promise that provides a 4G Hub in the event of a home broadband outage. When mobile is added to the package, customers see their data allowance double. Commitments to not increase prices when out of contract are also being emphasised.
Customers have the option of selecting No Limits plans for unlimited mobile data and home broadband and phone services.
BT Plus switch gives Halo instant success — although base shrinking?
BT said over one million existing BT Plus customers will automatically be migrated to BT Halo 1 at no additional cost, although this version of the offering does not include access to Tech Experts or a free Smart Hub 2. It is unclear whether there are any meaningful differences between BT Plus and BT Halo 1, or whether it is merely a way of putting positive spin on a re‑brand.
BTwatch notes that at the most recent results presentation (see separate report) it was indicated that around one‑quarter of BT's broadband customers were on BT Plus products. Consumer no longer provides detail on the size of its broadband base, but in 2018 it had around nine million broadband customers across its three brands. BTwatch estimates that around two million of those were with EE or Plusnet, based on BT metrics and presentations. While a quarter of the Consumer base would have been around 1.75 million users in mid‑2018, BT reluctance to provide a more definitive figure than "over one million" for what constitutes a quarter of its base suggests that it has been shedding customers quite significantly over the past 12‑to-18 months.
G.fast still in the mix
BTwatch notes that Consumer is pushing G.fast‑based services at the forefront of its BT Halo promotion, with the landing page for the product leading with ultrafast packages with average download speeds of 145Mbps and 300Mbps (and guaranteed download speeds of 100Mbps and 150Mbps, respectively), which appear based on G.fast capabilities. The 145Mbps service is the same price as the entry‑level superfast offering, providing further incentive for customers on G.fast (or indeed full fibre)‑enabled exchanges to migrate to ultrafast.
Price rises with a new name?
Consumer was clear that existing BT Plus customers will be migrated to BT Halo at no extra cost, but BTwatch notes that the division has used the launch to put up the prices of its premium offering with the introduction of Halo 2. Not only is this package £3 per‑month more expensive than its predecessor, adding Complete Wi‑Fi now adds £7 to the monthly bill, compared to £5 when launched with BT Plus (BTwatch, #301).