New CDIO committed to radical cultural change, fostering an entrepreneurial spirit, and a willingness to embrace the risk of failure.
BT's slow start on digital transformation an opportunity to leapfrog a generation of innovation.
Group CEO Jansen's persuasiveness key to convincing Mehta of BT's potential as a TechCo.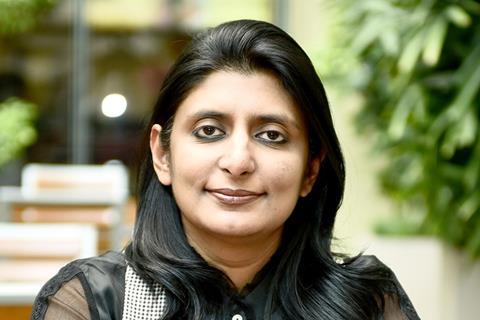 Harmeen Mehta, BT Group's new Chief Digital and Innovation Officer, made a first public appearance since taking up her new post in April 2021, and hit the ground running with a commitment to bring a change of culture to the operator, and find the people and partners willing to make immediate change needed to transform BT into a digital operator fit for purpose in the 21st century.
Appearing at the CogX Festival, Mehta was keen to talk up the legacy of BT, and its unique and lengthy history, dating back over the course of three centuries, but became truly animated when considering the Group's future, declaring "what got us here is not going to get us to the next level".
Instant Mehta-morphosis
Three months after arriving at the operator, Mehta is targeting a fundamental change in BT's culture, and anticipating quick results within the digital team at BT.
"I don't believe you make a shift over a period of time, I think you wake up one morning and you decide you're going to be a different 'you' and you bring that 'new you' to work", she said. "That's what I want my people to do".
This exhortation was shared with her BT Digital team in recent meetings as a revised strategy and mission for the new division was unveiled. This was encapsulated by the CDIO as being "fearless, customer-obsessed creators that amplify growth", while stressing "I want to create a culture that is totally fearless".
While in the early days of her job, Mehta is still assessing the ability, and appetite, within BT to follow her lead, but appears to be seeking external talent and support to help drive the transformation. Responding to a question on a perceived skills shortage in the UK, she said "we're competing in the market to find people who have the capacity to think outside the box — actually to live outside the box — but also resonate with our culture; fearless, obsessed with customers and that's what drives them".
Driving disruption for customer delight
Mehta arrived at BT from Bharti Airtel, and demonstrated continued admiration for the lean organisation and startup mentality that pervaded at her former employer.
She portrayed Airtel as a place where she was able to move from a technology-focused role into more entrepreneurial pursuits, developing new areas of the business such as its cloud cybersecurity functions, and also enabling its entrance into the financial services market. This enthusiasm for new challenges appears undimmed on her arrival at BT, and is likely to colour her vision of 'customer obsession'. "Something I've really enjoyed doing in the past is bringing disruptive thinking, and seeing if I can use it to create something beautiful and something better for the customer", she said.
Opening up the customer base and moving to the cloud
Mehta provided a couple of hints as to what that disruptive thinking might lead to, while acknowledging that the first step will be ensuring that the telco foundations of the company are strong enough to build a digital business upon.
Surprisingly, marketing technology was flagged as an early area where the operator is aiming to expand, with an experimental new digital platform that could be used by smaller companies to promote services to consumers. Mehta indicated that BT will be opening up access to its consumer base to support a category of businesses that has borne the brunt of the impact of lockdown, and to encourage post-pandemic recovery. "We've got 30 million consumers… and this platform is really to see how we can help SMEs and connect them to our consumers so they can grow their businesses and how we can be really part of a bounce-back", she said.
Mehta also underlined BT's commitment to embracing cloud services. While the Group's technologists have been advocating cloud-native architecture and infrastructure for networks for several years, linked to 5G and core convergence (BTwatch, #303, #306, and passim), the new CDIO gave the impression the Group will not stop there. "The way we're building the new telco, we're going to put everything on the cloud. There's not a single [other] telco that exists today in the world that is 100% in the cloud", she said.
Courage, mon brave
While urging her team to follow her lead, she is also promising empowerment and opportunity, which she considers an under-appreciated element of agile methodology. "It's not just about a process or a way of doing things, it is actually about the empowerment to do things", she said.
A fan of entrepreneurial spirit, and development teams acting quickly without fear of failure, Mehta envisages the creation of projects where every member has an opportunity to consider themselves the "CEO of their squad". She considers this emphasis on empowering people to make decisions will help the company build momentum, even if the results of those decisions are not as anticipated.
" I live my life by the same principle — you make decisions based on the facts that are available at the time. If it turns out to be wrong, you just pivot, and you move forward. "

Mehta.
Jansen's powers of persuasion
Mehta appears to have robust backing from the top of the company. As well as insisting there is "buy in" for the new strategy from the board down, she also alluded to "when Philip [Jansen, Group CEO] reached out" in trying to convince her to join the company and the potential he helped her see in the business.
Her initial impressions of the company when considering the role was that BT's digital future was "much further away than it should be in 2021". Nevertheless, several months of persuasion from the Group CEO had an effect. "I was doing strategy papers for him and I didn't even work for him!" she joked, "but he got me hooked".
"I loved his vision of how we could be much more of a TechCo and how we had an opportunity", she added. Claiming that BT's slowness in getting off the mark presents a chance to "leapfrog an entire generation of both tech and innovation", she asserted that it is an opportunity "far greater than we can even imagine".

Neal Doran is a Senior Analyst for TelcoTitans. Neal's industry knowledge and experience as a telecoms analyst and writer spans three decades, and he has been a key part of TelcoTitan's Editorial team since 2001.