BT Consumer's two brands set for change as EE takes centre stage.
EE to become flagship for converged products and new, "future services".
BT moniker to remain for Enterprise and Global operations as BT Means Business platform kicks on.
Simplification, for customers and teams, the name of the game.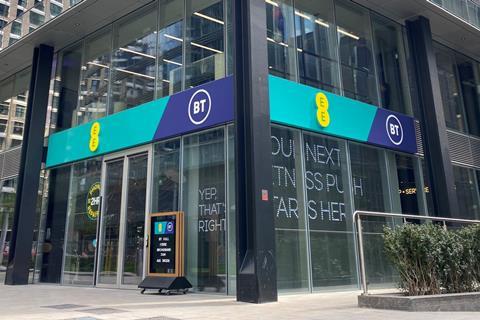 BT will merge its BT and EE marques, with the latter becoming the operator's flagship for converged products and so-called "future services".
BT Consumer Chief Executive Marc Allera said delivering products under a single brand will "simplify things for everyone".
" We have to be more focused and more efficient. We are evolving from today's approach in the consumer market where BT and EE both take centre stage, to one where a flagship brand will lead our approach to future innovation, convergence, and services beyond connectivity. "

Allera.
The EE brand will be used for consumer products and services, leaving BT to become the flagbearer for the Group's Enterprise and Global units.
Rob Shuter, Enterprise CEO, launched a new brand platform, BT Means Business, to accompany the change. The platform will be rolled out "in the coming weeks" at both Enterprise and Global.
It is not a clean break for Consumer from the BT brand. It will remain in play at BT Sport (although this too is set to undergo its own transformation as it enters into a joint venture with Warner Bros. Discovery), and will continue to be used for customers on standalone services for broadband and landline. The impact on other services, including BT TV, was not mentioned in the initial announcement.
Changing inside and out
Allera believes the changes will simplify internal operations. He pointed to duplications and overlaps in the current model, which includes the need for two product roadmaps, multiple systems, and two applications.
These inefficiencies also have an impact in a crowded consumer market. "It means we must have two of everything, and that makes life harder", Allera said.
Allera noted that today marks only the start of preparations, promising further details on launch plans "later this year". "It won't happen overnight", he added.
Simplification is a running theme at BT of late, with BT Digital's Harmeen Mehta often the frontwoman. The Chief Digital & Innovation Officer has made simplifying BT's tangled web of services and systems her goal since she joined the Group. Speaking in March 2022, she said it was necessary to "oversimplify" customer-facing systems to enable the delivery of more personalised products, for example.
Future services incoming
Allera used the announcement to flag adjacent developments within Consumer. With a new flagship brand, the division will begin to "stretch into new areas". This will see EE focus on network convergence, devices, and "new services beyond connectivity".
Bringing new products and services to market under the EE marque will support Consumer's effort to "expand our brand and relevance" beyond networks, Allera said.
Details on what this will look like in reality are expected in the coming months.
An EEasy choice?
Allera was EE's Chief Commercial Officer for four years and CEO for one before taking the Consumer mantle in 2017, giving him a certain affinity for the EE branding.
Speaking at Consumer's Business Briefing in 2020, however, he emphasised a renewed focus on BT and EE brands playing to their core strengths: BT as a safe, reliable brand; and EE more mobile-centric (BTwatch, #319). Setting EE as the flagship brand marks a divergence from this strategy, two years on.
Reading between the lines, the move may relate to external market changes. Virgin Media O2's (VM O2) merger will likely lead to a decision being made to jettison one of the VM or O2 brands, or — as has been shown in the launch of VM O2-branded Volt — using the joint brand to deliver converged services.
Public perception
In recent results calls, BT management has sought to use the health of its Net Promoter Score as evidence of its improved position among consumers. Independent data from UK regulator Ofcom, however, indicates that the EE brand is more popular than its BT sister.
In the UK regulator's latest telecoms and pay-TV complaints league tables for the three months to 31 December 2021, published today, EE outperformed BT Mobile on every metric.
Budget brand Plusnet, which will be unaffected by the changes, was well beaten by both its peers.
BT's customer complaints, compared
BT
EE
Plusnet
Industry average
Source: Ofcom; TelcoTitans.

Fixed broadband complaints

(per 100,000)

7

5

8

9

Landline complaints

(per 100,000)

5

3

6

6

Pay-monthly complaints

(per 100,000)

2

1

–

2

Pay-TV complaints

(per 100,000)

4

–

–

3

Joseph Purnell is a Staff Reporter for TelcoTitans, contributing telecoms news analysis since 2019 as part of the TelcoTitans Editorial team.