EE pips Vodafone to the post on 5G launch, but head-start is limited.
Consumer to join the party later in year, with BT Plus converged packages.
Huawei dropped from the handset list, but still providing FWA hardware.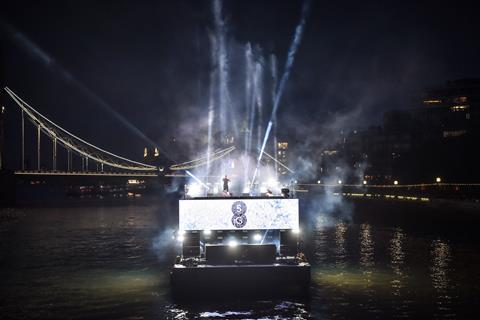 BT/EE launched its much-anticipated 5G service with considerable fanfare on 30 May 2019, heralding the arrival of the 5G era in the UK and beating rival Vodafone UK to be first to the post.
Achieving one of the goals outlined for 2019 by Howard Watson, BT Group's Chief Technology and Information Officer (BTwatch, #303), the mobile operator switched on commercial 5G services in six cities (Belfast, Birmingham, Cardiff, Edinburgh, London, and Manchester).
"EE was the first to launch 4G in the UK in 2012. Now we are going to be the first operator in the UK – and one of the first in Europe – to launch 5G. I'm proud to say that on May 30 2019, EE is switching on the UK's first 5G network. That will be the day that our customers can join us on our amazing 5G journey. "

– Marc Allera, Chief Executive, BT Consumer.
Launch party – hit and miss
EE expended considerable effort on marketing its 5G launch, with no lack of razzmatazz, although some attempts to demonstrate the technology's potential on launch day fell somewhat flat. For example, a BBC live broadcast between news presenter Clive Myrie and reporter Sarah Walton that used the 5G network in Central London cut out due to 'technical problems'. This somewhat embarrassing episode is now available in perpetuity on YouTube, with the reporter commenting that speeds were only 40Mbps. A separate broadcast by Walton for BBC News was more successful, recording speeds of 240Mbps.
Perhaps EE technicians were too busy sleeping off the effects of the launch parties: the night before the launch, EE hosted a gig by UK artist Stormzy, streaming the performance over the 5G network from Tower Bridge in London and broadcasting it on social media. Ahead of the launch Kevin Bacon, the long-running face of EE's advertising, also played his part by showcasing the use of 5G-enabled augmented and virtual reality technology during the FA Cup Final between Manchester City and Watford. 5G commercials based on footage from the match commenced end-May 2019 during the semi-final of TV show Britain's Got Talent.
EE and 5G: facts and figures
Mobile data-transmission speeds are expected to increase by around 150Mbps with 5G. EE said it is confident that some customers "will break the 1Gbps milestone on a smartphone".
5G variants of EE's new Smart Plan tariffs have been introduced (see also separate report), featuring between 10GB (£54 per-month) and 120GB (£74) of mobile data. 5G customers can opt for two simultaneous Swappable Benefits, including an exclusive, high-definition high dynamic range (HD HDR) variant of the BT Sport app (said to be worth £15 per-month).
5G-compatible smartphones available at launch were LG'sV50 ThinQ 5G, the OnePlus 7 Pro 5G, the OPPO Reno 5G, and Samsung'sGalaxy S10 5G. EE made a last-minute decision to exclude Huawei'sMate 20 X 5G smartphone and 5G CPE Pro router from the initial line-up due to ongoing controversy regarding the use of Huawei equipment and uncertainty as to whether the device software would be adequately and securely updated.
Mobile broadband plans, branded 5GEE WiFi, are available with the HTC's5G Hub. These entail an upfront cost of £100, with 50GB of mobile data priced at £50 per-month (or 100GB for £75). The HTC 5G Mobile Smart Hub is powered by the Qualcomm Snapdragon 855 Mobile Platform and Android 9 Pie. The device incorporates a five-inch high-definition capacitive touchscreen, and offers 5G mobile hotspot connections for up to 20 users, with a 30-metre Wi-Fi range and a built-in Gigabit Ethernet port. It also features voice command, remote control, a microphone, and a speaker for playback, as well as support for 4K video streaming and low-latency gaming, with 32GB internal storage.
EE is also introducing the 5GEE Home Router, positioned as a fast and reliable, self-install, fixed-mobile substitute. The device is produced by Huawei, and provides wireless connectivity based on either 4G or 5G, depending on the strength of the local signal. EE is pitching the device as suitable for small office use, or in the home.
SIM-only 5G plans will offer between 20GB (£32 per-month) and 100GB (£52) of mobile data.
Business customers will be able to subscribe to sharer plans, with a mobile data allowance of 1GB-950GB shared across connected devices.
EE said it is upgrading more than 100 base stations to 5G per month, with The Mobile Network reporting that 1,500 sites would be 5G-enabled by the end of 2019, rising to 2,000 in 2020. EE aims to roll out 5G services in the "busiest parts" of ten UK cities in 2019: Bristol; Coventry; Glasgow; Hull; Leeds; Leicester; Liverpool; Newcastle; Nottingham; and Sheffield. Ten more will follow in 2020: Aberdeen; Cambridge; Derby; Gloucester; Peterborough; Plymouth; Portsmouth; Southampton; Worcester; and Wolverhampton.
The first phase of the 5G rollout is based on the 5G New Radio non-standalone (5G NR NSA) specification, which is anchored in the existing 4G network. EE will then move to a full 5G core, based on 5G NR standalone specifications in 2022, followed by Ultra-Reliable and Low-Latency Communications (URLLC – BTwatch, #296), network slicing, and 'multi-gigabit-per-second speeds' from 2023.
EE unveiled two partnerships that it hopes will boost adoption of 5G. It launched an augmented-reality game, Harry Potter: Wizards Unite, in collaboration with gaming specialists Niantic and WB Games San Francisco, and aims to collaborate with Niantic on in-game content. EE is also working with Google on the Google for Startups Campus in London, with the aim of enabling development of 5G-based applications and services.
Three vendors in running for BT 5G core
As EE unveiled its initial 5G offering, Group CTIO Howard Watson indicated to Light Reading that a final decision was yet to be made on the vendors to provide core network technology for 5G as it moves towards becoming a widespread and standalone technology.
"[The network] will pilot during 2019 and we will start to do deployment probably in the middle of 2020. That new core will be 4G, 5G non-standalone and 5G standalone – it will have the capability to do all three – and we will have to migrate our 4G customers onto that. We'll take most of 2021 doing that. "

– Watson.
Rivals snapping at EE's heels
EE may be the first 5G player, but rivals are squaring up with their own launch plans:
In early-July 2019,Vodafone UK (VfUK) belatedly and rather awkwardly introduced its 5G propositions, including its own tariff overhaul differentiated by now leading on speed (or restriction, for cheaper 5G options) and unlimited usage (for its headline, £30 per-month Unlimited Max option). It has now launched 5G in seven cities, with a further twelve to go live by the end of 2019, and plans to offer 5G-roaming in Germany, Italy, Spain, and the UK over summer 2019. VfUK is also offering GigaCube for homes, which may be similar to the 5GEE Home Router, again from just £30 per-month (for 100GB; £50 for unlimited, from November). Interestingly, at a time when EE is promoting its new Swappables, Vodafone appears to be pulling back from its Red tariffs, which led with bundled over-the-top content (now just extra-cost add-ons). Perhaps drawing on learnings from its international siblings, VfUK appears to be leading 5G on price and bountiful data, which could force EE to reconfigure away from experience and features, although both are initially working with limited addressable (and usable) areas that could at this stage be considered soft launches.
Three UK aims to start offering 5G-based fixed wireless access (FWA) services in London from August 2019, with 5G mobile and FWA services to follow in 25 cities later in the year.
O2 UK has also said it will launch its 5G network in Belfast, Cardiff, Edinburgh and London in 2019.
While EE's 5G proposition is up and running, the fixed-line side of the Consumer business is promising a launch in autumn 2019 as part of a converged BT Plus product. BT's enterprise customers are also expected to be able to add 5G services to existing telecoms packages at the same time as the Consumer launch.