EE remains well ahead of UK MNO competitors when it comes to activating sites through S4GI scheme.
Pragmatic linking of programme with EE-supported Emergency Services Network seems to have had impact.
Partner Three UK yet to show any interest.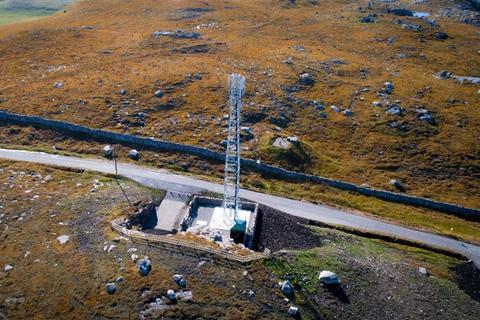 EE remains much more willing than rivals to get its hands dirty when it comes to linking up rural not-spots through the Scottish 4G Infill (S4GI) programme, according to the latest government data.
A progress update, dated 25 May, shows 28 communities have now had masts installed under S4GI — which was set up to widen coverage to areas mobile network operators had previously deemed not worth the investment.
This is up from the 18 sites the government reported had been brought live in September 2021.
Availability remains highly lopsided, however — while EE is offering 4G services in all but one of these communities, the update indicates Virgin Media O2 and Vodafone UK are doing so in only one each.
Three UK is yet to link any to its 4G network, despite its broader infrastructure-sharing relationship with EE through joint venture Mobile Broadband Network Ltd.
Of a further 20 S4GI masts that are described as being in "build stage" — i.e. next in the service activation queue — EE is said to have agreed to activate 4G signals on 13. VM O2 and Vodafone have only done so on three each.
The ESN factor
The update means EE is eight away from a 35-site target the operator committed to when forming an S4GI-focused agreement with the Scottish government and UK Home Office in late-2020 (BTwatch, #319 and passim).
This deal, among other things, looked to more closely align S4GI site rollout with deployment of the UK's Emergency Services Network (ESN), which rides on EE's 4G infrastructure and presumably gives it greater incentivisation than rivals when it comes to supporting S4GI expansion.
Still, there has not yet been any indication from the government that other MNOs have begun offering services within EE's outsized S4GI footprint, despite earlier suggestions that they would have an offer of discounted site rental.
None of the operators responded to TelcoTitans' request for comment but have in the past pointed to their involvement in the parallel, UK-wide Shared Rural Network scheme as evidence of their commitment to connecting up under-served communities.
S4GI pipeline, May 2022
Number of sites (total)
Number of sites with MNO commitment
Notes
Source: Scottish government.

Live sites

28

28

(EE: 27; VM O2: 1; Vodafone: 1)

Services available.

Build stage sites

20

16

(EE: 13; VM O2: 3; Vodafone: 3)

Construction work is underway (or has been completed), but service activation tasks and/or installation of power and transmission remain pending.

Pre-build stage sites

7

4

(EE: 4)

Planning permission and landowner consents are in place, or ongoing.

Potential additional candidate sites

3

–

Site searches being conducted, along with initial discussions with planning authorities, local landowners, and MNOs.

Removals

19

–

Removed from programme after lack of MNO commitment.
Cash for connections
Naturally, S4GI had its share of sceptics when it emerged in 2017–2018. Both it and the SRN programme were formed in the wake of the failure of the UK's Mobile Infrastructure Project, which was scrapped in 2016 after delivering only 15 of an intended 600 new masts.
S4GI initially made little obvious progress, owing largely to reticence from MNOs and then later, disruption to construction work during the pandemic — but the EE deal seems to have at least partially turned things around.
The scheme aims to broker agreements between operators, landlords, and local councils in often thorny site negotiations. Wrinkles are smoothed out by a recently expanded, £28.75m (€33.8m) pot of money from the Scottish government (£17.48m) and European Regional Development Fund (£11.27m).
The programme is run by managed network service provider WHP Telecoms, whose remit is to "acquire, design, and build" the sites, as well as to bring them power and backhaul links and then operate them once live, providing outsourced infrastructure to mobile operators and other organisations that want to use them. A £500,000 cost limit has been applied to each location.
Further down the line, the Scottish government has suggested S4GI could become a "testbed" for neutral host-based 5G rollout in rural areas, having expressed frustrations with UK-level direction on next-generation mobile delivery.