AMV BBDO bows out from BT's advertising after more than 20 years.
EE's main creative partner builds on its success in delivering Beyond Limits.
Mobile marketers charged with supporting internal transformation as well as external image.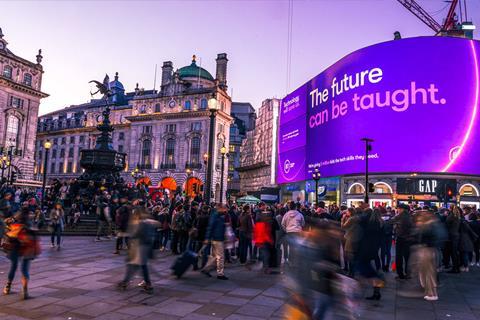 BT Group completed the process of consolidating its advertising account with Publicis Groupe, marking the end of a relationship with Abbott Mead Vickers BBDO (an Omnicom unit), which dated back to the last century.
The latest account change will see demand-generation work switched to Publicis's Digitas and Saatchi & Saatchi agencies, and follows the decision in 2019 to charge Saatchi & Saatchi with responsibility for BT's main brand account, leading to the creation of the Beyond Limits campaign (BTwatch, #307).
AMV BBDO had been supporting this new over-arching campaign with response marketing activity, but this work is now to become part of the wider advertising brief.
According to Campaign, BT is regularly among the UK's biggest advertisers, and while its core creative work is now concentrated with Publicis, WPP remains a key partner, with its agency Essence managing a £160m media-buying account for BT, and its Wunderman Thompson business responsible for direct marketing and customer relationship management.
EE executives deliver Jansen's symbolic shift
The move away from AMV BBDO after a decades' long relationship reflects the rising influence of EE marketers under still relatively new Group CEO Philip Jansen.
It appears that key figures alongside Jansen behind the decision to make the initial move to Saatchi & Saatchi were Consumer CEO Marc Allera and Group Brand Director Peter Jeavons.
Both Jeavons and Allera came to BT Group from EE and were in a position to support Jansen in a re-think of BT branding and advertising, rebooting an existing brand refresh project that had been finally moving towards launch after several years of incubation, at around the time Jansen joined the Group.
The declared goal of Jansen, a former marketer himself, was to make the BT brand relaunch more substantial than just a logo refresh and, according to Jeavons, "not just a change of symbol, but a symbol of change". As such, the new advertising and marketing approach fed into Jansen's plans to overhaul BT's internal culture as well as its external image.
AMV BBDO and Saatchi & Saatchi were invited to pitch for this more ambitious remit, with the EE partner winning out. Jeavons told Campaign that the decision was based on fulfilling BT's need to find "an idea that was much bigger than just a brand comms campaign – an idea that lived and breathed within the business and changed how 110, 000 people thought about the brand".
While Jeavons perhaps condemned AMV with faint praise by suggesting the agency provided "great ideas" that "of course" could have been developed into an advertising campaign, the belief among the BT teams was that the challenger better reflected its new ambition.
The Saatchi & Saatchi team appears committed to the Group's transition towards becoming a digital business and, perhaps unsurprisingly, have talked up the importance of the work done by marketing-focused executives such as Jeavons and Allera in the process. As Magnus Djaba, UK Chief Executive and Global President of Saatchi & Saatchi, put it when discussing the BT account, "if you believe transformation is about growth, then the marketer becomes one of the most critical people in an organisation".

Neal Doran is a Senior Analyst for TelcoTitans. Neal's industry knowledge and experience as a telecoms analyst and writer spans three decades, and he has been a key part of TelcoTitan's Editorial team since 2001.