Spanish InfraCo willing to sell enough sites from its existing estate to enable a new UK tower player to emerge, and overcome CMA concerns on competition linked to its planned CKH infrastructure acquisition.
Four companies have already stepped forward as potential buyers.
CTIL objects to being positioned as a potential duopoly player in the evolving market.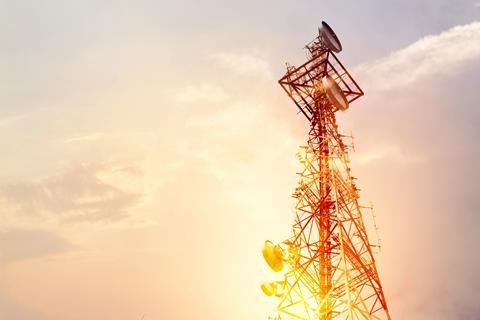 Cellnex has put forward proposals that it believes overcome the concerns of the UK's Competition & Markets Authority (CMA) linked to the infrastructure giant's proposed acquisition of towers from CK Hutchison (CKH), owner of UK mobile network operator Three. The proposals could see a new wireless infrastructure player emerge in the market, potentially transforming the competitive landscape, and supporting the acceleration of 5G deployment.
The Cellnex proposals come in the wake of a December 2021 provisional ruling from the CMA that indicated it was unwilling to allow its deal with CKH to proceed in its original form. Stakeholders were given until early this year to submit views and proposals based on the CMA report, which prompted the Cellnex offer.
Cellnex continues to dispute the CMA preliminary finding that its acquisition of CKH assets would cause a significant lessening of competition, but nevertheless delivered remedies that it considers will allay the CMA concerns. The InfraCo is proposing the sale of a tranche of its own towers that cross over geographically with sites it hopes to acquire from the Hong Kong group. It is also willing to sell its own existing sites where there is crossover with wireless infrastructure currently owned and managed by the MBNL, the CKH infrastructure joint venture with BT Group.
In doing so, Cellnex considers it will be creating the opportunity for a viable independent market player to emerge — one that would be able to ensure sufficient competition in the provision of passive infrastructure for wireless connectivity in the UK market.
Four unnamed companies have made themselves known to the CMA as potential buyers of any tower sites that would need to be sold by Cellnex for the deal to be considered palatable, seemingly making it likely that a compromise to enable the deal can be reached.
UK deal last to drop for acquisitive Cellnex
In late-2020, Cellnex and CKH unveiled a series of proposed deals that would see Cellnex acquire CKH tower assets in five markets across Europe, including the UK. While the other deals have now closed, the UK merger has faced greater competition authority pushback. The original proposed UK contract would have seen Cellnex:
Acquire all Three UK's existing fully-owned passive infrastructure sites, and 2,600 sites under construction.
Secure the economic benefit of Hutchison's interest in 7,500 passive infrastructure sites that are part of the MBNL.
The deal also looked forward to the dissolution of the MBNL joint venture by 2031 at the latest, with Cellnex to receive CKH's share of any sites returned to the company on the JV's break-up.
The proposed merger sparked immediate objections, and the CMA's initial review found sufficient cause for concern to demand a full-blown investigation of the potential implications on the UK market, which got underway in summer 2021, before reaching initial conclusions at the end of the year.
Opportunity identified to foster infrastructure competition
The full CMA review found reason to believe that the Cellnex/CKH agreement would create a dominant market leader in the provision of independent wireless infrastructure access to the UK's mobile network operators. It asserted that it would heighten barriers to entry in a market that already often requires scale to secure meaningful contracts.
In reaching the decision, the watchdog considered how the market might develop if the deal was blocked, and from this counterfactual exercise concluded that doing so would create circumstances where there would be a clear opportunity for another player to enter the market.
The CMA believes that CK Hutchison has demonstrated a need or intention to offload infrastructure assets in order to support its 5G rollout and remain a viable competitor in the UK market. Therefore, by blocking the merger with Cellnex, it could encourage another player to enter the market as Hutchison would need to find an alternative plan to raise money from its infrastructure.
Conversely, if the deal went ahead, the barriers to entry for outside infrastructure group would get even higher, and the opportunity for existing niche players to grow would be severely restricted.
BT fears losing credible bargaining power if Cellnex gets hands on MBNL…
BT Group has strongly objected to the Cellnex and Hutchison merger since it was announced (BTwatch, #329). The owner of the EE network has claimed that the deal would have effectively given Cellnex immediate control of Hutchison's MBNL stake, and increased the risk that investment would not have been made available to use the JV's infrastructure to deliver 5G coverage.
Most operators are still largely self-reliant when it comes to network coverage, but the use of third-party sites and services is increasing, particularly in relation to 5G where network density is critical. BT highlighted to the CMA that it works with Cellnex already, and increasing its market strength further would enable it to leverage that power to hike prices.
Under the initial plans for handling CKH's MBNL interest, BT would potentially have found itself at the mercy of a dominant independent player seeking to make the most of its wholly-owned infrastructure, rather than investing in joint-venture sites. The incumbent operator expressed fears that with Cellnex as a partner in MBNL, it would not be able to "credibly threaten the use of self-supply and/or roll out 5G to its UK customers" when negotiating terms for access to other Cellnex sites.
Cellnex also manages and operates around 220 EE mobile sites on behalf of BT under a 2019 deal (BTwatch, #305), and in its latest submission the operator appears to be calling on the CMA to ensure that any settlement from Cellnex will not have a detrimental effect on the running of those sites.
… but MNOs may see mast options multiply and funds flow with latest plans
A competitive wireless infrastructure sector with multiple players could provide opportunities for any UK MNO to find more efficient ways to manage coverage, with lower capital intensity.
Responses to the CMA consultation have focused on the negative outcomes that are likely from waving the original deal through. However, a compromise conclusion that resulted in the creation of a new independent TowerCo for the UK market could create further demand among investors for infrastructure opportunities. The fact that four companies have already stated their interest in a wireless infrastructure market in the UK suggests that the supply of investment funds already pouring in to building new fibre infrastructure could be replicated in the mobile access sector.
Multiple new options for MNOs could also be available as network upgrades continue, with choice emerging when seeking partners for deployments. While not all sites in the current independent infrastructure ecosystem will be suitable for 5G services, it appears likely that competing InfraCos would be able to support a range of MNO demands efficiently and cost-effectively, while still maintaining strong margins, which are currently estimated to exceed 60% in some cases.
While BT has long-maintained that owning its own mobile infrastructure provides a strategic advantage, and that a sale and leaseback arrangement would have little financial benefit, the evolving shape of the UK mast landscape may lead the operator towards a re-think that could entail greater reliance on third-parties, or raising funds for accelerated investment through wireless infrastructure investment partners.
CTIL resists duopoly speculation
Following Cellnex's earlier acquisition of Arqiva in spring 2020, the InfraCo is one of only two potential nationwide independent infrastructure providers in the UK alongside Cornerstone Telecommunications Infrastructure Limited (CTIL), the joint venture between Virgin Media O2 and Vodafone's spun-out infrastructure business. CTIL is still adjusting to a role as an independent wireless infrastructure provider, however, and currently the only meaningful competitor to Cellnex (thought to have in the region of 90% of the market for fully independent infrastructure access) is the Wireless Internet Group, with a share of 5% or less.
The CMA analysis of the future of the UK wireless infrastructure market foresaw a future where the market would be, at best, a duopoly unless action was taken to prevent the acquisition.
However, CTIL and its part owners Virgin Media O2 objected to language used in the CMA preliminary findings which suggested that the business, in the relatively early days of operating as independently, could be considered as controlling the market. While CTIL is aiming to become a competitive force as contracts for provision of infrastructure come up for renewal, at present it considers that its position as a service provider beyond its foundational contracts with VM O2 and Vodafone remains fragile. As such, it "strongly" requested the CMA to clarify and reconsider the wording of its speculative hypothesis on the future UK infrastructure scene.

Neal Doran is a Senior Analyst for TelcoTitans. Neal's industry knowledge and experience as a telecoms analyst and writer spans three decades, and he has been a key part of TelcoTitan's Editorial team since 2001.