Selley upbeat and future‑focused as Openreach intensifies efforts to shed copper.
Independence emphasised with ucstomer team driving efforts to create new markets, rather than purely follow BT Consumer's lead.
Experience and efficiency the foundations for Openreach plans to roll over emerging fibre rivals, and keep Virgin Media away from its backyard.
Despite standalone swagger, Openreach acknowledges plans dependent on proving value to stakeholders that provide essential capital.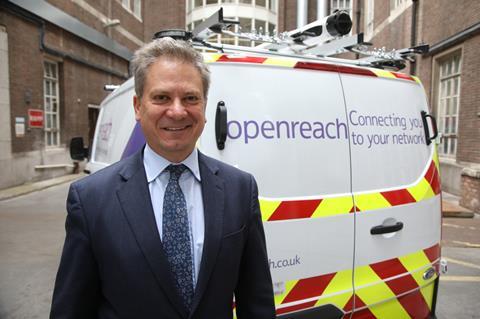 Openreach hosted the latest BT Group Business Briefing in December 2019. Led by Chief Executive Clive Selley and his management team, the event took place at a time of considerable uncertainty for the legally separated access services business — the prospect of nationalisation was in the air following hasty General Election promises made by the Labour Party, Ofcom was still preparing the market review expected to facilitate the Conservative government's unprecedented and overly‑ambitious fibre rollout plans, and the decision on the future role of major strategic supplier Huawei in UK infrastructure was hanging over Openreach heads.
Nevertheless, Selley bounded into his optimistic presentation on where he sees the business, evidently excited for its future and the transition from copper‑based network business to the "UK's digital infrastructure provider". The CEO was joined by several members of the management team who reflected the attitudes of the boss. Selley's catchphrase commitments to proceed with improvements and network rollouts "at pace, and at scale" were parroted throughout the day as management emphasised Openreach's growing momentum.
Since the presentation, Openreach's future has begun to look clearer, if not necessarily easier. Ofcom appears to have provided an environment that meets the need for fibre enablers that were discussed by Openreach during the event, and a new Conservative government may be in a position to turn on the funding tap for remote ultrafast connectivity. The influence of Huawei in the business may need to be dialled down as rules are firmed up on the limited presence of the "high risk vendor", but it appears likely there will be clear and detailed expectations. This may see the business working with Ofcom to ensure rules are adhered to — a familiar practice for the business.
With these issues closer to being resolved, it may be possible to concentrate more fully on the ambitions and long‑term objectives of Openreach, and a full review of the Briefing will feature in a future BTwatch. In the meantime, several key messages emerged when considering the event as a whole.
Fibre embraced with the fervour of the convert
Enthusiasm for fibre deployment was evident during the Business Briefing, and there was a degree of preaching to the converted as Selley and Richard Allwood (Openreach's Managing Director for Strategy) talked up the reliability benefits, rising demand, and future‑proof nature of fibre connectivity.
Selley was, though, willing to acknowledge that on fibre Openreach was "late to the party". However, he insisted that this tardiness had benefits, in that he and the business were able to closely study preceding rollouts and have since "ruthlessly stolen" best practice from across the globe.
The Openreach fibre rollout is still speeding up, and there remains a gap to hit the runrate needed to achieve the 2021 target of four million premises passed. The acceleration is not being driven without due care and attention, however, and Selley was keen to emphasise this would not be at the expense of build quality, nor over-stretching the cost per home passed.
Independent Openreach cutting Consumer's head start
A major underlying theme of the Openreach presentation appeared to be its commitment to its own independence. From detailed explanations of the nature of senior management bonuses based purely on Openreach and not Group success, to commitments to remain responsive to customer demands for deeper access to Openreach physical assets, dedication to the sector beyond the confines of the Group was hammered home.
The clear enthusiasm for its external client base is expected to see Katie Milligan (Managing Director for Customer at Openreach) redouble efforts to get CPs on track for superfast and ultrafast services using volume deals.
Openreach was slow to innovate on pricing models to make FTTC a more compelling offering for CPs, effectively giving BT Consumer a free run at the market for several years until volume discounts were introduced in 2018. These latter deals have been a success for Openreach, but pinned as one of the causes of a more challenging competitive retail market for BT Group in recent quarters, hitting Consumer numbers (BTwatch, #298,#300,#308, passim).
The BT retail division is not getting a comfortable headstart with the gear shift for full fibre‑based offerings, with Milligan promising a portfolio of FTTP services built on the template used for FTTC. With this, Milligan suggested that Openreach believes it can create a market for FTTP offerings, and would not need to wait for the market to catch up with its capabilities.
Getting tough with competitors
Selley was bullish, almost belligerent, when discussing greater competition at infrastructure level from the UK's altnets.
A willingness to take on all comers was grounded in confidence that BT experience to date in developing and rolling out fibre products could not easily be replicated, and that the level of practice and extent of expertise within his business will provide an efficiency edge.
Openreach also does not look like it is going to take prisoners as it expands it rollout. Questioned on whether Openreach would shy away from overbuilding where altnets roll out fibre first, management portrayed competing infrastructure as little more than an inconvenience. Selley and Allwood focused on considerations such as the cost of deployment, anticipated uptake of the Openreach product, and existing demand and competitiveness of Openreach services. While the presence of competitors would be taken into account, it appears that the business is more focused on ensuring that its own network build costs continue to be optimised to ensure that rollout to more areas remains an attractive proposition.
Wholesale risks for Virgin
Virgin Media was warned that its own emerging interest in becoming a wholesaler, potentially competing directly with Openreach for fixed and mobile communication provider contracts, may not be an easy feat to achieve.
Describing wholesaling as a "non‑trivial exercise", Selly underlined the complexity involved in developing systems to manage "end‑to‑end business processes that are essentially chopped in the middle", and shared between wholesaler and retailer. The IT burden is substantial, and the incidences of work needing to be done to deliver services constant. And not only is the development of wholesale challenging for Virgin Media, any CP considering working with Virgin Media as well as Openreach (which has the geographic range to likely make that inevitable) would have to ensure their systems are compatible with both its wholesale providers, raising the complexity of delivering a service to end‑users.
Modernising and diversifying
Openreach also touched upon the potential for virtualisation in its infrastructure, and the increasing enthusiasm for agile working practices. Analogies were drawn to OpenRAN and the merits of creating a network environment where multiple vendor relationships can be managed to improve efficiency.
Investment in IT is rising, with automation a particular area of focus. Some constraints appear to be in place, however, with Openreach acknowledging that finding senior leadership with the skills and experience to drive such programmes remains a challenge — a factor that was also alluded to at the BT Technology briefing (BTwatch, #306).
Ahead of the government decision on the presence of Huawei, it was acknowledged that diversity in the supply chain was increasingly important, and that a third major supplier is being sought to give the business greater choice and security.
Teenage kicks
The Business Briefing in 2019 comes roughly 13 years after the official launch of Openreach and it is apt that as it embarks on its teenage years, it is taking greater steps to assert its independence from BT Group, while remaining aware at some level that it remains dependent on its parent for permission and money.
The quiet voice reminding that Openreach's ability to invest is dependent on capital from BT Group (and by extension its shareholders), was Allwood. Selley meanwhile was at pains to affirm that BT and Openreach interests remain aligned, and the confidence in the business case for fibre is universal, as stakeholders were assured the Group is still a happy family.