Chancellor Sunak eyes investment‑backed build‑back.
Short term tax break to bolster BT infrastructure expansion.
However, gains will be "offset in later years", and no movement on BT's number one priority — business rates relief.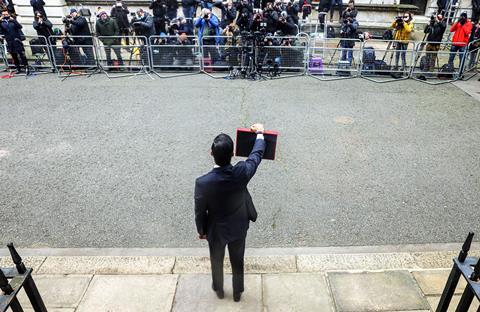 News of an investment tax "super‑deduction" bumped BT's shares following UK Chancellor Rishi Sunak's 2021 Budget.
The BT share price closed with 6.8% gains on Wednesday, the day of the announcement. It remained 4.7% up on its pre‑Budget price at time of publication.
Shareholder confidence is seen as having been boosted by confirmation that businesses will be able to offset 130% of investment spending against profits for two years from April 2021. Described by the Office for Budget Responsibility as a "very strong incentive to bring investment forward", for BT it will represent a significant tax break in the short term given the Group's planned investment in 5G and fibre infrastructure. In practical terms, it will mean BT will be able to cut its tax bill by up‑to‑25p for every £1 it invests.
" We are expecting to invest significant amounts of capex in plant and machinery over the next several years, and to the extent this proves to be eligible for the super‑deduction it could result in a significant reduction in our corporation tax bill for our 2021/22 and 2022/23 financial years. "

— BT spokesperson.
Sunak said the deductions will bring forward investments previously slated for later down the road — an effort to allay concerns that businesses are pausing investments until the impact of the coronavirus can be more fully assessed. However, there was no indication that BT would be moved to change its plans.
Swings and roundabouts and business rates
In blandly welcoming the move BT added the caveat that any cuts to the Group's tax bill "would be offset in later years", referencing the government's plan to raise corporation tax to 25% from the current 19% from April 2023. It also did not provide even the slightest suggestion that the new incentive would in any way accelerate its rollout, with the Group merely highlighting the benefits linked to expected investment.
The change in government taxation policy that BT, and much of the telecoms sector, has been hoping for is a change in business rates, providing relief in relation to fibre assets. BT Chief Executive Philip Jansen has previously said a business rates exemption could save the operator £1bn and would directly lead to a further three million premises being included in BT's mid‑term fibre rollout (BTwatch, #310).
While the Group may not have wanted to pour cold water on a Budget that had provided a much‑needed fillip for its share price, its faint praise of the proposal may be considered damning.
In the nine months to 31 December 2020 (9M FY20–21), BT reported capital expenditure (capex) of £3.03bn, 5%-higher than its outlay during the same period of FY19–20. The uptick was driven by network infrastructure spend (+10%, to £1.67bn), with fibre‑to‑the‑premise expansion the largest item. The outlook for FY20–21 remains between £4bn and £4.3bn.