BT grapples with unions, as it seeks to implement restructuring measures to cut costs.
Prospect members vote to veto cost-cutting plan.
BTFS transfer pushed through despite CWU grumbles.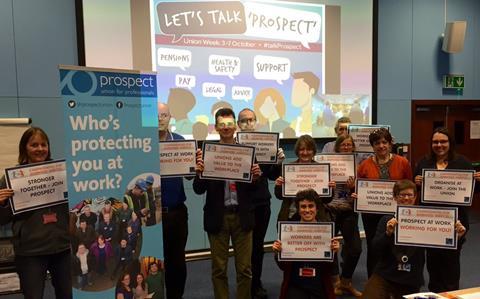 Prospect union members overwhelmingly rejected BT's restructuring plan announced in May 2018 (BTwatch, #296), in a clear demonstration of their feelings towards Group proposals to cut thousands of jobs and introduce new pay structures.
In a Prospect ballot vote during March and April 2019, 96.3% of participating BT members opposed the plan. Prospect, which represents management and professional staff within BT, had advised its members to reject BT's final offer, saying that the proposed framework that seeks to introduce new pay and grading structures "flies in the face of transparency".
Such a response probably came as little surprise to BT management. Towards the end of 2018, it had already become increasingly apparent that internal disquiet was on the rise as job cuts began to be felt, while the removal of layers of management and a new pay structure were said to be causing consternation and resentment (BTwatch, #301).
Noel McClean, National Secretary of Prospect, said the union is now demanding that BT "urgently gets back round the table to reconsider its short-sighted and ill thought through approach". McClean added that the ballot rejection by BT members "gives a clear message to [Chief Executive] Philip Jansen that he is not bringing his staff along with him in his future vision for BT".
Indeed, the result of the vote could be seen as a first major challenge to Jansen, who inherited the restructuring plan from his predecessor, Gavin Patterson, when he took over the role of Group Chief Executive in February 2019.
…as CWU reaches deal on BTFS outsourcing plan
After months of negotiations, the Communications Workers Union (CWU) finally reached an agreement with BT on Group plans to outsource BT Facilities Services Limited effective from 1 April 2019, involving the transfer of 1,700 BT employees to CBRE Global Workforce Solutions and facilities services specialist ISS (BTwatch, #301, #302, and #303).
Talks went right up to the wire, with a deal finally signed off on 27 March 2019. The CWU said that a "series of last-minute safeguards" it secured from BT, on top of "separate hard-negotiated bilateral agreements" with CBRE and ISS, meant that the transfer day would be "far less traumatic for those affected than it would otherwise have been". The CWU also gained full union-recognition for the 1,000 security and housekeeping employees that were outsourced to ISS from April 2019, and indicated that a similar agreement had been reached for employees transferring to CBRE.
The union still believes the outsourcing plan is "wrong in principle", and claimed that the process was "chaotic and badly prepared for by BTFS management" from the outset. Sally Bridge, Assistant Secretary of the CWU, said this has been "one of the most complicated and difficult set of discussions we've ever had regarding an outsourcing – and, sadly, BT was never going to reconsider its decision on account of the fact that legally binding contracts had already been signed".
And finally, some good news for BT staff
The CWU also trumpeted the fact that it had secured "above-inflation pay increases" for around 40,000 BT and Openreach employees in April 2019. The union noted that workers on older contracts received a 3% wage increase, while those on newer (lower-paid) contracts received an extra annual £150 on top of the 3% rise. Meanwhile, a lower pay-rate that had been in place for some BT Consumer new-joiners was also abolished by the division.
The latest increases formed part of a national pay agreement agreed early in 2018.
Corporate responsibility
BT Group is one of the founding sponsors of the UK government-backed National Centre for Computing Education (NCCE), alongside UK-based (but SoftBank-owned) chipmaker Arm and engineer Rolls-Royce. The new facility is intended to improve the provision of computing education in English schools. The NCCE was established in November 2018 with £84m of UK government funding, alongside a further £1m from Google, to develop training for secondary school computing teachers. The initiative is intended to increase the number of pupils in schools and colleges studying computer science at GCSE, AS, and A-level, and is particularly aimed at encouraging girls to pursue science, technology, engineering, and mathematics (STEM) careers. BT has been involved in both government- and industry-backed programmes to support IT skills development for many years as part of efforts to foster a tech-literate workforce and wider society (BTwatch, passim).