Chief Architect Neil McRae outlined key drivers for edge compute, and role of network operators in adoption.
Edge forecast to be "everywhere", with telco operators needing to reposition and collaborate in order to keep hyperscalers at bay.
Private networks, eHealth, and remote monitoring flagged as key early use-cases.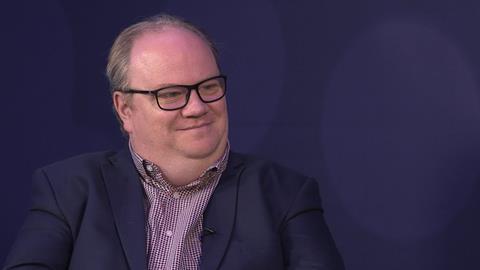 As part of Juniper Networks' Juniper Virtual Summit, BT Group Chief Architect Neil McRae spoke on a panel about the value of edge computing for telco when competing against hyperscalers.
The often outspoken McRae, though given the Chief Architect moniker, has been given responsibility beyond that in recent years. His current far broader remit is hinted at by his unabridged job title, Managing Director of Architecture & Strategy and BT Group Chief Network Architect. It means he oversees technology, network, and infrastructure strategy for the Group, as well as people, particularly for the network core (which may be becoming less physically demarcated with the advent of edge computing and programmable networking).
Historically, McRae has been considered in lockstep with incumbent network equipment providers Huawei and Nokia, but a combination of both players falling out of global fashion and radical network transformation have seen him latterly reinvented as a strong and visible evangelist of telco cloud and automation, notably cheerleading ADVA and Ciena as well as Juniper along with his historic favourites. Ericsson and Cisco, while deeply rooted in EE (mobile) and Global (enterprise), respectively, have long seemed personae non grata in McRae's domain.
McRae told fellow panellists that edge "will be everywhere", but only "if operators can make a return". With the broad session focus being the monetisation of edge, two needs or agendas presented themselves:
Telcos to be positioned firmly along the entire value chain.
Collaboration required to compete against managed service offerings from hyperscalers.
While Juniper Chief Technology Officer (CTO) Raj Yavatkar laboured the latter point, McRae emphasised the former, noting that BT "wants to do a lot more" with the tech.
"I believe edge will expand into business units, factories, train stations, airports, stadiums. If we're not able to run and manage that as network operators and service providers then I'm not sure what our role is other than digging streets up and putting fibre down."

McRae.
Juniper Networks is a key BT vendor, and McRae has been outspoken in his fondness for Juniper during the COVID-19 pandemic praising its "fantastic" contribution to the BT Network Cloud (BTwatch, #305 and #311). It has also been a close partner with BT in its 5G developments, as highlighted in the BTwatch 5G Momentum Index (BTwatch, #311).
Collaboration a key driver
A recurring focal point were the motives behind, and implications of, the March 2020 investment in edge compute service provider StackPath by Juniper and Cox Communications.
US-based StackPath — represented on the panel by CTO Wen Temitim — was the recipient of a $216m (£169m) second-round investment from the pair, raising its total funding to $396m. Guy McCormick, Senior Vice-President of Engineering at Cox, explained that the investment was part of a wider initiative to build an "ecosystem" of edge players.
"Being in an ecosystem where we have collaboration brings competition to hyperscalers in a number of ways, and with that you have increased innovation, capabilities, and adaptability. Ultimately, I think that is what we would all like to see as this ecosystem develops."

McCormick.
McRae rallied the point, claiming that 5G and edge adoption will be driven by "the art of collaboration". He was careful to re-iterate, though, that hyperscalers remained competitive in the edge space despite the collaborative efforts of traditional service providers. McRae proffered brand loyalty and customer trust as strengths to leverage: "our customers trust our brands, we know how to manage our customers… we can really get to know our customers so they can win" — something, he added, hyperscalers apparently cannot do.
Juniper CTO Yavatkar closed the session praising collaborative efforts made by operators and solution providers, highlighting the need for partnerships to deliver managed, cloud-agnostic edge solutions "that can accelerate our offerings to customers".
Security remains a regular talking point when it comes to edge computing, though it was artfully avoided by the panel here, despite being a key specialism and differentiator for Juniper. Broadly, headlines surrounding the UK's National Cyber Security Centre (NCSC) advice about network infrastructure security in January 2020 focused on its warnings against Huawei as a high-risk vendor, but the NCSC also determined telco supply chains were broken and in need of an overhaul to withstand any kind of real cyber threat (BTwatch, #309). Though McRae spoke to the value of collaboration across the supply chain — and by extension the need to fix telco supply chains — he did not use the platform to talk about security efforts required.
Edging closer to adoption
In terms of edge adoption, a number of use-cases were floated in the session.
BT itself has pursued edge compute with 5G for healthcare and emergency response initiatives (BTwatch, #311 and #313). McRae stressed the need to develop further solutions for the healthcare industry, referencing the COVID-19 pandemic as a wake-up call to the necessity of technology in emergency services and in "monitoring our environment".
On a similar line, Juniper's Yavatkar envisioned drone-based applications as an area to leverage low-latency, high-bandwidth connectivity to enable remote crowd control, enforce social-distancing, and monitor spaces for public safety and in times of emergency.
BT Chief Executive Philip Jansen recently told Goldman Sachs about the successes BT has seen in developing e-health solutions for the UK — particularly pointing to the "leap forward" in virtual doctor-patient appointments over the course of "about four weeks" at the start of the UK's lockdown measures. "We could always do this, but we couldn't get the customer to mobilise". He described the coronavirus pandemic as a digitalisation driver, and looked forward to improved connectivity as the next frontier for e-health solutions. "Home-monitoring [to provide remote medical appointments], in ten years, will be off the scale", he added. Providing the network to support that growth is a necessity, but again Jansen spoke on the challenge of seeing a return on that investment for a network operator, requiring a change of business model and forcing BT to "reposition itself".
Yavatkar went on to underline the value of edge for 5G private networks, taking advantage of unlicensed spectrum for enterprise with the potential to provide a fully managed service. To do this, he flagged the need for operators to "extend their in-house skillset in the cloud-native area" — a comment that earned a McRae nod of approval.
Rob Bartlett, Chief Executive at cloud-gaming network provider wtfast, was also on the panel. He noted that cloud-gaming needs a rethink that should begin on the edge, with cloud-native offerings the logical next step for competitive e-sports and artificial reality adoption.
McRae has previously hailed customer-centric edge solutions, and the need to develop edge technology that appeals to the consumer. Speaking to TelecomTV in June 2020, McRae painted a picture of consumers "walking away with a carrier bag full of BT edge". For this, he called for fewer silos, more collaboration, and a willingness to take risks in the development stage.