B2B partnerships seen as especially key in post-COVID era, but BT sees margins being squeezed by cloud tie-ups.
Response to current disruption is providing operators with food for thought on how they can move fast, and fix things.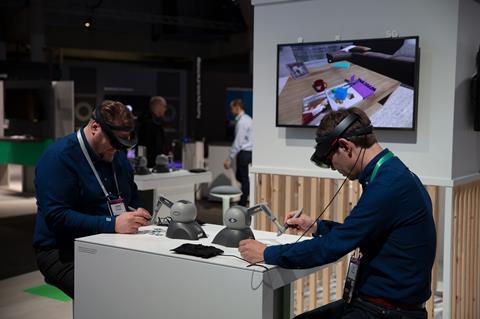 Fotis Karonis, Chief Technology & Information Officer at BT Enterprise, made use of a virtual panel organised by the TM Forum to further emphasise the importance of partnerships if operators are to fully exploit business-to-business opportunities in the 5G era.
Reinforcing recent comments by Neil McRae, Chief Architect at BT, Karonis highlighted the role of the telco's ecosystem in delivering services and said enterprises themselves should be regarded more as partners than customers.
Hyperscalers attractive, but tough to work with
He also pointed to the need to refresh the ecosystem with new players, including the hyper‑scalers. However, Karonis sent what could be regarded as a polite shot across the bows of these cloud-native players regarding profitability. "Yes, we do need partnerships", he said. However, "if you look at the practices, if I do something on‑premise, my margin will be 70%, but if I do something with a hyper‑scaler, my margin will really be poor at the moment, which is actually diluting your revenue stream. Everyone has to make an effort to make that work", he added.
Karonis called on hyper‑scalers to "understand the economies of scale, the investments that are required, and the margins that we need to generate".
Operators urged to remember the little guy too
The BT executive was joined on the panel, titled Hard Talk: How will telecoms operators seize the B2B opportunity? by Jan Karlsson, Head of Digital Services at longstanding BT partner Ericsson, and Camille Mendler, Chief Analyst for Enterprise Services at Omdia.
Both urged service providers to act now to ensure their role in the future provision of enterprise offerings such as software‑defined wide area networks and Internet of Things.
Mendler pointed to the fact that telcos tend to focus on large enterprises, but smaller companies represent the vast majority of the world's businesses and could become the frontline of 5G adoption and revenue generation. She added that telcos do not always need to lead projects, but can still take their slice of the pie.
Karonis said BT can play a role in 5G that extends far beyond connectivity, albeit while stressing connectivity's importance. He cited healthcare as one area where there has been a great deal of interest in 5G‑based use-cases, such as remote care (and where BT Enterprise has been showcasing its capabilities — BTwatch, #305). "We need to think about outcomes" for the customer, he added.
Battle‑hardened operators finding a new confidence
Karonis joined numerous other telco executives in citing opportunities in the post-COVID‑19 world, saying telecoms networks have proved to be an essential service and their resilience in the face of huge increases in data and voice traffic has led to an increase in public trust.
Service providers should "embrace some positive aspects of what we learned through this COVID crisis", such as working faster, making decisions more quickly, acting with greater agility, and trusting teams to work closely with the customers, he said. "I think the cultural element has created a positive impact that ripples through a large organisation. That is a capital we need to maintain," Karonis said.
Operators are in a position to "define the new normal, rather than being the recipient of the new normal", he concluded.