Mobile Core Networks Research lead underlines benefits of private 5G.
BT's John Davies outlines how data and the 'three pillars' of AI, IoT, and 5G are enabling a growing number of industrial use cases.
AE Aerospace provides a real-world example of a private 5G network in action.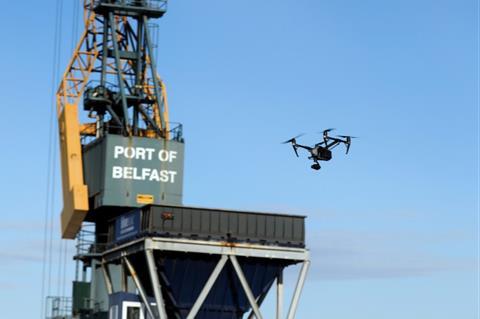 BT regards private 5G networks one of the "gamechangers" in the development of new enterprise use cases for 5G networks, according to Andy Corston-Petrie, Senior Manager, Mobile Core Networks Research at the Group.
Speaking at the TFNetworkSummer21 event organised by Tommy Flowers Network in June 2021, Corston-Petrie said private networks "can allow us to deploy dedicated, secure mobile networks for critical network operations".
"Sometimes a remote site may not have any other connectivity options, so you may need a private network to guarantee your coverage and reliability. For example, seaports, manufacturing sites, remote oil refineries, army bases, and so on. It also gives local control and customisation to the network that you're actually using", Corston-Petrie said.
Echoing recent comments by Howard Watson, Chief Technology & Innovation Officer at BT Group (BTwatch, #321), Corston-Petrie also pointed to the benefits of being able to "fold in things like on-prem computing and edge computing", while retaining control of security and prioritising users.
Corston-Petrie singled out some of the projects that BT is already involved in:
BT Enterprise is building a private 5G network at Belfast Harbour's Smart Port development (BTwatch, #316, #317, and #323). Other partners include machinery safety startup Machine Eye and early-stage investor Techstart Ventures. "We're looking at supporting augmented reality for providing remote support for field engineers, drone-based surveillance, connecting air quality sensors, and looking to explore things like remote crane operations", he said.
The connected ambulance project (BTwatch, passim), in collaboration with research partners Ericsson, King's College London, and virtual reality specialist Voysys. Demonstrations have been carried out by BT and University Hospitals Birmingham (UHB) National Health Service Foundation Trust.
Robotic arms controlled over the 5G network, for use in mining and forestry, logistics, and autonomous shuttles — or "anywhere where the operator is unable to… be in the same location as the action being carried out".
Autonomous drone control in collaboration with Unmanned Life, the autonomous application developer that has worked with BT since 2017 (BTwatch, #289, #295, #298, #300, and #323).
5G Edge-XR, a research project that is part of the UK government-funded £30m 5G Create programme. Participants include BT Sport, Bristol University, Condense Reality, DanceEast, Salsa Sound, and The Grid Factory (BTwatch, #315 and passim). Corston-Petrie described the project as "holographic communications in real time", and pointed to applications such as entertainment and remote education including dance classes — "we're working with colleagues at DanceEast in Suffolk to explore those opportunities".
Putting it into practice
A real-world example of a private 5G network deployment was provided by Ian Bouquet-Taylor, Operations Director of Birmingham-based aero parts manufacturer AE Aerospace, which is collaborating with BT and Ericsson (BTwatch, #321). The project is also supported by 5G testbeds West Midlands 5G (WM5G) and Worcestershire 5G (W5G).
In May 2021, AE Aerospace reported that it had installed the equipment for the three use cases: connected sensors on the factory floor for high-volume data capture; a quality assurance measure involving tracking and monitoring of parts in production; and a real-time image scanning solution to quality-check parts before shipping.
Use-case partners are digital technology specialist Fitfactory Technology and machine tool manufacturing software provider Mazak UK, while Cyth Sensors is helping to fit location sensors and Vision Intelligence is supporting the digital inspection solution.
Bouquet-Taylor said AE Aerospace was "in the vanguard" of private 5G network deployments in the UK and said the supplier has been on a steep learning curve. His advice to others is "get the experts to help you", start small, and don't immediately abandon existing manual systems just in case it doesn't work out.
"I think this is going to be the way forward for us, and I think a lot of other people are going to go on the journey as well", he said.
Taking the data highway
During a presentation at the event, John Davies, BT Chief Researcher for Future Business Technology Research Practice, described artificial intelligence (AI), Internet of Things (IoT), and 5G networking as "three key pillars". "And they are all about data", he added. "IoT is enabling us to sense more data than any before than ever before. AI is about extracting more insight from that data than ever before. And 5G is about moving that data around more rapidly and at higher volumes than ever before".
Davies also spoke about key applications of these pillars, including autonomous mobile robots, for factory environments; collaborative robots (cobots), which help in the performance of industrial tasks; digital twins, and their ability to create a virtual copy of facilities to help with testing; and asset condition monitoring, involving the collection and monitoring of data about machine performance, leading to predictive maintenance or the anticipation of faults.
In terms of specific examples, Davies pointed to BT's own use of IoT technology with legacy equipment in exchanges to monitor temperature and humidity. "Using technology instead of sending people to observe the measurements, we can much better manage the air and the environment in those buildings, and this has led to reduced equipment costs and project savings in the millions of pounds", he said.
Davies also made reference to a project called Robot Highways, dubbed "the world's first robotic farm". In July 2020, Innovate UK announced it was providing £2.5m funding for the project, which aims to ensure industry sustainability by addressing labour shortages and the need for global food production, and reduce the environmental impact of the farming sector. Tangible goals include the deployment of a fleet of robots by 2025 to perform on-farm functions, powered by renewable energy. As well as BT, the project consortium includes Berry Gardens Growers; soft and stone fruit growing specialist Clock House Farm; Manufacturing Technology Centre Limited; Saga Robotics, a provider of robotics and autonomous systems (RAS) technology for the soft fruit sector; the University of Lincoln; and the University of Reading.
Davies further referenced a Mexico-based specialist called Inblay Technology that he said deploys IoT sensors to monitor temperature and vibration on industrial motors, "and this is back to that predictive maintenance idea that I was talking about earlier. Monitoring these motors has led to a significant reduction in maintenance and failure costs. They did an interesting extrapolation, and apparently they estimated that if these techniques were applied to all the industrial plant in the EU, you could be looking at potential savings of €70bn [£60bn] per annum", Davies said. It was not made clear if BT has any engagement with Inblay.

Anne Morris is a freelance journalist, editor and translator. She has been working as a reporter and news analyst for TelcoTitans since 2016.