Head of BT's Drone Solutions keen on developing out-of-the-box SIM card solution.
Telco wants Project Xcelerate to showcase EE network's suitability for BVLOS flights.
Scaling drone-flight volumes in BVLOS environment a pressing challenge.
Collaboration with US-based TEOCO in the pipeline to optimise flightpaths.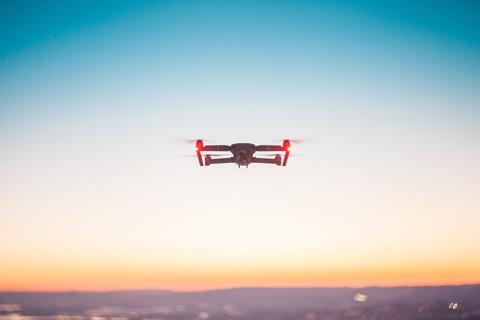 Dave Pankhurst, Head of Drone Solutions at BT, encouraged the drone ecosystem in the UK to work as a community and engage more with cellular network operators and Ofcom to make SIM connectivity more of an out-of-the-box solution.
"There is a number of hook-on devices and different modules that people are looking to try and achieve, but the vast majority of drones today do not have any standard SIM connectivity", he said. "This is an area that needs conversation and development".
He thought the GSM Association could provide additional "global insight" on how to scale up reliable, secure, and high-bandwidth and low-latency cellular connectivity for "C2"-class drones.
C2 aircraft have less than a 4kg maximum take-off mass and can be flown in "A2" and "A3" areas. A2 areas are 'close' to people, and A3 'far' from people. To fly in A2, an A2 Certificate of Competency (A2 CofC) is required.
BVLOS and Project Xcelerate
Pankhurst was speaking on a recent Drone Pathfinder Catalyst Programme Community webinar. His presentation focused on the BT-led Project Xcelerate, which was unveiled in December 2020 by an eight-partner strong consortium (BTwatch, #319 and see table).
It is tasked with testing beyond visual line of sight (BVLOS) drone flights in an 8km-long Arrow Drone Zone testing sandbox in Reading, Berkshire, during "summer 2021". The consortium leverages Altitude Angel's Unmanned Traffic Management (UMT) platform to track, monitor, and navigate drones in Arrow Drone Zone.
" BT and Altitude Angel have placed Xceletrate in a really challenging, urban environment with unsegregated airspace. We're deploying a lot of technology to enable the UTM platform to be incredibly well-educated in terms of what is happening in that airspace, and to make sure it's tip-top from a safety and standards point of view going forward. "

Pankhurst.
Pankhurst said BT was looking at feeding in some of its existing drone-detection capability with "aspects" from Altitude Angel to better understand the view of the sky, and to enhance and improve situational awareness to avoid conflicts in unsegregated airspace.
BT's Head of Drone Solutions repeatedly emphasised what he saw as the high importance of the EE mobile network within Project Xcelerate. He flagged the the UK government's decision to select EE as provider of Britain's Emergency Services Network as vindication of the operator's reliability credentials.
"We're keen to prove and demonstrate how our existing commercial mobile network can be used as a key component to enable safe BVLOS flights", said Pankhurst, although he acknowledged that there were some technology challenges to overcome. "Drones' altitude… create a different dynamic than on the ground, but with a level of optimisation we believe we can offer a brilliant experience", he added.
As part of that "optimisation" process, Pankhurst said BT will be working with TEOCO's AirborneRF connectivity data platform for BVLOS drone operations in cellular networks. "AirborneRF will enable us to understand more about the coverage level to provide a level of insurance when understanding the flight path", he explained. "Users operating the flight will recognise where there is good coverage and where there isn't, so you can maintain and operate effectively in most circumstances".
The Project XCelerate consortium

Enabler
Function
Sources: Companies; BT.

Altitude Angel

Operation and management of Arrow Drone Zone.

Angoka

Cybersecurity solution for connected and autonomous vehicles.

BT

4G and 5G connectivity. Use of Counter Drone Solution.

Dronecloud

SaaS platform for risk assessment.

DroneStream

Solution to gather and stream "real-time" data from drones to control rooms.

HEROTECH8

Providing "drone-in-a-box" solution to deliver drone maintenance, such as a remote charging port.

SkyBound Rescuer

Aerial intelligence solutions, such as 3D mapping.

Skyports

Drone operator and vertiport provider.
A UK affair
As a US-based company, TEOCO's collaboration with BT is likely to fall outside the scope of Project Xcelerate. The consortium was granted UK funding by the four-year government-backed Future Flight Challenge (FFC) initiative — part of the Industry Strategy Challenge Fund — which in turn is coordinated by the UK Research and Innovation agency.
The consortium falls under the umbrella of FFC "Phase Two". These projects receive up to £5m (€5.5m) and run for a maximum of 18 months. Very broadly, FFC is aimed at incubating disruptive drone technology, and invited Phase Two applicants to apply for funding between May 2020 and July 2020. The winning projects — Project XCelerate being one — are sharing a total prize pot of £30m. Vodafone is also part of an FFC-backed consortium using drones as a means of surveillance across UK construction sites (Vodafonewatch, #192).
Scaling up (and gaining public acceptance)
"Within the consortium there is absolute recognition that to enable scaled drone flight of the future, it will be through the integration of different technologies to make that possible", asserted Pankhurst. He added that he saw Project Xcelerate as a "stepping-stone pathway towards the future of drone flight, enabling BVLOS to scale significantly".
He did not think, however, that the tech-heavy approach adopted by the consortium would be "logical" for national coverage. For rural areas and remote areas, Pankhurst advocated a more pragmatic and trimmed-down tech approach, moving perhaps towards a blend of automation and pilots.
Within Project Xcelerate there is also a workstream looking at public acceptance. Pankhurst argued, not unreasonably, that any public hostility to drones will wane once the benefits become clearer. This was especially the case, he said, with the Project Xcelerate trials planned for medical service deliveries and emergency responses.
Going above and beyond
BT has previously flagged plenty of instances where the Group has made use of drones, but not yet BVLOS.
Openreach, for example, has used drones to help accelerate its full-fibre rollout across rural communities and, in the event of network disruption, for restoring broadband connectivity when engineers are unable to do so manually (BTwatch, #291, #301, and #310). EE, moreover, has trialled drone "air masts" as an alternative method of connectivity in Scotland (BTwatch, #284 and #290), but all within the parameters of CAA safety regulations.
BT Enterprise highlighted the development of the Counter Drone Solution in partnership with drone-detection specialist DroneShield in late-2019 (BTwatch, #307). It is marketed as a fully customisable and end-to-end airspace monitoring and drone detection service to help enterprise clients protect against drone intrusion.

Ken has been writing about developments in the fixed and mobile markets for over twenty years. He has been a contributor to TelcoTitans since 2015.