Jansen declares an ambition to "invest more heavily on the back of this crisis" and use it to identify opportunities to drive economic recovery and benefit all stakeholders.
BT CEO claims providing outlook guidance "just impossible" for months to come.
No return to business‑as-usual expected, but Group gearing up products and solutions to address new requirements.
Jansen focused on 'day‑to-day', but dedicated team charged with identifying next steps as Group works from a range of planning assumptions.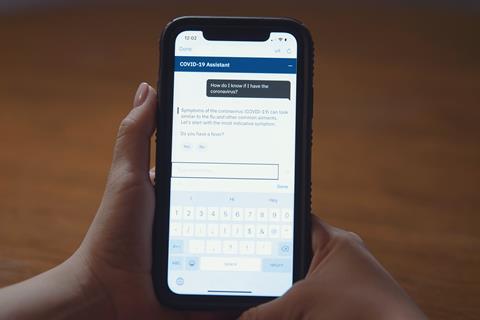 Current BT Group Chief Executive (CEO) Philip Jansen was interviewed on a livestream video by his predecessor in the job Gavin Patterson. They discussed BT's response to the coronavirus pandemic, and Jansen's expectations for the future as business and society adjusts to the consequences.
The livestream event was overseen by Salesforce, where Patterson is now President & CEO of the CRM giant's international business, and saw both executives quizzed on their views on the impact of COVID‑19, which somewhat incongruously concluded with a lockdown performance from the living room of Chrissie Hynde of band The Pretenders. The core of the event, though, was the discussion between the two leaders of BT's experience. Jansen was particularly bullish on BT's response and his plans for leading the operator out of the crisis.
Past and present
Watching Patterson and Jansen side by side (virtually) provided a striking example of the contrast between the personalities of the current and past CEOs. Patterson, adjusting to a new role, was typically laidback while Jansen was decidedly more kinetic, and the contrast could be said to illustrate the change in approach seen in BT strategy under the new regime. The principles and ideas remain broadly the same since Patterson introduced the Group's transformation strategy in the weeks prior to being pushed out of the job, but the sense of urgency now expected to be displayed by the frontline management team and beyond is more a reflection of his high‑energy successor.
Standing by employees, customers, and country
Jansen understandably opened by talking up BT Group's response to the pandemic, which has drawn plaudits (and a smattering of disgruntlement — BTwatch, #311) with its delivery of reliable connectivity across the UK, support for the government health service response to the crisis, and focus on the wellbeing of staff. The CEO claimed that, to an extent, the Group could see the problem coming through its overseas operations in China and Italy, and that by the time the crisis hit the UK it had already built its approach with a statement of intent to "stand by" its customers, colleagues, and country.
It was also acknowledged that the coronavirus outbreak created a "scary" environment for people to be working in. However, Jansen considers that the decisions BT took in supporting its staff — with full pay for workers unable to come in, assurances that jobs would not be lost as a result of the pandemic, and frontline pay‑rises — helped the Group rally and maintain focus through a "phenomenal" response to the business challenges seen.
Jansen highlighted the work of BT's 30,000 engineers working in difficult conditions (exacerbated by coronavirus and 5G conspiracy theories, which have resulted in vandalism and assault, including a stabbing — see separate report) to maintain "exceptionally high" levels of network performance. The contact centre staff that have adapted working patterns to maintain customer communications (see separate report), particularly with high rates of COVID‑19-related absences, were also praised, alongside retail staff that have retrained to provide virtual and home support during the period shops are shut.
During the interview, Jansen explained his experience with the virus as part of an early cluster of cases in the UK (BTwatch, #311). The CEO stressed that he had been cleared to work by BT's Chief Medical Officer in the days prior to his testing positive, and, although there had been ups and downs in terms of symptoms, he had been able to work "flat out" (as well as taking boxing lessons) for the duration of the illness.
"Exceptional" executives given their due
Jansen also praised executive leadership for stepping up and leading the response to the crisis in a robust and decisive manner.
"I have to say my exec team have performed… in the exceptional category throughout this process. And I think they'd say that about many of their people too. What we have seen is extremely high‑performing teams… The power of people and power of teams with a common cause is amazing, and the BT executive group has delivered in spades on that front and it has laddered through the organisation."

— Jansen.

"Teamwork is something that has shone through for me… In really difficult times, stay calm, think carefully, focus, prioritise like fury… and get the team to take responsibility."

— Jansen's lesson from the BT coronavirus response.
Internal communications key
Jansen suggested that one of the principal elements that ensured an effective response from BT was the constant drumbeat of internal communications that moved through the company.
While he indicated it was important not to overload staff with messages, the leadership committee was said to be meeting at the start of each day, with senior management then delivering updates to staff throughout the course of the week. Jansen also noted the importance of a teleconference held every Friday afternoon for the Group's 800 top executives, where BT's position and approach were outlined and discussed. Key messages for the rest of the Group were then "cascaded" through the company by managers via interactive video calls with staff.
Triaging customer demands
Jansen acknowledged the "massive challenge" that had accompanied the pandemic in new customer demand across all aspects of the business. Each customer category has a range of differing needs and expectations, which the Group "bucketed" in different parts of the business to prioritise and manage.
The public sector had significant urgent requirements, with providing connectivity for the wave of Nightingale hospitals flagged. Unilever and Zurich were also highlighted as major customers in the corporate and financial area of the business where the requirements for new ways of working reportedly soared.
"[Major corporate customers] want typically to implement more remote working and delivering the ability for their employees to work from home. That's putting excess demand not just on capacity but also quality of connections. You need security and therefore it's not as simple as spinning up a VPN; it's spinning up a virtual network that's secure and can meet the requirements of individual customers."

— Jansen.
Meanwhile, for the consumer segment, the intensified use of home connections presented its own challenges. This was not principally about the network performance, with underlying infrastructure consistently performing well, but often about communicating with customers to ensure that domestic set‑ups were optimised.
Jansen gives heads up on investment plans
Jansen said that, after the first intense wave of the crisis, BT is now in a position to "get our head up a bit" and assess the future.
Jansen stressed that customer demands and expectations will change dramatically, and that "what we are seeing now will not go away", with both BT and its customers adapting to become more distributed, and networked in a different way. He also said that BT has "lots of ideas" as to how it will respond, with "big things" planned to meet customer needs.
While this implies a huge prospect for the operator at a time when it is already making strides with its Dynamic Network Services portfolio for business across the Enterprise and Global divisions, Jansen is also looking at seizing an opportunity at Group level, and building economic momentum through corporate action.
"My aim is to invest more heavily on the back of this crisis. My aim is to look for opportunities for the company, and think long term for all our stakeholders to see if we can't grab new opportunities out of what has been a really, really difficult situation… Business has to help work our way out of what has been a public health crisis. We need economic activity to grow as fast as we possibly can. That is one of the things that I think is a responsibility for corporations and for individual leaders at the helm of these companies."

— Jansen.
Planning for all eventualities
While the CEO suggested that BT will be seeking new investment opportunities and leveraging its strengths in managing new ways of living and working that are expected to evolve, concrete predictions will be hard to come by. Ahead of the Group's full‑year results in early‑May 2020, Jansen said that forecasting the future would not be viable for a considerable period going forward.
"One of the real challenges for all businesses and all individuals is the massive uncertainty we're all facing. No one knows where this will go, and therefore you won't see any companies giving any sort of outlook statement in the next few weeks or months, I don't think, because it's just impossible. So one has to plan very, very thoughtfully, and that's what we're doing at BT."

— Jansen.
Jansen said BT is currently moving forward based on a range of planning assumptions. The Group is anticipating either a three‑ or six‑month lockdown period, with the potential for an economic recovery taking place at three speeds; very fast, medium, and slow. Even with this range of options, however, Jansen warned that predictions remain fragile in these uncertain times.
"In terms of how we balance the day‑to‑day with the long term, as I've said, we're just beginning to get our heads up a little bit, but one cannot afford to be complacent because no one knows what's around the corner here.

When you're in a crisis, you get more and more things going wrong, so I can't afford to spend too much time trying to think through what's going to happen in six to nine months. I've just put a specific team on it and said 'you guys, I don't want you worrying about the day‑to‑day, I will lead that with my team. You put together a specific time to start listing out the opportunities and things we might consider, and when I'm ready I'll come and look at them'. But I'm not quite ready yet'."

— Jansen.