BT's Amit Sharma provides insights into the Group's collaboration with Salesforce on the implementation of Open APIs.
Aim is to create a more automated, digitally-led customer experience for enterprises.
Project sees adoption of iterative approach, with less 'big bang'.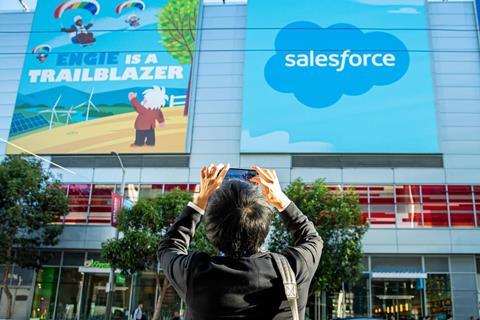 Amit Sharma, Head of Engineering, OSS at BT, highlighted how the Group aims to extend digital customer experience (CX) enhancements in the consumer space to its enterprise customers, despite the inherent complexities of the business-to-business (B2B) market.
Speaking during a webinar with customer relationship management (CRM) partner Salesforce and the TM Forum, Sharma said BT is working to provide enterprise customers with a digital channel through which they can place orders and gain a complete overview of the order fulfilment process, as well as service usage.
"That effectively means that the journey has to be automated as much as possible", Sharma said. "It has also not been an easy thing to solve from a B2B market perspective because of the sheer complexity with respect to multiple geographies, multiple tax regulations across geographies, and complex pricing that we will have to support across multiple products", he added.
BT is attempting to transform itself into a "simplified, lean, and agile business [that] delivers differentiated customer experiences", as part of a strategic ambition to become a platform company. In order to do so, it is employing the TM Forum's Open Digital Architecture (ODA) and Open APIs.
The Group is partnering with Salesforce on the implementation of ODA and Open APIs in order to offer enterprise customers the ease-of-use of B2C online systems, while lowering total cost of ownership (TCO) and speeding up product launches.
Salesforce is a longstanding BT partner that is contributing towards the Group's planned reincarnation as a digital and agile business through harmonisation of disparate systems. BT recently highlighted that Salesforce is providing the mobile application being rolled out across Enterprise sales teams to support demand-as-a-service capabilities to power the Group's IT function. Amdocs-owned BriteBill has been flagged as the partner helping BT Consumer to consolidate billing systems (BTwatch, #306).
Going on a digital journey
BT is now collaborating with Salesforce's relatively new Industries group, which supports the vendor's drive into tailored solutions, leveraging the June 2020 acquisition of vertical cloud stack pioneer Vlocity and its integration within the CRM giant's Customer 360º user data panoply.
The Salesforce Industries group is tasked with extending Salesforce deployments through its portfolio of market-specific business and platform capabilities that leverage the cloud software leader's omnichannel and platform capabilities across sales, marketing, commerce, service, application, and automation. In November 2020, the vendor indicated it had supported more than 100 telco transformation projects at around 60 communication service providers worldwide, with tier-one engagements including BT, Deutsche Telekom, Orange, Telstra, TIM, T-Mobile US, Verizon Communications, and Vodafone (Vodafonewatch, #191)).
"We want to digitise our end-to-end customer experience journey. And what we're trying to do is digitise this experience corresponding to the various segments of the journey", said Sharma.
He said the journey starts with "learn", when the customer first finds out what BT has to offer, but "in a digitised fashion", such as through upselling based on usage patterns. The following stages are "buy", "get", "use", "pay", and "support", which also need to be digital channels with minimal human intervention. "I'm not saying we will completely remove humans from the process; we will eliminate the natural dependency on humans", Sharma said.
Enabling a digital self-service platform is the final stage. "This could be reporting a problem, making changes to the services that they own, or giving feedback about some proactive event, alarm or ticket that has been raised and getting the digitised view rather than calling a call centre and… reading emails to account teams", Sharma explained.
Given the sheer complexity of the matter, BT chose TM Forum's ODA and Open API-based reference architecture as its starting point or "architectural blueprint", according to Sharma. Its goals are to keep the TCO for IT systems at a low level, provide a differentiated CX, be cloud native to enable infrastructure to be scaled up on demand, and "try fast, fail fast, learn, adopt, and succeed faster".
Sharma said that certain 'enablers' from Salesforce Industries are helping BT to achieve its goals. "And we're in the process of this transformation journey; we haven't finished this, but we have made a big leap forward as far as our journey is concerned".
John Gustavsson, Program Architect Director at Salesforce, listed five of the key technology enablers at play:
shared catalogue-based digital commerce, quote and order management;
declarative and low-code development;
metadata-driven architecture;
low-TCO cloud platform;
TM Forum ODA and Open APIs.
Both Sharma and Gustavsson emphasised the importance of Open APIs to help overcome integration challenges and accelerate deployment. However, Sharma said a key learning for BT had been that it is essential to find and define use-cases for APIs from the outset, rather than starting from the API itself. "The most important factor of digital transformation is to put the customer at [its] heart. Before you jump on Open APIs, define use-cases… and find out which APIs support them", Sharma said.
He also noted that it is not necessary to implement an Open API to its fullest extent from day one. A better approach, said Sharma, is to implement APIs in an iterative fashion in order to accommodate the "constant additions, improvements and enhancements that happen in this area".
Salesforce has previously indicated that 'big bang' transformation programmes have been replaced by an agile 'wave' roadmap that sees initial delivery within months. This requires an appreciation of Minimum Viable Product (MVP) that is underpinned by a cloud-enabled development and delivery cadence of launch, iteration, and extension in cycles measured in months.
Sharma said: "Rome was not built in one day, it was a journey. The same is applicable for the digital transformation journey; it's a journey that you have to be constantly on. Most importantly, the journey should have milestones, because… everyone should be thinking about quick deliverables at a regular interval, take the feedback, adopt, improvise, and make things better. If you think that we'll be able to get everything right first time, we are fooling ourselves, it won't happen… So be agile, and make sure that you are iterative in a delivery, whatever the constant feedback loop is".
BT's support for the TM Forum's Open API and ODA initiatives has been clear for some time. The Group was among the first instigators of the Open API programme in 2016, along with Orange and Vodafone, and was a signatory, together with other global operators, of the Open API Mandate. The operator was also one of 41 players — along with Deutsche Telekom, Telefónica, and Vodafone — to sign up to the TM Forum's Open API and Open Digital Architecture Manifesto in June 2020 (BTwatch, #297, #314, #319, and passim).

Anne Morris is a freelance journalist, editor and translator. She has been working as a reporter and news analyst for TelcoTitans since 2016.