Television unit develops innovative virtual studios and repackages older content to meet the challenges of maintaining a service during the live sport blackout.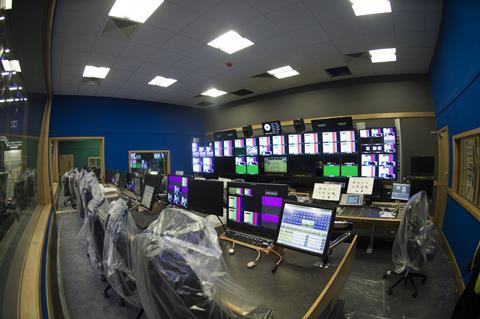 BT Sport continued to come under particular pressure amid an unprecedented vacuum of live sporting content because of the coronavirus pandemic (BTwatch, #311). It remains to be seen whether top‑tier sports such as Premier League football will resume this season, forcing the broadcaster to consider other options in an effort to retain subscribers.
The headaches of broadcasting home-to-home
Viewers were given the opportunity to relive previous matches and other sporting events throughout the week, and sports pundits held shows from the comfort of their own homes. However, BT Sport faced some challenges in moving production from its studio in Stratford, where around 400 people normally work, to temporary, home‑based locations.
In a Broadcast Tech Talks podcast, Jamie Hindhaugh, Chief Operating Officer for BT Sport, said the provider decentralised its production to create a virtual television studio that enables presenters and crew to produce and broadcast presenter‑led live shows from home. This required BT Sport to create new workflows, governance procedures, and protocols, implemented via training over a three‑week period, with security aspects proving to be the biggest challenge.
Hindhaugh said the new set‑up enables BT Sport to produce seven live shows a week, all built around BT's marquee rights, from football through to motor racing.
Hindhaugh indicated that BT Sport intends to use its experience to become a more open, inclusive, and sustainable broadcaster. "We have ambition, and we are looking at the longer term about how this will make our business even stronger", he said.
Re-formatting
Answering a question about whether BT Sport would consider showing esports coverage, Hindhaugh pointed out that most people watch esports for free on channels such as Twitch and YouTube. However, he revealed that the broadcaster is looking at a format with an "egaming element", without providing further detail.
Humphrey's home discomforts
Jake Humphrey, who has been BT Sport's lead football presenter since the service was launched in August 2013 (BTwatch, #237), hosts a live, 90‑minute show every Saturday called Early Kick‑Off. In an interview with GQ Magazine, Humphrey highlighted the technical challenges of broadcasting live shows with the entire team in complete isolation, relying on home Wi‑Fi connections and 4G networks.
Humphrey's home broadcast set‑up is certainly basic: he sits in a damp outbuilding with two laptops, an earpiece, and 4G connectivity. At times, Humphrey said, up to seven people can be talking at once through his earpiece.
A report by Mail Online indicated that BT Sport has to adhere to strict guidelines if it is to retain access to Premier League managers and players at this time. It appears that all clubs have agreed to provide their manager for interview every four weeks, and a player every two weeks. However, BT Sport and main rival Sky Sports are said to have been forbidden from asking questions about when the football season will be resumed, or about the impact of the suspension on players. If they do not adhere to the guidelines, access will reportedly be revoked. The report suggested this could indicate the Premier League is confident the broadcasters will not demand a rebate if the season is voided, or if remaining matches are played behind closed doors.