Mobile Strategy Director Matt Stagg says BT Sport is pondering new production possibilities made evident by coronavirus restrictions.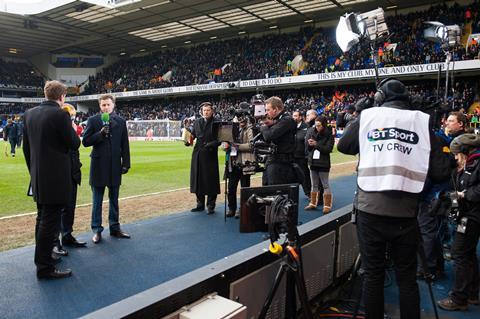 Matt Stagg, Director of Mobile Strategy at BT Sport, talked up the opportunity to democratise sports broadcasting in the 5G era by reducing the barriers-to-entry for grassroots or lower league coverage.
"We often talk about what 5G does for tier one sport", Stagg said during a webinar organised last week by UK5G, titled 5G for Creative Industries. "But actually, it's what can it do for other tiers of sport", he added.
Stagg noted that 5G‑based, untethered cameras offer a low‑cost opportunity for smaller clubs that are unable to attract millions in sponsorship deals to provide coverage on YouTube, for example.
Beyond this, Stagg pointed to growing interest in using 5G for remote broadcasting in general, particularly in view of current social distancing requirements during the COVID‑19 lockdown.
Spreading the play
BT Sport itself has been prompted to evolve its own technical roadmap and consider using a mix of untethered 5G and fixed cameras in future.
"At first, we thought you would not need 5G cameras where you have fibre", Stagg said, also referencing its two‑way 5G broadcast of the EE Wembley Cup Final in November 2018 (BTwatch, #301). Now, Stagg sees greater "creative opportunities" for directors with 5G cameras, and more flexibility for camera operators to take audiences to new places, such as meeting a team bus as it arrives at the stadium.
New 5G possibilities: join the queue
BT Sport has already been gathering experience of a more distributed broadcasting set‑up, enforced through social‑distancing measures. The broadcaster has moved production from its studio in Stratford, where around 400 people normally work, to temporary, home‑based locations that rely on 4G and WiFi connectivity. "That works at the moment because it has to", said Stagg. "But they [4G and Wi‑Fi] are best‑effort networks. We need 5G to make it broadcast‑grade", he added.
Jamie Hindhaugh, Chief Operating Officer at BT Sport, has also described 5G as the "missing link" for remote production, and indicated that the business intends to use its experience to become a more open, inclusive, and sustainable broadcaster. "We have ambition and we are looking at the longer term about how this will make our business even stronger", he said during a Broadcast Tech Talks podcast (BTwatch, #312).
However, Stagg acknowledged that many of the new 5G use‑cases are still some way away from realisation. "5G rollouts at the moment are focused on enhanced mobile broadband", he said, although he noted that this is already bringing benefits in terms of improved connectivity within stadia. He expects other use‑cases to emerge over time, as new functionalities such as increased uplink speeds and network slicing are added to networks.
5G-on-tap vision some way out
Another participant on the panel, Ian Wagdin, Senior Technology Transfer Manager at the BBC, described 5G as an enabler of good content, and outlined a situation where 5G bandwidth could be hired by the hour or based on bandwidth quality. Stagg reiterated that use‑cases will evolve in stages, but believes that this vision of "dial‑up 5G connectivity" is a long way out.