Managers for strategic procurement categories being recruited, including network, connectivity, and marketing.
Data science remains prominent.
New subsidiary's standalone status emphasised, evidencing detachment and perhaps also ambition.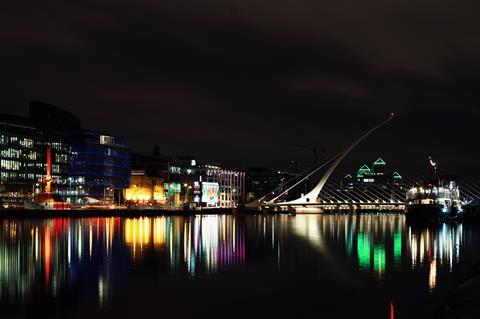 BT has in recent weeks begun recruiting for its controversial new purchasing business in Ireland.
The new entity, being set up as part of a major transformation programme within the operator's buying function, is seeking to fill out a range of specialist category management and support roles, based on the job postings.
The ProcureCo has been registered to the operator's Grand Canal Plaza offices in central Dublin.
Dublin up — responsibility overlap?
The ads suggest the unit — currently being set up as "The Faraday Procurement Company Ltd" (TFPC), in a nod to nineteenth century scientist Michael Faraday (although the Group has yet to confirm its final branding) — will seek to carve out buying responsibility across a wide array of goods and services traditionally handled by the Group's existing, UK-based purchasing function.
These include connectivity — which covers spend on third-party telecoms, satellite, and broadcasting networks — as well as fleet and logistics, IT, marketing, and networks.
Data analytics experts are also being sought, in a nod to BT's eagerness to gain greater visibility into its labyrinthine international supply chain, not least how much it actually spends with individual suppliers (BTwatch, #318).
When revealing the ProcureCo's creation, BT claimed it will "radically change our existing procurement capability", and pursue a simplification agenda supported by "breakthrough, AI-powered digital technology".
The offshoring move, which was announced to suppliers in November 2020 (BTwatch, #317), aims to drive significant savings within its £13.8bn (€15.5bn) annual spend on third-party goods and services, and support the telco's ongoing, £2bn cost-cutting programme.
A blank slate
Although there has not been an official update on TFPC since November, or BT's more recent, high-level digital strategy refresh, BT's output continues to suggest the ProcureCo is being positioned as a standalone entity, with a fresh mandate to perform "strategic procurement" beyond the bounds of legacy systems and processes. In job ads, the telco indicates the new business will seek to "harness the best of BT", but adds that the "neutrality of operating at arms-length allows us to re-invent and reposition ourselves as Procurement disruptors and trailblazers".
Aside from providing a greenfield for a modern, digital ProcureCo reboot, TFPC could harbour ambitions to operate beyond BT Group. The new model could lend itself to partnerships, such as Orange and Deutsche Telekom's BuyIn joint venture, and — like the Luxembourg-based Vodafone Procurement Company — provide a better platform to bring tax and other financial benefits into play for BT, especially in a new trading era, post-Brexit.
At the same time, the structure may raise questions over how well BT can blend supply chain management and procurement with Group strategy, and drive collaboration with other parts of the business, when teams are dispersed internationally. It is not exactly in step with BT's claim to be a national champion when it comes to infrastructure and digital services either.
BT Chief Procurement Officer Cyril Pourrat, hired from Sprint in 2019 to lead the revamp of BT's buying function, has already shown willingness to sidestep legacy functions in order to break out of silos, and drive transformation. One of his first moves was to create BT's Digital Procurement Garage, which gestates collaboration with innovative startups that can deliver business benefits to the department, in parallel with changes to traditional processes and systems (BTwatch, #313 and passim).
Pourrat, who will lead the new subsidiary, has somewhat unconvincingly highlighted talent as a reason for setting up the business in Dublin, noting the city had "established itself as a hub for many 'Big Tech' businesses as well as startups". Trade union Prospect has expressed "dismay" over the move to offshore roles from the UK, however.
TelcoTitans may be reading too much into details, but the recruitment drive is not obviously attracting great interest. This might be due to a combination of Dublin's tight job market, a lack of obvious local depth in specialist telecoms procurement, and relocation options being stymied by Brexit and coronavirus.

Richard Agnew is Group Editor at TelcoTitans.