Minority BT stakeholder Deutsche Telekom adding to its UK interests through an investment in social housing‑focused fibre altnet Community Fibre.
Former EE Chief Olaf Swantee to make a UK return as venture's Chairman.
Community Fibre building a business case on sharing Openreach ducts and poles with aim to reach one million premises by 2023.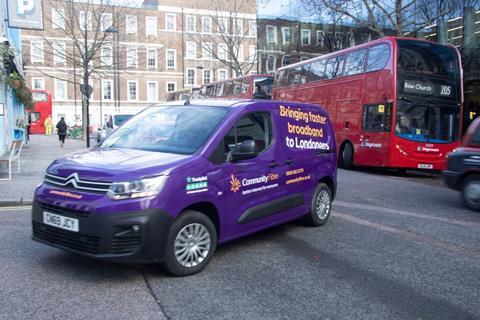 Deutsche Telekom's investment arm Deutsche Telekom Capital Partners (DTCP) is teaming up with private equity firm Warburg Pincus to acquire a controlling stake in London‑focused full‑fibre venture Community Fibre.
The backing from DTCP and a group of funds managed by Warburg Pincus is expected to help support Community Fibre's accelerated rollout in London, with the goal of passing one million premises by the end of 2023, at a reported cost of up to £400m.
Since its formation in 2016, Community Fibre has had a loosely defined initial goal of passing 500,000 premises with its fibre network, and more recently in 2018 stated an ambition to reach one million premises or more by 2025. Prior to the DTCP and Warburg Pincus investment, it had raised in the region of £90m, including £18m linked to the UK government's Digital Infrastructure Investment Fund, and about £68m from institutional investors Amber Infrastructure and RPMI Railpen.
Swantee swanning in
A new management team was put in place by the altnet's existing institutional investors in 2019, led by Chief Executive (CEO) Graeme Oxby, a mobile industry veteran who has held leadership roles at Liberty Global, CK Hutchison's Three UK, and Orange.
However, the new majority owners are now to introduce an Executive Chairman to the business, with former EE CEO Olaf Swantee taking the role when the investment deal is completed.
Swantee was appointed a strategic advisor at Warburg Pincus earlier in 2020, and between 2011 and 2016 led EE through the later stages of the integration of DT and Orange's UK mobile assets, and subsequent sale of the operator to BT Group.
BT's type of "good competition"?
The Community Fibre business model has seen it principally focus on providing full‑fibre services to local housing authorities across the capital. The altnet is using physical infrastructure access (PIA) products from Openreach to build its network, but is laying its own fibre and not using any active Openreach services.
A BT Group spokesperson declared the operator untroubled by the invigorated challenger, and emphasised the momentum behind its own growing fibre investment plans. At the recent Q1 FY20–21 results presentation, Group CEO Philip Jansen said BT welcomes "good competition" in fibre, but only where "you don't get masses of uneconomic overbuild". The competition concern of BT management appears to be in rural areas, however, where a business case is more challenging to build, while urban overbuild is considered inevitable.
Extrapolating the Community Fibre claims of reaching one million premises with a £400m investment, it would appear that its rollout may be achieved within a cost per premise passed similar to that anticipated by Openreach for its nationwide rollout, which is working in a £300–£400 envelope (BTwatch, #298, #314, and passim).
Aside from potential efficiencies of fibre scale profitably exploited in other geographies, Community Fibre's model may particularly appeal to DT for its potential to replicate, this time beneficially, a feature of the German market that is considered to favour challenger Vodafone Deutschland. Drawing on its 2014 acquisition of Kabel Deutschland, Vodafone boasts a plethora of long-standing agreements with apartment complexes and housing associations that are considered a significant competitive advantage, not least by DT (which, ironically, originally established the franchise in the guise of its cable TV arm Deutsche Telekom Kabel Services, which it was forced to offload at the turn of the century).