Former CEO claims he did not feel criticism towards end of BT tenure.
Prefers 'can-do' mindset of Silicon Valley.
BT decision making presented as paper-based and sluggish by comparison.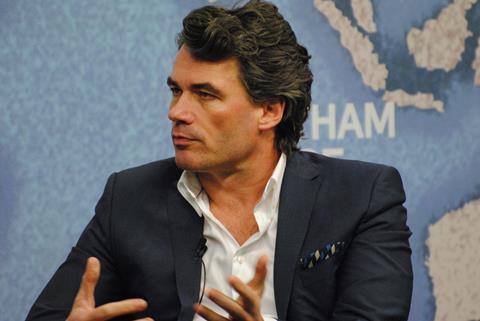 There is little sign that Gavin Patterson is missing the intense scrutiny that comes from being Chief Executive of BT Group.
In an interview with the Financial Times, Patterson — who now earns his crust as Chief Revenue Officer (CRO) at Salesforce — gave a candid assessment of his five-year stint at the BT helm, which came to an end in January 2019. "It is a brutal job in many ways", he said.
Not for the first time, Patterson ruminated on the various pressures that come with incumbent telco territory. "[It's] very challenging trying to balance the expectations of government, pension holders, customers, shareholders, employees", he reflected.
Patterson pointedly concluded that "there isn't a point where you can meet all their needs at the same time".
The ex-CEO did not dwell on the accounting scandal at BT's operations in Italy, but, in a 2019 interview, Patterson did indicate that having so many things on his plate was a factor in not getting on top of that situation (BTwatch, #303). He conceded, "with hindsight", that he should have questioned why BT Italia was performing better than the other Group subsidiaries, "but at the time we were doing the Champions League auctions, buying EE, I was negotiating with Ofcom, and [BT Italia is] a relatively small business". A lack of attention relating to BT Italia was not the only area where the CEO may have missed a trick, with the Italian unit's ignominy coinciding with an unexpected slump in UK public sector work that exacerbated the humbling profits warning issued by the Group in 2017 (BTwatch, #283).
As for criticism that came his way towards the end of his BT tenure, Patterson told the FT that he pretty much ignored it.
Aside from the heavy cost of sorting out the Italian mess, Patterson got flak for incurring a record £42m (€46.6m) fine from Ofcom, and a £300m refund bill to communication provider customers, for Openreach leveraging its significant market power to overcharge for Ethernet services. Falling revenue and heavy capital outlays on sports rights were used as further ammunition against him.
"Actually, I didn't feel [the criticism]", insisted Patterson. "I knew that it was just part of the job and I had to get on with it", he added.
Grass is greener in Silicon Valley
Patterson, it seems, feels he is in a better place.
After joining CRM specialist Salesforce in 2019 as Chair of Europe, the Middle East & Africa (EMEA), he quickly rose through the ranks. Earlier this year, Patterson was named President & CEO of Salesforce International, where he led the company's go-to-market strategy across all international regions.
His latest Salesforce appointment as President and CRO, which he has already started, will see him based in San Francisco once travel restrictions ease.
Patterson appears to be relishing the prospect. "I've been visiting Silicon Valley for 20 years and every time I've come back feeling rejuvenated by the experience. There's just a different mind-set", he said.
Patterson enthused about a more dynamic business culture there, hinting that the BT boardroom was stuffy by comparison.
"Decisions are made real time with real-time data, including AI components that you are effectively steering in the way you would steer a car down a motorway", he said. Patterson apparently does not remember reading a board paper since joining Salesforce. In comparison, he added, BT was "built on board papers…  honed and developed and then presented".
With perhaps a slight dig at his former employer, Patterson said it was "refreshing" to be in growth markets again. "Telcos", he ruefully pointed out, "are not known for growth".

Ken has been writing about developments in the fixed and mobile markets for over twenty years. He has been a contributor to TelcoTitans since 2015.