Revenue and profit keep falling in pandemic.
COVID‑19 creates noise and uncertainty, but BT is pushing its transformation story, asking for patience as stakeholders get twitchy.
Openreach a lone bright spot, although Global may be benefitting from long‑term recovery strategy.
An improved earnings forecast at BT is not expected to translate into more cash as the operator buys up Huawei gear ahead of the 5G ban, and Brexit supply worries loom.
Capex still building to a peak on network investment, but simplification and modernisation is supporting strong opex reductions.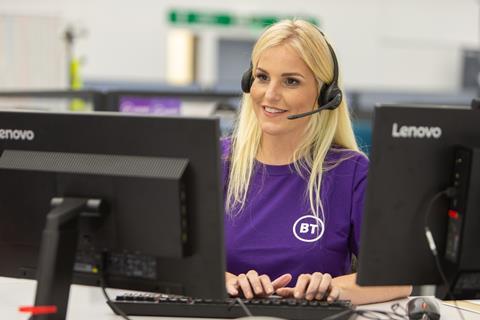 BT Group's results for the quarter and half‑year to 30 September 2020 (Q2/H1 FY20‑21) saw management emphasise solidity and reasonable good health in difficult times. During the presentation and subsequent Q&A, however, different priorities for the investor community came to the fore, and the resounding message from the Group was that stakeholders need to have patience and faith as it progresses transformation projects that it hopes will spark a return to growth, and strives to build next‑generation infrastructure.
Largely, stakeholders participating in the call appeared willing to join management in looking beyond the current COVID‑19 pandemic and associated economic uncertainty. Although the potential wave of insolvencies expected to hit BT Enterprise is playing on minds, and there are signs of multinationals tightening belts and hitting pause on some projects, it appears the Group is confident in its COVID‑19 response plans and analysts are willing to credit BT's response.
Despite revenue declining 7% for H1, a slower fall in earnings before interest, taxation, depreciation, and amortisation (EBITDA) and modestly upgraded guidance appear to have helped ease nerves. It may be the case that the noise and turbulence surrounding the pandemic has meant that an unspoken consensus has developed that has resulted in a willingness to look beyond the short term. BT fostered this with brightening its outlook for EBITDA in the current year, with expectations of EBITDA recovery further down the line and the assurance that sustainable operational efficiencies are being unlocked.
However, there are immediate concerns that do not relate to the global pandemic, but instead to the UK's own political choices and challenges relating to Brexit and the ban on buying 5G equipment from perceived high‑risk vendors.
BT cash to take a hit on Brexit and Huexit stockpiling
BT warned that any good news on improving EBITDA in the current FY will not filter down to better cash flow, owing to hefty but unavoidable expenses coming in the next few weeks — preparations for the aftermath of a possible no‑deal Brexit, and stockpiling to beat the ban on Huawei Technologies equipment orders coming in at the end of December 2020.
While BT has now awarded Nokia and Ericsson contracts to deliver 5G gear (see separate report), existing Huawei equipment in the RAN is expected to stay in place for several years (potentially up to 2027), requiring the operator to ensure sufficient spares are available now to maintain the Huawei estate long‑term.
BT is also preparing for the potential disruption to supply lines that could follow a "disorderly" exit from the European Union. The operator stressed that it will offer uninterrupted service by building up inventory to counter any import delays while updating contracts and processes to ensure data can be shared as necessary between the UK and European Union as needed.
As a consequence, a likely better performance on earnings will not have any cash upside, with BT's projected range of normalised free cash flow for the FY staying unchanged at £1.2bn–£1.5bn.
This appeared to grate with City stakeholders, with HSBC Analyst James Britton painting the divergence between earnings and cash flow forecasts as "messy communication".
BT financial performance breakdown, H1 FY20–21

Cost cutting sees margins improve despite tough trading conditions.
Continued demands on cash limit scope for good news for current FY.

H1 FY19–20
H1 FY20–21
Change
Notes: * Adjusted, i.e. before specific items. ** Before lease liabilities.
Source: BT.
Revenue *

£11,413m

£10,607m

-7.1%

EBITDA

£3,923m

£3,721m

-5.1%

EBITDA margin

34.4%

35.1%

0.7pp

Profit before tax (adjusted)

£1,445m

£1,186m

-17.9%

Cash capital expenditure

£2,063m

£2,085m

1.1%

Normalised free cash flow

£604m

£422m

-30.1%

Net financial debt **

£12,235m

£11,333m

-7.4%
Fibre health and efficiency promised rewards for patience
Further pressure was applied to management during the call with searching questions on when profitable growth might return. The usually open and unruffled Group Chief Executive (CEO) Philip Jansen — rumoured to be under pressure from investors for faster results in traditional cost‑cutting measures — appeared exasperated by persistent questioning on headcount reduction, but maintained that the business is being careful to ensure that the cure for its underlying malaise does not do more harm than good. Meanwhile, unions are pushing back on BT headcount reduction plans (see separate report).
BT also quite casually highlighted another area where patience might be a virtue in reference to its fibre rollout. Although the pace of rollout is hitting highs of 40,000 premises passed per week, and Openreach is progressing with the industrialisation of deployment — and, increasingly, provisioning — there remain uncertainties. The Group appears to have decided that previously‑flagged long‑term volume contracts with communications providers are a non‑starter, potentially slowing the commercial momentum for full fibre (see separate report).
Regulatory clarity is also proving slow to materialise, and promised government funding remains amorphous. Despite this, Openreach's CEO Clive Selley joined Jansen in expressing optimism on fibre momentum. Group Chief Financial Officer Simon Lowth indicated investment is still building to a peak and that good things will come to those that wait.
BT financial performance breakdown by segment, H1 FY20–21

Openreach solidity backs up Group's promise of future growth.
Global's improving performance on earnings highlights benefits of transformation.
Consumer and Enterprise still bearing the initial brunt of pandemic.

H1 FY19–20
H1 FY20–21
Change
Notes: * Adjusted, i.e. before specific items.
Source: BT.
Group revenue *

£11,413m

£10,607m

-7.1%

Consumer

£5,194m

£4,873m

-6.2%

Enterprise

£2,987m

£2,710m

-9.3%

Global

£2,196m

£1,916m

-12.8%

Openreach

£2,536m

£2,585m

1.9%

Group EBITDA

£3,923m

£3,721m

-5.1%

Consumer

£1,180m

£1,075m

-8.9%

Enterprise

£955m

£833m

-12.8%

Global

£304m

£289m

-4.9%

Openreach

£1,417m

£1,453m

2.5%
[Further reference: Half year to 30 September 2020, and associated documentation and presentation — BT, 29 October 2020.]