The results marked Jansen's major public bow as head of the Group. New CEO was frank on the challenges facing BT, and equally honest in recognising no easy answers.
Another year of falling revenue and EBITDA framed as a managed retreat in non-strategic areas, and in line with transformation plans.
Spending on capex up, while opex is also rising as Group says cost-cutting savings are being channelled into creating more efficient systems.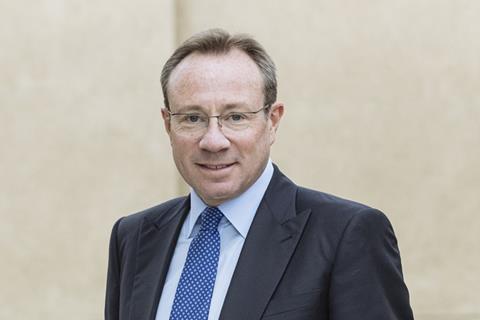 Jansen looks forward with big ideas, little detail
BT Group published its financial results for the year to 31 March 2019 (FY18-19), recording another year of moderate overall decline as transitional work continues with individual divisions in various stages of reinvention.
The event was the first major public appearance of Group Chief Executive Philip Jansen, who took the helm in February 2019, and, as such, the focus of the presentation was even more forward-looking than usual; with promises and plans for a new approach to operations to the fore.
It is important to remember, however, that the Group was already on a transformation path prior to the new CEO's arrival, and at present Jansen is generally committed to pursuing the strategy that BT unveiled only one year ago, moulded by his predecessor Gavin Patterson, and anointed by the Group Chairman Jan du Plessis (BTwatch, #296). There were signs that the revised strategy is beginning to have an impact on operations – Chief Financial Officer Simon Lowth was keen to highlight the scale of work completed over the past year.
Nevertheless, the difference that the new leader is bringing is a sense of urgency, and Jansen appears itching to move more quickly, despite the constraints that the existing structure of the telco presents.
Putting the 'I' in team, Jansen sets out aspirations
The results event was very much The Jansen Show, with Chairman du Plessis notably absent this year.
Jansen was relaxed and assured at his first major outing in his new role. In business casual dress with no tie (even Gavin Patterson, renowned for open-necked shirts, would don a tie for the big formal occasions…), he started with personal observations and commitments, returning to "how I see things" as the starting point for the transformation effort. His early exploration of the mechanics of BT Group had led Jansen to determine that the company needs to move forward with change more boldly, and at a faster pace, and that this will require BT to address the complexity of its operational structure.
Jansen's first impressions have been of an overly complicated business, and he presented a visual demonstration of a "spaghetti chart" that illustrated the bureaucracy and multiple hand-off processes involved in decision-making in the business.
In talking greater efficiency, Jansen was adamant that there was not a quick fix that could be applied by cutting staff numbers – at least initially. As demonstrated by the subsequent commitment to a renewed employee share ownership programme (see separate report), Jansen is initially focused on delegating decision-making control to more BT employees, to empower staff and remove red-tape.
"People will talk about 'let's reduce headcount'. It's not about that. It's about reengineering of the processes and then automating. You can't automate a poor process."

– Jansen.

"Narrowing this productivity gap presents us with a must-do opportunity to build a better BT for the future. It does sound a bit boring, but, believe me, process simplification and systems simplification are some of the biggest challenges facing BT. This will be a major programme of work, which, if we get it right, will increase our capacity for investment and add significant value to BT."

– Jansen.
Jansen framed the project as "rolling transformation" that will take "many, many years" to deliver simplification, remove legacy systems, and build-in automation and new technologies. The alternative, a rapid buildout of new systems and a full-scale migration, would be "suicidal".
BT Group, financial highlights, FY18–19

FY17–18

FY18–19

Change

Sources: BT Group.
Notes: * Adjusted, i.e. before specific items.
** BT prefers to highlight its 'normalised' cash flow figure, which excludes specific items and includes purchases of telecoms licences.

Revenue *

£23,761m

£23,459m

-1.3%

EBITDA *

£7,577m

£7,392m

-2.4%

Net income

£2,104m

£2,159m

2.6%

Capital expenditure

£3,341m

£3,637m

8.9%

Normalised free cash flow

£2,973m

£2,440m

-17.9%

Net debt

£9,627m

£11,035m

14.6%
Jansen shows where BT is falling behind the competition
Jansen made an effort to put the performance of BT in the context of the wider sector, both in the UK, and in Europe, with his findings underlining the challenge he's taking on.
Jansen noted the continued decline in revenue that the sector as a whole has seen over the past five years, with a negative compound annual growth rate of 1.7% over the 2012-17 period. It was also highlighted that, in the past year (broadly since Openreach opened up competition with its wholesale offers), prices for superfast services have declined by £6 per-month for up-to-40Mbps variants, and by £9 for up-to-80Mbps products. Regulatory impacts are expected to wipe £1bn from Openreach revenue over the coming three years, compared to an £800m hit over the past three.
Even the good news was tempered with a downside: while BT has improved Net Promoter Scores (NPS) across the Group over the past eleven quarters, this near-four year run of recovery still leaves the main BT brand near the bottom of the pile on NPS when compared to a cadre of six unnamed competitors (likely Sky, TalkTalk, Virgin Media, and mobile competitors O2 UK, Three UK, and Vodafone UK) as well as its own alternative lines, EE and Plusnet. While BT performed worse than all but a single competitor, EE fared slightly better, with a solidly mid-table performance, coming fifth out of nine. Plusnet, despite recent troubles surrounding an upgrade of its IT systems (BTwatch, #304) placed second.
Employee contribution under Jansen scrutiny
As a further example of the challenge facing BT, Jansen referred to revenue and earnings before interest, tax, and depreciation (EBITDA) per-employee as something to watch. Again, Jansen provided slides showing BT close to the bottom of the pile on this metric, placing ninth out of ten major European operator peers, but emphasising the opportunity for improvement that this state of affairs proffers.
This comparison, while interesting, may be of minimal value when considering the different approaches across European operators to insourcing and subcontracting of services and operations. More value will perhaps be found by considering BT's future performance against its own current levels, rather than making international comparisons.
Lowth noted in a separate element of the results presentation that the Group continually re-evaluates the relationship between using employees and subcontracting, and played down the use of full-time employees (FTE) as a proxy for the cost transformation programme. Lowth said the number of external contractors used was already seeing decline, and that this may accelerate in the future with an accompanying shift towards more employees. However, he also added that any meaningful change in approach would be flagged up in future communications.
More detail to be demanded in coming quarters
As an outside appointment, Jansen has a degree of latitude in being frank on the challenges faced by the Group, and a degree of slack when it comes to putting concrete targets to his ambitions.
Analysts at the event, although welcoming, appeared comparatively unmoved by Jansen's aspirations, and keen to put numbers on the optimistic hopes for the Group.
Jansen qualified his enthusiasm by stressing that he was "trying to land a concept", and not make a strategic statement with his demands that BT be "faster, bolder, smarter". His simple answer to several attempts to pin him down to specifics was that "we don't know yet". It appears that many brokers have subsequently made assumptions themselves in the absence of unequivocal answers at this stage, with several target share price downgrades, although, generally, ratings were unchanged in the aftermath.
The willingness to discuss goals rather than definitive numbers highlighted a contrast between Jansen and Lowth, with the latter as CFO clearly preferring to back up goals with facts, figures and forecasts (whether the company chooses to share these numbers with analysts is often a different matter).
Potential fault lines probed by analysts
Analysts made a couple of attempts to tease out potential changes that Jansen might bring to BT's outlook on big issues that had been cordoned off by predecessors.
The major strategic paths that BT is following were described as "no-brainers": 5G, embracing fibre, and systems transformation were framed as big decisions that were easy to make as they follow the direction of the industry.
The potential for an Openreach spin-off was raised, and Jansen appeared convinced by the existing party line that the integration of BT and Openreach was mutually beneficial; a strategic asset for the Group, which in turn provided the access services division with an anchor tenant to support faster investment.
In terms of mobile infrastructure, there remains more scope for asset-sharing, but the principle message was that the current BT management do not see any significant value in carving off stakes in core assets to raise funds. Lowth, in particular, described sale and leaseback of core assets as something that only "might be useful if you're in dire need of some expensive short-term cash". That being said, the finance director did not rule out involving partners or co-owners in relation to assets where a collaborator might be in a position to more effectively generate new revenue opportunities.
While the view on spin-offs expressed by management was prompted by considerations of fixed and mobile network infrastructure, BTwatch wonders whether BT Sport may be the kind of area for consideration as a joint-venture arrangement.
Investing in content is an area that requires more nuanced thinking than the big-ticket 'no-brainer' plans, according to the new CEO, but he again played a straight bat to counter any suggestions of a change in the Group's strategy.
Jansen talked-up the quality and value of the BT Sport product, but reiterated the Group's mantra of being "disciplined" when discussing any future content rights bidding. BT Sport was described as "successful in what it was aiming to do", but there are no plans for expansion from the current position of challenger player in sport, and a wider content play was conclusively ruled out.
The next set of sports rights due to come up for auction are for UEFA's club tournaments, with the process likely to start in late-2019 or early-2020.
Similarly, the digitalised product sets to be increasingly promoted by Consumer and Enterprise offer a less clear trail to reasonable returns. No clear answers as to how this transformation will progress were given, with answers to this question also going into the category that Jansen is "looking at".
Hail to the technology chiefs
Jansen ran the show throughout the results presentation as would be expected, but he turned to divisional heads as and when needed (although the UK retail-focused themes meant Global Services' Bas Burger had a quiet morning). Jansen was also quick to turn to the leading technologists on the executive committee to reinforce his transformation message, with Chief Technology and Information Officer Howard Watson, joining Openreach's CEO Clive Selley in being frequently spotlighted.