Jansen strives to present operator as a national and customer champion, with 'Beyond Limits' the new rallying cry.
Social- and digital-inclusion efforts accompanying home nation sports sponsorship to highlight community links.
Signs of progress on Allera's declared Consumer strategy with customer experience and partnership aspirations to the fore.
Consumer and Enterprise aiming to benefit from mutual Halo effect, with McQuade's business division taking advantage of the Beyond Limits slipstream.
Reluctant homes and businesses to be pushed towards next‑generation services with free upgrade potential.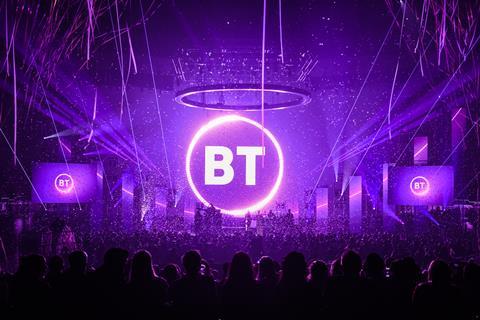 In October 2019, amidst much hullabaloo (including taking over Wembley Arena and further rolling out its new corporate branding), BT Group introduced a new plan to re‑establish itself as a more relevant brand in the UK market, supporting both its increasingly‑challenged (although still dominant) position as provider of the country's underpinning networks, and as a leading player in the evolving consumer and business retail markets.
With publication of a new Blueprint for a full fibre future and associated economic analysis, the potential for BT to support an accelerated full-fibre infrastructure project was put forward by Openreach in a typically practical way. The access services business focused on its technological strengths, and stressed the need for regulatory and legal update to enable more rapid change (see separate report).
Meanwhile, the responsibility for revising public perception of BT is being led by Group Chief Executive Philip Jansen, who is developing a strategy to intertwine internal transformation of the Group's operations and ethos with public perception of the telco as an overarching communications provider and intrinsic part of UK life.
In this second objective, Jansen is leaning on the ongoing strategic development plans of the Group's principal customer‑facing divisions, Consumer and Enterprise, and their respective Chief Executives Marc Allera and Gerry McQuade. Of these two, it looks set to be Allera's Consumer that will carry the burden on brand and broader marketing in an approach reminiscent to that in place when BT Retail existed as a unified division.
Further detail on the initiatives led by Consumer and Enterprise are set out under their respective divisional sections below.
Making changes, inside and out
At the official launch of the new positioning before both the media and industry analysts, Jansen in his ebullient way talked-up BT's current position, insisting that with the project to refresh BT's place in the UK "we are starting in a really good place". He rattled through a series of BT contributions to the country, highlighting support for business, public and emergency services, and consumers through its wholesale and retail networks.
Jansen said the new rallying cry for BT, internally and externally, is "Beyond Limits", and through pursuit of this philosophy the telco aspires to be seen as more than "just another communications provider".
Jansen was particularly keen to position Beyond Limits as representative of a time of pivotal change for BT Group. He described the transformation he is overseeing as a "once in a lifetime shift" for the telco, and there has "never been a more exciting time for BT". Looking at BT's history, however, once a decade is probably more accurate as a timeframe for its recurring reinvention initiatives.
"With our strategy that focuses on convergence, the best products and service, and modernising BT, we think we have unlocked a lot more potential for customers and our colleagues. "

— Jansen.
Beyond Limits bears a degree of similarity to Vodafone UK's theme of Be Unlimited, which was unveiled at its 5G launch in July 2019 (Vodafonewatch, #177). While the new BT slogan may reflect the pragmatic decision to recognise that the communications sector is moving beyond capped and measured services and prioritising user experience, it could also be worth noting that Vodafone UK's current Consumer Director is Max Taylor, who was until summer 2018 Managing Director for Marketing at EE.
Keeping it simple in a complicated world
Jansen is often keen to run through the Galácticos of emerging technology that are projected to have significant impact across the sector and society when discussing BT's future, with artificial intelligence and machine-learning, cloud‑based services and automation name‑checked across his public pronouncements.
In supporting the Beyond Limits programme, he used the fast pace of technology evolution to suggest that consumers and businesses are being overwhelmed by complexity and are looking for help — and to claim BT is well‑placed to remove that complexity. This idea of providing simplicity and clarity was revisited by divisional heads as the foundations of the strategy on converged services (see below). It also a recurring mantra for BT, and one it has historically painfully struggled to deliver on.
While BT is promising simplicity for customers, Jansen appears to be establishing himself as a 'big picture' executive and vocal cheerleader for the Group, happy to leave the details to his lieutenants. BTwatch has observed in the past that the Group CEO is strident and enthusiastic — and encourages his executive team to match his bullish approach in selling the Group's virtues. During the latest analysts call, Jansen appeared to be making an effort to promote the role of Allera and Consumer in delivering the new strategy and was full of praise for the pricing models and differentiation that the Consumer chief has overseen in his division, describing him as having been "very thoughtful" on providing products across the two major brands (BT and EE) targeting different market segments.
BT still juggling mass appeal and premium positioning
BT was generally vague on the nitty-gritty of financing the new initiatives, although the Group underlined that no revision to its financial guidance accompanied the updated strategy. Jansen (and Chief Financial Officer Simon Lowth on the analyst call) stressed that in the FY18–19 results they had indicated additional investments across operating and capital spending, which was earmarked for initiatives such as those covered within the Beyond Limits programme.
Since signing up for the BT role, Jansen has been clear that there are major opportunities for greater efficiency within BT, and underlined that unpicking systems and simplifying the business will be a long‑term project. Nonetheless, he is also keen on delivering quick wins.
To date, his leadership appears to be focused on finding a balance between short- and long‑term priorities. For example, he has recognised the need for a cultural shift within the BT Consumer business, but is adamant that customer losses in the short-term are not a price that he is willing to pay while pursuing a new mindset. Similarly, delivering the initiatives that Beyond Limits is promising involves near‑term investment, with long‑term savings still needing to be made.
This push‑and‑pull may in part be behind continued concern in the investor community about the financial position of BT (see separate report). There appears to be a perception that 'something's got to give' and the cherished BT dividend may be the point where the conflict between short- and long‑term objectives is painfully resolved.
"Two networks are better than one" was a refrain used by both Jansen and Allera during the media event for Beyond Limits. The drive behind the statement is clear, highlighting the strength in both fixed‑line and mobile networks provided by BT and EE to a non-industry audience. However, it appears to BTwatch a somewhat outdated slogan, particularly as convergence is supposed to be the main philosophy from a marketing perspective. Also, from a technology viewpoint, where the efforts to create a single converged core infrastructure providing ubiquitous connectivity is a key priority, and where BT has for some time now been arguing that one network is better than two.