No resolution in sight as union confirms additional strike dates for late-August.
CWU believes strikes have "rocked the company".
Conversely, BT claims minimal impact, with CEO Jansen nonchalant.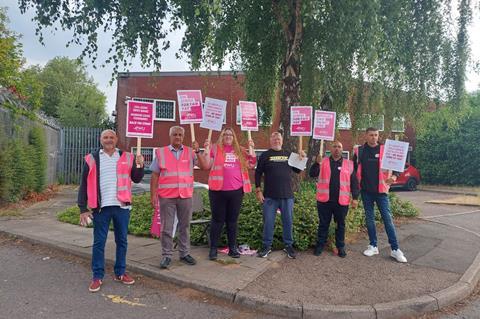 The Communication Workers Union (CWU) confirmed follow-up strike action as its impasse with BT continues.
Some 40,000 BT and Openreach employees will down tools for a second time on 30–31 August as part of a long-running pay dispute.
Speaking on a live YouTube stream on Friday, CWU General Secretary Dave Ward asserted that the strikes have "rocked" BT.
He claimed managers he met on the picket line during the initial strikes — which took place on 29 July and 1 August — were "taken aback" by the level of support.
"A lot of those managers are passing messages back to the company", he said, declaring that "most of the managers in the company" are "fed up" with Chief Executive Philip Jansen and the BT board.
Though the CWU alluded to political support from "dozens of Labour politicians", it did not reiterate calls for a government inquiry into BT and its treatment of workers.
Ward, speaking to Sky News live during the initial two-day strike, accused BT of "ripping off workers and customers at the same time", combining "insufficient" pay rises with significant price increases.
Utilising BT's financial figures as rhetoric — citing £1.3bn profit for the year to 31 March 2022 (FY21–22) and £422m for Q1 FY22–23 — Ward claimed, "they are going to put prices up [amounting] to a 23% increase in twelve months. I don't think anybody will accept that" (BTwatch, #337).
Conflicting reports
In response to the second wave of strike action, a BT spokesperson said the operator respects the union's decision, claiming it is in "constant discussions" with the CWU "to find a way forward".
"In the meantime, we will continue to work to minimise any disruption and keep our customers and the country connected", BT added.
Following the first strike, the operator said it had "kept the network running safely and effectively", and that there were "no national incidents or outages".
The reality of the disruption caused by the national ballot remains unclear. While it is improbable that BT would admit to having encountered significant issues, the CWU is equally likely to hyperbolise.
Jansen remains nonchalant
BT has been firm in its assertion that the pay review for 2022 has concluded. Speaking on BT's earnings call for the quarter to 30 June 2022, Jansen said the strike, "where nobody wins", is an "extremely sad" situation.
However, asked if he would consider further increasing salaries for frontline staff, he replied, "why would I do that?", insisting that "we've done everything we possibly can to help our people", and that BT's flat £1,500 (€1,774) pay rise "compares extremely well" with the wider industry.
On Friday, Ward said that BT's stance was "not sustainable".
After the initial strike, "[BT] understand now that they can't just keep facing away from the reality of this dispute", Ward maintained.
" They can't keep alienating their workers. As long as we keep the pressure up, we're going to win this dispute. ".

Ward.
The first strike action took place on 29 July and 1 August after the CWU secured an overwhelming majority vote for BT and Openreach members. EE staff, however, could not follow suit after failing to reach the government's 50% participation threshold.
The £1,500 increase came into effect on 1 April 2022 and applies to frontline employees such as contact centre staff, engineers, and retail workers. It affects approximately 58,000 of BT Group's 93,000 employees in the UK across BT, EE, Plusnet, and Openreach. It will cost BT in the region of £87m.
However, the CWU has repeatedly refused the "imposed" salary increase, insisting that any pay rise must be negotiated and agreed upon. The union initially demanded a 10% increase for all BT employees, though such specifics have faded in recent communications (BTwatch, #334–#335 and passim).