Group engagement in multiple digital twin projects signals rising interest in services that exploit new AR, VR, and mixed reality technologies.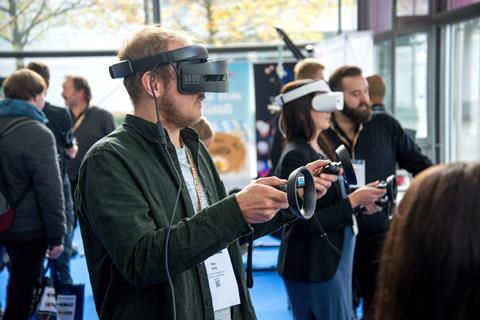 BT has been participating in a number of mixed reality projects in recent months, highlighting the Group's growing interest in new use-cases linked to 3D, augmented reality (AR) and virtual reality (VR), and holographic technology.
In particular, BT has been dipping its toes into the realm of digital twins — broadly defined as a virtual or digital representation of a physical process, or service. Already adopted in industries such as automotive, construction, and manufacturing, the technology is being augmented by advanced techniques such as machine learning and data analytics, as well as 5G technology and the Internet of Things (IoT).
In one example, it was recently revealed that BT is collaborating with vehicle battery manufacturer Hyperbat, a joint venture of Williams Advanced Engineering and Unipart Manufacturing Group, on a 5G VR digital twin solution. Also involved in the project are BT's network partner Ericsson, graphics processor developer NVIDIA, Qualcomm Technologies, software developer Masters of Pie, and mixed reality specialist The Grid Factory. BT has been known to be providing consultancy services to Williams Advanced Engineering for several years, initially linked to a 2015 contract with Williams Grand Prix Engineering (BTwatch, #265).
The aim of the Hyperbat project is to accelerate the manufacturing process for hybrid and electric vehicles by enabling remote teams in different parts of the country to interact using a virtual 3D engineering model or hologram. BT and Ericsson are supplying the 5G mobile private network, while Qualcomm is providing the 5G-enabled VR headset that will run on Masters of Pie's Radical platform. NVIDIA is supplying hardware and software for integration into existing factory floor operations, including its CloudXR and RTX Virtual Workstation software. The solution is being demonstrated and trialled at Hyperbat's facility in Coventry, England, and is said to be near completion.
A tale of three cities
In addition, BT was named as a partner in a UK-based project called Yorkshire Geospatial Twin — which is among 28 winners of a £2m transport location data competition launched by the UK government's Geospatial Commission in partnership with Innovate UK.
The project is headed up by Slingshot Simulations, a UK-based startup founded as a spin-out from the University of Leeds. Notably, David McKee, Chief Executive (CEO) and founder of Slingshot, also sits on the board of trade body the Digital Twin Consortium. Slingshot's aim is to "make 'digital twin' technology accessible to businesses of all sizes, enabling them to use advanced computer simulations to test new ideas and make better decisions".
The objective of the twelve-week project is to use Slingshot's digital twin technology to improve the transport network in Hull, Leeds, and Yorkshire, by creating 3D models of the three cities and the surrounding areas.
Nathan Watt, Senior Business Development Manager at BT, said BT's role is to provide aggregated and anonymised mobile data for the project. Also involved are the three city councils as well as planning and engineering specialist Arup and SatSense, which takes readings from radar satellite and converts them into high-resolution ground movement data.
Manchester is another city in the north of England to have its own digital twin, although BT's involvement in the project is less clear. The Greater Manchester Digital Twin model is housed in the Data Visualisation Observatory at the University of Manchester. The model's inception was in 2019 and it was built using gaming development platform Unity combined with 3D cinema technology, multiple data sets, and map information from OpenStreetMap.
The Manchester digital twin project was recently showcased in the smart cities section of British Science Week, which was hosted remotely by BT's research and development centre at Adastral Park during March 2021. Nikolay Mehandjiev, Professor of Enterprise Information Systems, University of Manchester, is leading the project and stressed that the digital twin model is primarily being used for research collaborations for the moment. Mehandjiev also indicated that he has been working for a number of years with the team led by John Davies, Senior Manager, Future Business Systems at BT. Their joint focus has been on the IoT and software services, he said. Mehandjiev also indicated that his current areas of interest are digital transformation and artificial intelligence.
Becoming fully immersed
BT does appear to be building some momentum in the AR/VR arena, with sports, education, and staff training particular areas of focus to date (BTwatch, passim). Indeed, such activity would align well with the aims of the new BT Digital division, which is the Group home for innovation and product development from April 2021 (BTwatch, #321).
Tiago Andrade, a Research Specialist for BT Applied Research, also highlighted how BT is using AR/VR to support data scientists, team operations, and field workers; and is supportive of further research and development in the fields of immersive learning, data visualisation, remote collaboration, and digital twins.
In addition, DoubleMe, a US-based holographic reality developer, previously signalled it is collaborating with BT and other telcos on the launch of a business-to-consumer (B2C) service (BTwatch, #319). Few deals have emerged, although DoubleMe has separately said it is working with BT and eleven other telcos — including Deutsche Telekom, SingTel, and Vodafone — on the launch of Hologram Cities in different countries in 2021.
DoubleMe is building the first Hologram City in Buyeo, South Korea in 2021 — making use of its mixed reality platform TwinWorld and mixed reality headsets such as Microsoft HoloLens 2 and Nreal. It also aims to build a digital twin of Buyeo to enable non-residents to visit the city virtually.

Anne Morris is a freelance journalist, editor and translator. She has been working as a reporter and news analyst for TelcoTitans since 2016.