Digital audience interaction solution launched as supplement to existing Agilemedia services.
BT Sport case study in action, with Interact positioned as part of BT's "future of broadcast" solutions portfolio being developed at Adastral Park.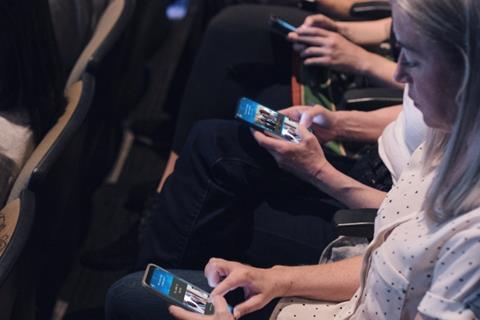 BT launched Interact, a digital tool that manages audience interaction for broadcasters.
BT Media & Broadcast positioned the solution as a supplementary revenue stream for its customers, enabling "real-time" data capture and fan engagement through competitions, polling, and voting.
Sukhi Kooner, Head of Propositions, Commercial & Regulatory at BT Media & Broadcast, described it as an "end-to-end" solution that bundles payments services, data aggregation, SMS and telephony services, and "future immersive content" — including artificial and extended reality (AR/XR).
In pitching Interact at the launch event this morning, Kooner cited Analysys Mason figures that show a £17.5m decline in 'traditional', phone-paid audience engagement between 2019 and 2021, reflecting a 7% drop in the three years to 2021. By comparison, data shows that 86% of people in the UK watch TV with another screen nearby, and gamification of services is on the rise.
Interact will not replace BT Media & Broadcast's existing audience engagement service, BT Agilemedia. Faisal Mahomed, the division's Director, believes Interact is a "real complimentary service to Agilemedia". He added that Agilemedia has played a "key part in major shows" by providing audience interaction tools, but "we all know that digitising that experience is absolutely essential".
Interact sits under BT Media & Broadcast's Audience Interaction portfolio. The division is looking to work with customers to build other bespoke solutions that promote audience engagement for specific use-cases, Kooner said.
In 2021, BT Media & Broadcast launched its smart broadcast network Vena. Pitched as one of the division's "flagship projects", it drew together three of its four core services areas: Acquisition; Production & Post; and Distribution. The fourth service area, Audience Interaction, was not included under the Vena banner, with Interact sitting separately from the network.
Starting at Sport
BT Sport's deployment of Interact was used as a case study for the solution. Rob Jones, Managing Editor at BT Sport, said the tool was utilised for the Action Woman Awards in late-2021, having requested audience engagement capabilities from BT Media & Broadcast.
Jones noted that the solution was deployed "within a week". He said benefits included real-time engagement analytics that helped inform where BT Sport channelled marketing efforts for the Action Woman Awards event.
Jamie Hindhaugh, Chief Operating Officer at BT Sport, said Interact allows it to "accurately monitor and track voting".
The future of interaction
Kooner noted that Interact allows for audience engagement via "future immersive content". Andy Gower, Head of Interactive & Immersive Content for BT at Adastral Park, put meat to bones on this point and pitched Interact as part of BT's broader research and development initiatives into audience engagement and fan interaction solutions. He said the operator seeks to identify and define "what the future of broadcast could look like".
Gower namechecked 5G Edge-XR, part of the UK government-funded £30m 5G Create programme. Launched as a partnership between BT Sport, EE, and participants including Bristol University, Condense Reality, DanceEast, Salsa Sound, and The Grid Factory, the project enables users to engage in events virtually via XR applications.
He cited three 5G Edge-XR prototypes that allow viewers to "engage more fully" with events. The first is in motorsport, with the solution enabling users to track racers and view key statistics in real-time. The second, in partnership with sports data specialist Sportable, provides AR overlays for rugby matches. A third use-case was for boxing, with volumetric, 3D video capture providing an immersive experience for viewers in a "share virtual environment".

Joseph Purnell is a Staff Reporter for TelcoTitans, contributing telecoms news analysis since 2019 as part of the TelcoTitans Editorial team.